This post may contain affiliate links, which means if you click through and purchase something using my links, I receive a small commission. You can click here to read my disclosure policy ? Thank you!
Glamping on a budget, can it be done? Camping isn't for everyone. Not a chance. Just the very idea of sleeping on a thin slab of polyester, your body contorting against your will as it tried to match the contours of the rocks beneath you, your hand constantly swatting at the mosquitos that somehow manage to fit between the teeth of your zip is horrendous enough. And we get it.
However, there is a way to let out the inner princess to do its thing as you add a touch of luxe and glam to your camping excursions. Yes you can go glamping on a budget.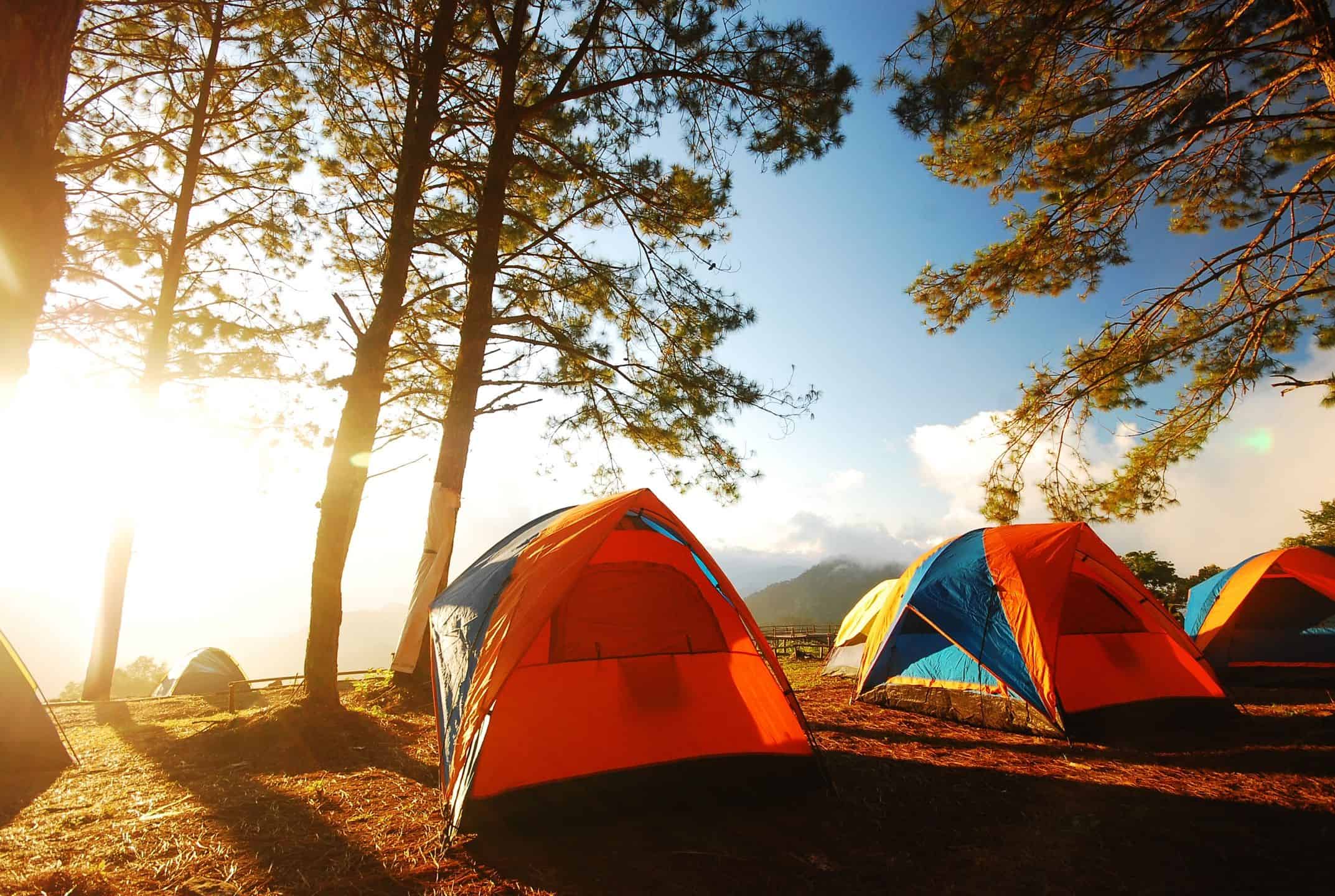 Of course, glamping is nothing new. In fact, every single festival now has a glamping section and every county has a plethora of glamping sites that prey on your needs to mix the thrill of Mother Nature with the glorious glitz of feather pillows and magnum Champagne bottles.
The problem is: not all of us can afford such a luxury. Not all of us have the sort of 90210 bank account that will let us buy a gold-leaf bell tent and fill it with the type of luxuries you'd find in an Egyptian sarcophagus.
But that doesn't mean your dreams need to be dashed because there are still a fair few ways you can enjoy a spot of glamping on a bit of a budget. Read onto to learn what about some simple tips that will help you glam up your future camping trips:
No Compromises On Coziness
This is the first commandment of glamping. Where others have to sleep rough, put up with weekends of discomfort and get used to the constant sound of moaning and groaning, glamping is all about being comfy and cosy. Thankfully, you can transform any space with the right amount of throw pillows, something you will have realized since you first stepped into an IKEA store because they literally built their entire empire on this concept.
So, walk around your home, grab your favorite pillows, your softest throws, and those Comfy Sacks sat in your living room, and toss them into the boot of your car.
Trust us: you'll find everything about your camping experience gets an instant upgrade. The extra color, the added textures, the soft fabrics – you'll think you're at a five-star woodland resort without having to spend a penny. As we said, sitting on the floor is for those in the last century.
We're all about protecting your precious backside. We've been using this queen-size inflatable mattress for years. It's the difference between loving clamping and waking up saying, "Get me outta here." Do yourself a favor and get one of these.

You can buy this mattress here. 
Pretty Up The Night Sky
Anyone that has ever been camping will tell you the fun doesn't start until the sun falls behind the horizon. That's when camping comes into its own. Fires, s'mores, stories, songs, the soft sound of crackling logs and guitars, laughter and glasses filling with champagne.
But in order to get every ounce of enjoyment from this scene, you need to create the perfect ambience, which is where solar-powered lights of every variety swoop in to save the day. Sure, the flickering flames of scented candles are great for both a spot of romance and keeping the mozzies away, but they're also great for starting fires and attracting bears, so it might not be worth a roll of the dice on this occasion.
Instead, solar lights need to be your BFF. You can hang pretty little lanterns from the branches above your campsite, pop some path illuminators into the ground so you know how to get to the long drop and put some fairy lights onto the guide ropes so no one has a nasty fall after a few to many brews.
They're amazing. They charge during the day and they come to life when the sun goes down. These beautiful solar-powered mason lanterns are perfect!
Take Your Drinks Up A Notch
Let's admit it for a moment, shall we: half the fun of camping in the wild is being able to enjoy a drink too many. It's being able to have a little too much fun, relax your parenting, embrace the free-living ways of the woods and then crawl across the floor of Moroccan cushions as you make your way to bed with a spinning head.
Thankfully, it has never been easier to do this. There are portable wine glasses that stack together neatly, held in place with a shoulder strap.

There are hip flask kits that come with telescopic vessels to slurp from. And so much more. But don't just rely on a nice bottle of merlot or sauvignon blanc to help you through your afternoon stroll. Arm yourself with a cocktail shaker and a few cheeky little numbers to take those lazy afternoons chilling in your posh campsite that much more colorful. It could be a few mocktails to quench your thirst after a soft hike or it could be something boozy that starts the night in the best way possible. Whatever you fancy.
If you are a fan of having your drinks kept ever cold. Then you need to get these Yeti cups. They keep your ice frozen for hours. They are perfect for glamping upgrades!
Of course, we can't forget the wine! Yeti knows that keeping your wine at the right temperature is key to living the glamorous camping life. Get your two pack Yeti wine glasses here. 

Glamping on a budget: Luxury Is In The Details
When it comes to lifting your experience into the realm of luxury, you want to think about the little thing that will make a difference. In your boudoir, you want to have a thick blow up mattress to sleep on, at least four feather-down pillows, cotton sheets, a few throws, and cushions to add to the feeling, and a shag pile rug down by your bed so your feet enjoy the best start to a day. But that's just part of it.
You also want to have an eye mask or two, some earplugs, a muslin draped around your bed and some bunting hung inside to create that home away from home feeling. You want to have a foldaway hammock that you can slip into during those afternoon lulls, armed with that amazing book you almost started last summer.

It's having a portable speaker that knows how to blast out the music and yet last forever. It's having citronella scents to keep the bugs away from your meal times and having the kind of games that will fill any voids. That could be adult card games you pull out in the evenings or it might be games your kids can play in the afternoon when you're prepping another delicious gourmet meal. It's the little things that will add the most glamour to your camping trip.
Gourmet Everything Is An Absolute Must
There is this misconception that camping means enjoying the basic things in life, especially when it comes to camping food ideas and drink. But that's absolute nonsense. In fact, we urge you to be a princess and take all those things you absolutely love, no compromises. If you love having a mug of really decent coffee first thing in the morning, then take your favorite coffee and cafetiere.
Don't compromise on having a warm glass of white wine either by investing that little bit more in a really good cooler, which will help on the food front too, which is an area you should take up a notch. Burgers and cold beans are fine once in a while, but you want to be enjoying the beauty of marinated meats, which is a surefire way to make your foods taste a bit more fancy.


Get your prep on by sorting out some spicy ginger shrimps and soaking some chicken in a black pepper and garlic cocktail, and then placing these on some skewers with your favorite vegetables – bell peppers, red onions, and portobello mushrooms.
You could even make some delicious side-dishes and pre-made salads and store them in mason jars like hipster cafes do – don't forget the dressings though. Of course, the piece de resistance of every glamping experience is posh s'mores.
What you need to do is pop a layer of chocolate chips in the bottom of a skillet pan, throw some condensed milk over the top, add your marshmallows on top and then melt it over your open fire. Once ready, just dip your cookies in, indulge and then pass out in your sleeping bag, your belly and brain thick with food.
Every Glamper Needs A Fancy Bathroom
A bathroom may be considered an unnecessary luxury for all those wild campers that are happy washing with a do leaf in a nearby stream but, for glampers, there is nothing more important that sprucing up this experience as much as possible.
So, first things first, thick towels, like these ones here. You want something you can snuggle into; something that's thick enough to absorb lots of water, soft enough to make your skin smile and tough enough to clean your dogs or survive your careless teenager's care.

You'll also want something similar for your kids. Then there are toiletries. You are not to skimp on the toiletries. Not at all. So pack your favourite lotions and potions and enjoy the most amazing sensation when you step out of your wild shower.
You're also going to want to get yourself a solar-powered portable shower so you can have a nice warm soak when you wake up and not have to wade through an eel stricken lake to that muddy looking waterfall.

Let's Recap! Here's How You Go Glamping on a Budget
That's how to do glamping well.
Looking for more camping tips? Here are more resources for you: