This post may contain affiliate links, which means if you click through and purchase something using my links, I receive a small commission. You can click here to read my disclosure policy ? Thank you!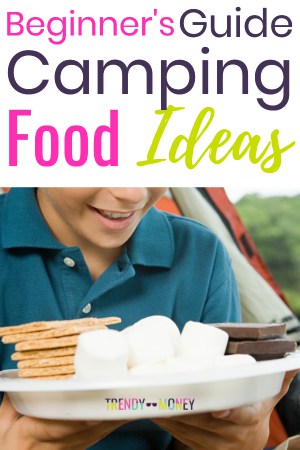 One of my favorite things about frugal camping, besides how frugal and fun it is, is the camping food! There's nothing better than doing a long hike in the morning (or playing in a lake!) then coming back to your campsite and eating something warm, yummy – and maybe ending the night with some s'mores.
Eating while camping is one chance to eat messy, to eat things you normally wouldn't eat and not feel guilty about it. After all, it's not like you're camping every weekend – eating s'mores with your hands every once in a while isn't the worst thing in the world! Considering I love camping and food, I thought it would be a good idea to invest in backpacking stoves for camping, as I feel like this would make cooking so much easier. Plus, you'd have excuses as to why you wouldn't be able to make a decent meal while enjoying the great outdoors. For more ideas why don't you check out campingcooks.com – the more ideas for food you get the better!
Many people think of camping food though as cold hot dogs, or repetitions of peanut butter and jelly sandwiches. Luckily, camping food does not have to be boring! In fact, it doesn't even have to be unhealthy if you plan it right. If this is one of your first times camping, I've got you covered with what you should pack, recipes to make while camping, plus send you off with a handy camping food checklist!
What Do You Need for Camping Food?
What you need for camping food depends on how long you'll be gone and how serious you are about camping. If you don't plan on camping more than two times a year, I would scroll past this part and go straight to the Recipes/Snacks section below. You shouldn't buy much (other than food) unless you plan to camp frequently (more than twice a year).
Other than that, camping food doesn't have to get expensive or too crafty! When we pack up for a camping trip, we put all of our food into one large, see-through/clear tub (similar to this, but you can usually find them cheaper at Walmart or Target). We usually put food into one tub, and the paper plates/dry goods/etc. into another tub, because we have had some spilling in the food tub in the past, and it's annoying to have your paper plates ruined because your peaches exploded.
Another must have if you camp frequently (or want to make pancakes, like I do)?:
This is your go-to when you are camping, from cooking your meals to heating the water to clean the dishes and everything in between this is the stove that you need.



Buy it here, and remember to get some extra propane tanks. 
Instant coffee or a coffee percolator
Buy these great instant coffees here. 
How can I keep my camping food cold?
One of the best ways we keep our camp food cold (especially if you bring anything like cheese, eggs, etc.) is packing a big cooler with frozen water bottles. Simply pack your food around the frozen water bottles, which will keep your food cold for a long time. As the water bottles defrost, they will give you extra water!
Camping Food: Breakfast Recipes
All right, so I just have to tell you: pancakes in the morning while camping are my jam. They are so good and actually very easy to make, especially if you use a foolproof, pre-made version like Krusteaz. I'm not even paid by Krusteaz to say that!
Read more: Eating Healthy While Camping
You can add chocolate chips, bananas, blueberries, toasted nuts – anything! to your pancake mix. Get crazy, you're camping!
Potatoes and eggs are also quick and easy to make using a camp stove, especially if you chop up the eggs (and anything you want in them, like bell peppers, tomatoes, onions, etc.) ahead of time.
More breakfast inspiration? Check out this Instagrammer's camping breakfast recipe! Oatmeal, cherries, and peanut butter? Sign me up!
Camping Food: Lunch/Dinner Recipes
I'm great at planning breakfast meals, but when it comes to camping food ideas for lunch and dinner… I can get a bit repetitive. Don't get me wrong, I love sandwiches for lunch (PB &J all day!) but I understand most people can't eat the same thing every day. So I turned to more Instagrammers for lunch and dinner camping recipe inspiration, and they did not disappoint!
My second favorite, burritos (or tacos)!
Kabobs – meat, veggies, and shrimp on skewers! You can even make these ahead of time and stash the skewers in your cooler. Then just start a campfire, throw them on your grill and cook your kabobs until they're heated through!
Snacks!
After breakfast, snacks are probably my second favorite "meals". The key to the best camping snacks is making sure they are portable and easy to eat.
Personally, I keep it really simple. I like to pack:
Trail mix – home made is cheaper, of course. Nuts, M&Ms, raisins,  or you can buy trail mix here.
Grapes, bananas and/or apples
Popcorn (already popped) or kettle corn
Looking for something a little more fancy and delicious? Check out these Instagrammers' camping food ideas:
These yummy, sweet date balls:
Hummus, carrots, and cucumbers are always an excellent, easily transportable snack (just don't let the hummus sit out for hours in the hot sun):
And of course, there's always goldfish and beer!
A Word About Overpacking
If you're camping for a while, you will get sick of your snacks! Try to vary it up and don't be afraid to go into town and get some different snacks.
Camping Food Checklist
This article was a little long, and I get that! So I made a handy camping food checklist you can download and print out whenever you are ready to get your camping adventure on! You can download it below.
Of course if you are camping with your dog, you will want to make sure you bring their food too! Signing up for the checklist will also add you to the Sunburnt Saver newsletter, to which you can unsubscribe at any time.
What are your favorite camping recipes?