This post may contain affiliate links, which means if you click through and purchase something using my links, I receive a small commission. You can click here to read my disclosure policy ? Thank you!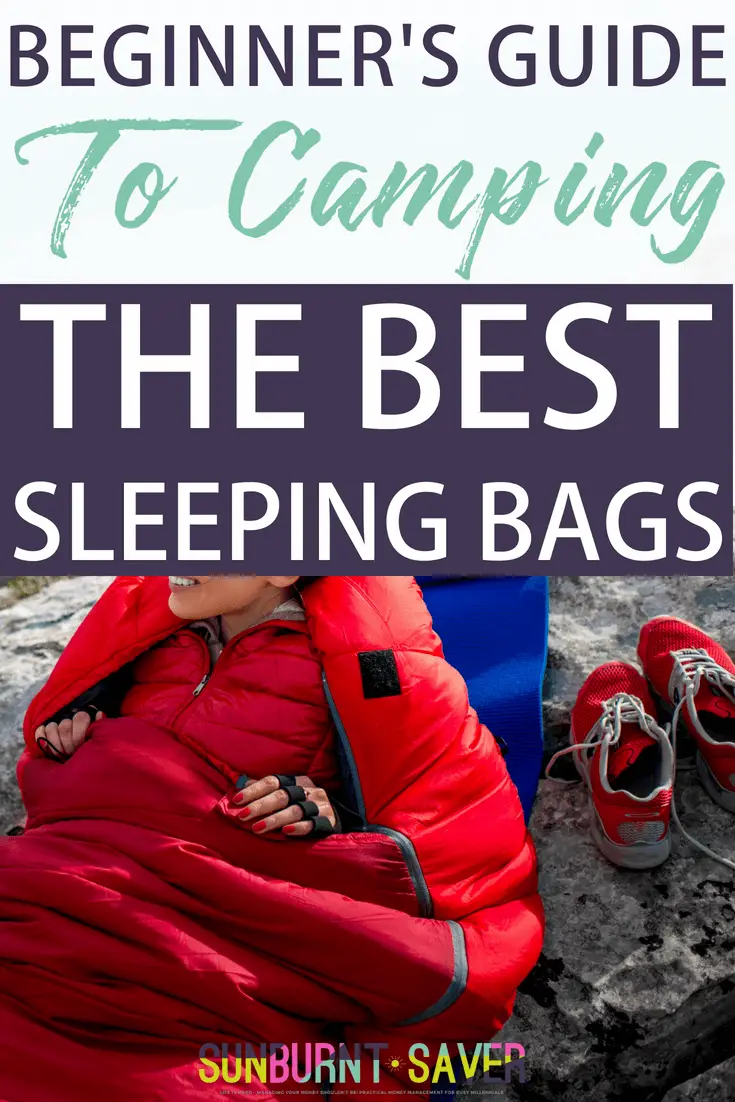 When you're new to camping, the logistics of camping can seem confusing – and expensive! What do you actually need to buy when you're go camping? What's a waste of money? No question is more important than the question of your sleeping bag (oh, okay, and the camping food! Check out Amazon for camping supplies) Having the right sleeping bag for camping can make or break your entire trip – it's really the difference between waking up refreshed and ready for fun, or waking up grumpy and heading home early.
Luckily, I have lots of experience with sleeping bags. Like I've said in previous camping articles, growing up, camping was my family's jam. Little did I know back then, but camping was frugal. My family didn't do cross-country flights – even though there was only 3 of us (Mom, Dad, me), even flights (plus hotel stays) were too expensive. But camping wasn't! I know a lot of people know though, who like to do things a bit differently and just go in a camper van with a RV battery. All I can say to that is that you've just got to do what you enjoy I guess. No point going on holiday if you know that you aren't going to enjoy it.
So I've been evaluating sleeping bags informally ever since I was probably about 6 or 7. In this beginner's guide to camping, I've included my informal opinions with expert opinions and tons of review to find you the best camping sleeping bags out there.
Disagree or want to add to any of these sleeping bags? Let me know! I'd love to add some reader-tested and approved sleeping bags to this list!
Criteria on Evaluating the Best Sleeping Bags for Camping
One, I'm insanely picky. When it comes to sleep, I am so picky. Imagine I'm clapping as I say that, because I am truly the pickiest person you'll meet when it comes to camp-sleeping. Blow up queen beds (or single beds) don't cut it for me – inevitably, they get a snag or a tiny hole in them, and you end up on the floor! Thanks but no thanks.
Two, I'm only evaluating camping sleeping bags (versus backpacking sleeping bags). Backpacking sleeping bags are for more advanced (intermediate and above) or adventurous campers – which I am not. I prefer to be close-ish to my car and reasonably close to civilization. Call me a baby, but that's how I like my camping! Easy and fun!
Three, I looked at the highest rated camping sleeping bags by reviewers and looked at overall best value (reviews vs. cost).
Special thanks to my amazing VA, Melody, for her help in this research!
Coleman makes some of the best camping equipment out there, including my favorite camping stove ever, so it makes sense they also make a terrific, economical sleeping bag. What makes this one stand out? All the room it has! It's a perfect sleeping bag for those taller than 6 ft., but it also works if you're short like me, but still like a lot of room to move around!
Other highlights:
Price! As of this publication date, this bag retails for only $27
Cotton-flannel liner and warm in 30 degree F
Features a small pocket in the inner flap for your phone, tissues, glasses, etc.
ZipPlow system reduces snagging during zipping (hooray, because sometimes sleeping bag zippers can be a real pain!)
Unzips fully to form a quilt or can be zipped to another bag, forming a double-wide camping bag (especially good if you and your spouse are tall!)
The REDCAMP Cotton Flannel sleeping bag is a good option if you want some affordable options for different temperatures. This sleeping bag comes in different fill weights (2 lbs, 3 lbs, and 4 lbs) for different temperatures, from 32-59 degrees F. It also looks very comfy and camping-like – just look at it!
Other highlights:
While not the most frugal sleeping bag choice on this list, it still is a great price – $36 at the time of this publication!
Cozy cotton flannel lining
Two bags can be zipped together
Internal pocket to store belongings
Drawstring closure around the top to seal out cold air
Also known as "sleeping with your spouse, a friend, or if your kiddo/dog likes to sleep with you". (Psst: If you have never gone camping with a dog before you can read all about it here.)
Also known as "the no-judgment sleeping bag if you just want a giant sleeping bag all to yourself okay?!"
This REI Co-op Siesta 30 sleeping bag retails at a fairly steep price for a sleeping bag (as of this publication date, $85), but it has a lot of cool features to justify the price. Highlights of the REI Co-op Siesta 30 include:
Moisture-resistant for wet-weather
Gear pocket for personal items (glasses, moisturizer, tissues, etc. – all that random stuff you sometimes want near you when you're camping!)
You can unzip this sleeping bag fully, making a quilt, and you can connect this bag to another Siesta bag, forming a double-wide camping bag
Easy to pack in its stuff sack (a must when you're trying to quickly pack up)
Reviewers report staying warm even in 30 degree F weather!
How to Save Money on Sleeping Bags
Want to save money on your camping gear, from sleeping bags to camp food gear? There are many ways to save money on camping gear – trust me, I've tried them all! Here are my top tips:
Ask your friends and family if they have camping gear they want to get rid of – almost everyone has something useful for camping that they just don't use anymore. Plus, it's free!
Check out apps like OfferUp to find camping gear at deeply discounted prices. Not into apps? Drive around your neighborhood and surrounding neighborhoods on the weekend (the earlier, the better!) for garage sales. Plenty of people are willing to sell camping gear, especially in the fall, and their sale is your gain! You can often score camping gear for 90%+ off – I'm not kidding!
Shop during the right time of year – according to Time, October is the best time of year to score camping deals, probably because in many parts of the country (but not parts of AZ!) camping is over by the winter.
Get $10 when you use my Swagbucks referral link!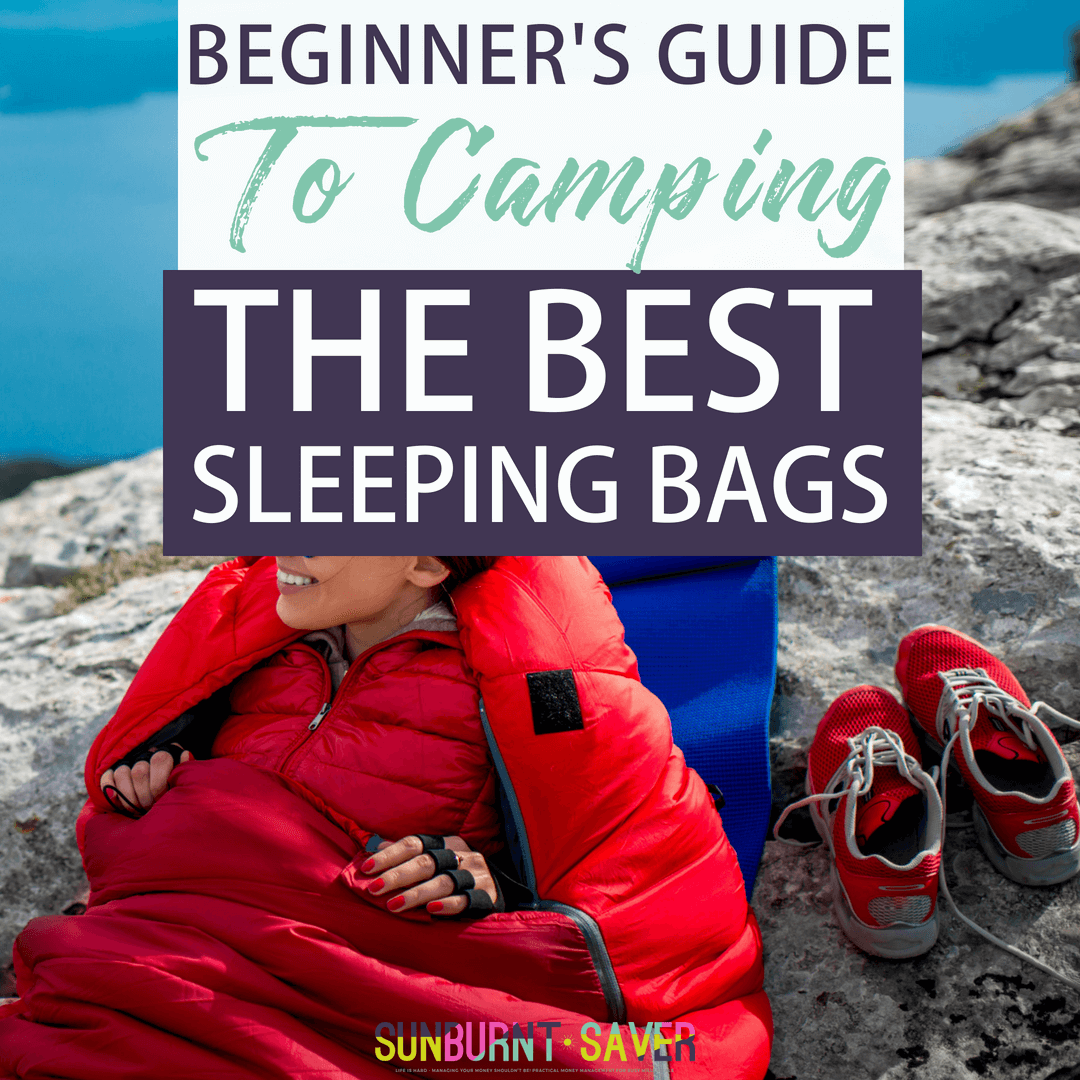 Other Camping Stuff You'll Want for Sleeping
While these are not "must haves", they are nice-to-haves when you're camping! One I highly recommend is a sleeping pad, like this one from Amazon Basics. They shouldn't cost you too much, and I highly recommend you check out OfferUp and garage sales first, but basically sleeping pads keep the cold ground further away from your sleeping bag and, by extension, your back/body. They create a barrier between you and the terrible, cold, hard ground.
What if you straight up do not want to sleep on the ground? I get it! The last time we went camping, my husband said "no more ground!" and bought himself a camping cot, similar to this one. Camping cots are fine! The only drawbacks are if you're tall, like my husband, you'll have to buy an extra long cot (aka more money!) Also, eventually they "hug" your body so much that they permanently leave a cocoon shape. To me, it feels hot, stifling and claustrophobic. But some people don't feel that way, so give a camping cot a shot!
A camping lamp! Personally, I like the simpler lamps versus the ones that allow you to charge all your electronics. We took two simple lamps and two "fancy" lamps camping with us, and quickly ditched the fancy lamps because, when we charged our phones to them, they ran out of power quickly – leaving us in the dark!
If you want to charge your phone, just use a converter for your car – not your lamp. A battery powered lamp like this one is great. Buy a carabiner, loop it to the lamp and the top of your tent, and bam! You've got overhead light!
There you have it, the best camping sleeping bags for casual/beginner campers! Do you have a favorite sleeping bag, or camp sleeping tip, to share? Let us know in the comments!