This post may contain affiliate links, which means if you click through and purchase something using my links, I receive a small commission. You can click here to read my disclosure policy ? Thank you!
Welcome to the second post in my frugal camping series! Today we're going to discuss how to enjoy some frugal camping entertainment – you don't need to buy any special board games, or outdoor volleyball equipment when camping. You can have kinds of fun just outside or on your own. Camping is really fun and we really enjoy going as a family (plus camping is a low-cost outing, once you have all of your camping essentials). All in all  camping is pretty great!
---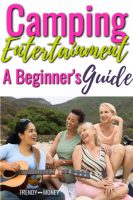 When I told people at work I was going camping for the long weekend, they looked at me like I was crazy. 'Wouldn't it be hot?' they asked (No, we went up north, where it's cooler). 'Isn't it dirty?' (Occasionally, but that's part of the fun of it, and it's not as dirty as they think). However, the funniest question I got was 'What will you do for fun???'… Durr, source the best inflatable kayaks for my family and have some amazing fun on the cheap!



What made it even funnier was that this co-worker asked me that question, then added, 'You know, if your phone or iPad dies???' When I told him I don't have an iPad, I think he gave up on talking to me. Obviously, I must be a very boring person without an iPad.

All jokes aside, there is a time and place for keeping yourself entertained by your phone or iPad (or whatever tablet you have). Even I keep myself busy while carpooling by checking my phone for the latest news updates or to get a jump start on my work email.
And come on, what's a little checking Twitter or Facebook while you're waiting for dinner to boil or be done? However, camping isn't one of those places. Camping is a time for you and your family to unwind and enjoy the scenery/quiet – all while staying within a fabulous budget. You can't beat the cost of camping versus staying in a hotel!
Frugal Camping Entertainment During the Day

The daytime is the time to get out, explore nature, and get your sweat on. When was the last time you were able to run outside in nature with (almost) complete abandon? If you live in a city, like I do, your answer is probably 'a really long time ago.' And guess what? Enjoying nature is free!

Depending on where your campsite is, you can hike, fish, or play in a lake or stream. Hiking is my personal favorite thing to do while camping. You can usually pick up a map when you check in at your campsite, or you can print one out before you go. I like to go online and base our campsite closest to the best hiking trail. I'm one of those people who likes hiking trails anywhere from 1-5 miles, depending on my mood.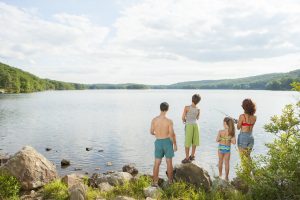 The second to last time we camped, we were in Colorado, which has absolutely amazing hiking trails. That's when we picked a 3-5 mile hiking trail – there are usually additional trails you can add to your hike, if you want to make it longer, or you can stick to the 3 mile, straight loop (which, if you're camping with a dog, is a great way to tire them out)

This last time, we did a shorter hike, a 1-2 miler, just to see if our puppy, Molly, could handle it and behave herself on a leash. She is a big fan of other people, and we still haven't completely taught her the 'no jump' command. She did really well, so she'll be rewarded with a longer hike the next time we go camping!

Where we camped last, was a low, slow-moving river near our campsite, and we took Molly down there and let her play for a couple of hours. B played with her in the lake a little bit too, while I got to catch up on my second favorite camping activity: reading!
Now's Your Time to Catch Up on All Those Trashy Novels or Magazines

I'm the type of person who never has enough time to read, so I use camping as a chance to catch up on all the trashy novels or magazines I want to read but can't justify. After all, if I've checked out a serious non-fiction book at the library, am I really going to read a People magazine I picked up for $.25? No offense to People, but the library comes first. Or if you have a Kindle you can check out the latest bestsellers here.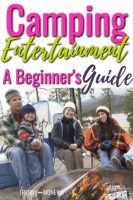 However, when you're out camping, you definitely want to bring those trashy novels and magazines you own! Keyword: own. Take it from me, you do not want to bring a library book traveling. I lost one once, and it's like the end of the world. Libraries charge you so much to replace books! Just stick to your magazines and other books you swore you would read, but never got around to.

If you don't have books or magazines around your house to take camping with you, visit a secondhand store and pick up some old-but-new magazines. In Arizona, we have a store called Bookman's that sells, you guessed it, books for way cheap. Bookman's also sells magazines (new ones from the current month that are marked down to 50 cents to $1 each!) as well as board games and video games. If you don't have a secondhand bookshop near you, sometimes libraries have rooms dedicated to selling extra books and magazines. A library near my parents' house does this, and that's where I'm able to pick up magazines for 25 cents each!

Tips to enjoy reading while camping: invest in a pretty comfortable camping chair! Now, I know the words 'comfortable camping chair' typically don't go together, but I promise – pick a chair that's sturdy and doesn't sink you lower and lower whenever you move, and definitely get one with a drink holder. If you splurge and get one of those fancy camping chairs that have a pop-out side table, to put your snacks or bookmark, even better! I like this one, it's got a little cooler built into it!


For the bloggers out there, this time is also a good time to relax, recharge, and think of new blog topics. Sometimes living in a city, doing the 8-5 can get boring, repetitive, and drain your creative juices. Not saying you should 'work' while camping, but I find getting out of town and staring off into space can actually be really helpful to recharge my creative batteries!
Frugal Camping Entertainment At Night

There are so many things you can do once the sun goes down and the stars go out! (Keep it clean, people ) The last time B and I went camping, we brought our horseshoe game – if you've never played horseshoes, it's basically just a metal stake in the ground that you throw metal horseshoes at. In case you can't tell by my description, I'm pretty terrible at the game, but it's still fun.

You can also play music on a campfire guitar (you can pick up an affordable guitar here), roast s'mores (I would roast s'mores all day if B would let me), or stargaze.
My favorite app, StarWalk, is so cool to bring with you if you're camping on a cloudless night. StarWalk can seriously entertain me for a solid hour, so I definitely think it's worth the $3 cost (although sometimes you can find it on sale – try to wait for that! I got my Starwalk app for $1. Still worth it!)

What do you like to do for fun while camping? Any other ideas I haven't covered?
Looking for more camping tips? Here are more resources for you: