This post may contain affiliate links, which means if you click through and purchase something using my links, I receive a small commission. You can click here to read my disclosure policy ? Thank you!
Around this time last year, I posted one of my most popular articles to date: 3 Side Hustles You Can Start This Year. This post quickly became viral on Pinterest and still drives a ton of traffic every single day (hi new readers!)
While the 3 side hustles I mentioned in January 2015 are still viable, this year brings even more opportunities for you to make more money on the side! If this is your year to make more money on the side or as a full-time business, this list of 16 side hustles for this year is a great start!
If you want to make money right now, right away, go check out my post on 3 side hustles you can start this year. All of those side gigs will get you money right away. However, if you're willing to put in a little more time and effort, the side hustles below will generate more money over time.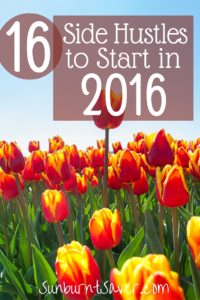 Virtual Assistant
Are you communicative, good at editing or making graphics, and can handle email correspondence? If you're great at assisting people, you should be a virtual assistant! Virtual assistants can do a variety of tasks, from editing blog articles, to making graphics, to interacting with clients, to setting schedules.
Don't know where to get started? A master of virtual assistant work, Gina Horkey has an awesome program designed to get you started as a virtual assistant. Check out her course for more information!
Blogging
If you love to write, getting started on your own blog is a great way to eventually make some money. The best thing about having a blog is that it gets your name out there to potential clients. I found all the clients I currently work with through my blog, and it's all because they've liked my work and clicked through my Work with Me page.
You won't make a ton of money right away, but the possibilities that owning and writing for your own blog open for you are numerous. It doesn't take much money (or any!) if you're creative and passionate about your topic, so give it a try!
Start Your Own Etsy Shop
If you're crafty, creative, and willing to put in some time to market your crafts, consider opening an Etsy shop! There are literally hundreds if not thousands of things you can sell on Etsy, including printable motivational quotes, hand crafted picture frames, planners, kitchenware, even clothes!
Some people have found opening their own Etsy shops incredibly profitable, but it does take some work. However, if you have a great idea and a passion for your craft, Etsy is an awesome way to get started from your own home!
Sell Your Stuff Online
There's a reason why Craigslist, eBay, ThredUP, and Swip Swap are so incredibly popular: people want to buy your stuff all the time! Seriously. If your stuff is in good condition, there is likely a service out there to sell it for you.
Many of these services do take a cut (although not Craigslist) and you do have to be careful when selling online. However, selling items you no longer use is a great way to make some extra money fast.
Become a Rideshare Driver
Own your own car and like to drive around strangers? While driving for UberEATS and Lyft is not as profitable as they once were, being a rideshare driver is still a good side hustle to start making money right away.
Being a rideshare driver is incredibly flexible: you can stay around your neighborhood, or venture out to farther suburbs (this will net you more money). You can drive in the early morning and still be home to pick up your kids after school, or you can drive the late-night party shift and potentially make a lot more money driving around bar hoppers.
Become a Courier Driver
The number of companies catering to delivery is incredible – more are popping up every single day and it's hard to keep track of them! Some of the most popular delivery services include DoorDash and Postmates. These services take orders from customers, then send you, the delivery person, off to pick them up and deliver them to customers. These services mainly deliver food right now but may branch out in the future.
Like being a rideshare driver, you will need to own your own vehicle (or be leasing one) in order to make money right away.
Rent Out Your Car
Don't drive very often but don't want your car sitting there, not making you any money? Sign up with Turo to get your car to make you money! Turo is similar to Airbnb, where you rent out your item (your car, in this case) someone uses it for a set amount of time, then returns it in one piece – and you get paid for the time they were using it!
Check out Turo here – it's a particularly good idea for you if you don't need to drive and live close to fun destinations, like camping, entertainment parks, or other popular tourist destinations.
Rent Out a Room in Your House
We already know I'm a huge fan of Airbnb as a vacation accommodation, but did you know you can also rent out rooms in your house? If you have an unused guest room, considering renting it out on Airbnb to make a little extra money. If you live anywhere close to good tourist spots, like beautiful scenery or fun events/destinations, you can make a ton of money every year!
Want to try Airbnb and get $40 off your first stay? Click here to use my affiliate link to get $40 off your first Airbnb stay!
Become a Brand Ambassador
Are you friendly, outgoing, and don't mind standing for hours on your feet? Consider becoming a brand ambassador! Gigs differ depending on the company, but usually, you will be promoting a product or helping run an event for a company, typically on the weekend, but sometimes during the week too.
You're paid a pretty good rate – anywhere from $15 to $30 an hour, and you can sometimes get free swag to take home, too. Companies are basically paying you to encourage goodwill out in the community, so it's an opportunity for you to meet people, do something fun, and make really good money at the same time.
The best way to find brand ambassador jobs is on Facebook: type in "Brand Ambassador + (your city)" into the search feed to find Facebook groups devoted to finding personable brand ambassadors. You'll want to have professional photos of yourself (head and body), and a resume of retail or sales jobs you've had (or volunteer experience, if you don't have retail or sales experience). Some brand ambassadorships won't care about your looks as much as others, though, so don't worry if you're not a model 🙂
Work as a Temp
Don't mind going out in public, working part-time for a company, and then potentially never seeing them again? You might want to check out temping! In the past, many people used temp gigs to transition into full-time work, but now many people are temping just to make some extra money on the side.
If you already have a full-time job, you'll likely have to let them know you're moonlighting. Otherwise, you're free to temp whenever you have time and the company wants you. Typically you'll be contacted the night before or the day of a work assignment, and you can either accept or decline. Beware that your job duties may differ dramatically from what you're told over the phone or by email – when I temped, I was told I would be typing contracts all day, only to get there and find I was mostly refilling the coffee pot a bunch of times and filling in for the secretary when she took her breaks.
Find temp jobs online, like on Indeed.com, by typing in "your city + temp/temporary employment".
Sell Your Photos Online
Love to take pictures? Do people regularly tell you your photos are beautiful? Consider selling your camera-taken photos online through Foap! As a way to make extra money in 2016, you can't do much better than selling photos you've already taken online!
Get Paid to Surf the Web
One of my favorite ways to earn extra money (in the form of gift cards) is Swagbucks. Making money with Swagbucks is incredibly easy, because almost anything you do online is rewarded by Swagbucks. Searching for something? Earn Swagbucks. Shopping online? Earn Swagbucks. Want to play games? You can earn Swagbucks for that too!
As you earn Swagbucks, you can redeem them for gift cards from almost any retailer imaginable. Since I buy a lot on Amazon, I always redeem my Swagbucks for Amazon gift cards, but there are dozens of retailers to choose from. Check out Swagbucks, to earn extra money in 2016 right now!
Sell Your Skills Online
Are you awesome at designing logos, reviewing other people's resumes, singing, creating jingles, or creating 3-D animation? Almost anything you can think of, you can sell on Fiverr.com. Fiverr.com is amazing for those of us looking to make extra money in 2016 just because it's so easy to get started. Are you into tarot readings? What about personal shopping for someone online? Sell your skills on Fiverr!
Sign up with Fiverr.com here to get started – really, the sky is the limit on what you can sell!
Sell Your Free Time and Skills
Ah, here's another fun way to make extra money in 2016! Like Fiverr, but in-person, you can sell your free time and skills on TaskRabbit. Can you put together Ikea furniture like a champ? What about moving furniture around? Could you stop in and visit someone's elderly grandmother? How about helping a stressed-out bride on her wedding?
Once again, like Fiverr, almost anything you can imagine to sell (within reason) can be sold on TaskRabbit. Sign up to get started and see what you can sell here!
Sell Your Clothes
We all know it's a good idea to go through old clothes every once in a while and get rid of things we haven't worn, don't fit us, or we just don't like anymore. However, while we know we should do that, we rarely do… unless it makes us money! With ThredUP, you can sell your clothes online easily, with hardly any effort on your part.
Don't want to sell your clothes online? Check out local consignment stores! Bring your clean, gently worn clothes to a local consignment store and, while you won't receive as much of a commission as you would with ThredUP, you'll be able to get rid of your clothes and make money at the same time!
Sell Your Stuff Through Your Phone
The last way to make extra money in 2016 is quite possibly the easiest, laziest way to make extra money this year: take pictures of things in your house, and sell them. That's it. OfferUp is a free to use app allows you to take pictures of items you don't want anymore around your house, price them, and sell right away to people in your city. That's it!
With OfferUp, you can start making money right now and declutter your home in the process. Honestly, we when sell our house, I think this is going to be my favorite app to get rid of things I don't want to take to our new house. That's definitely what I call a win-win!
What do you think of our list of ways to make extra money in 2016? Which one of these money-making ideas do you plan on trying out?

Note: Some of these links are affiliate links, which means I make a small commission if you sign up and use the sites I recommended. All affiliate income goes to running this site – thank you for your support!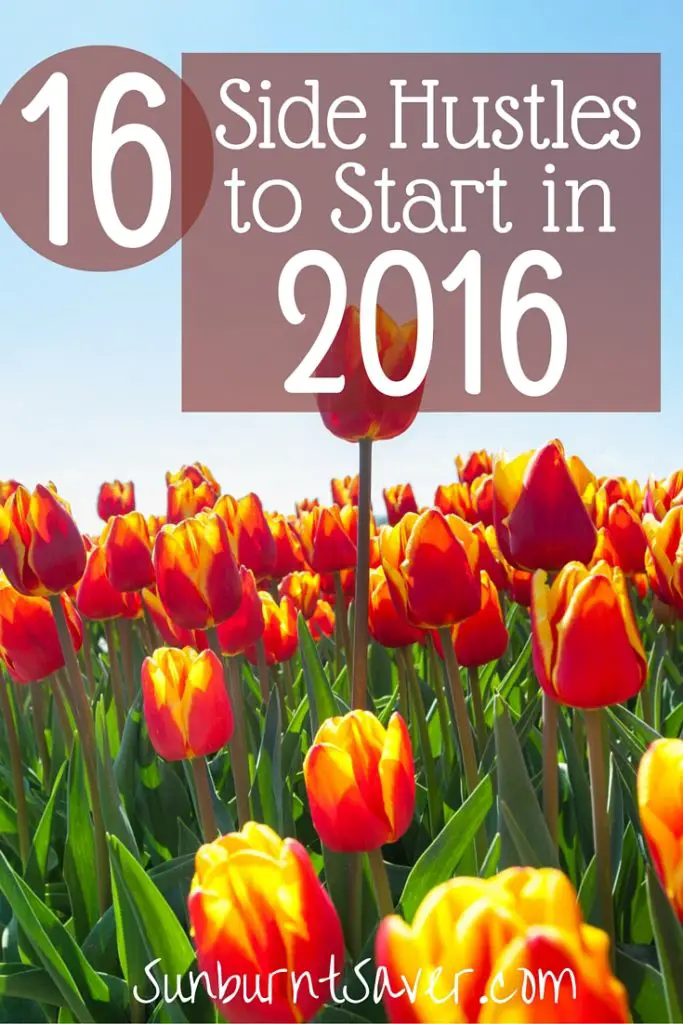 *Part of Financially Savvy Saturdays on brokeGIRLrich, Disease Called Debt and Friday Night Shenanigans*
Save
Save
Save