This post may contain affiliate links, which means if you click through and purchase something using my links, I receive a small commission. You can click here to read my disclosure policy ? Thank you!
Welcome to Frugal Series: Camping! I hope to make the Frugal Camping Series a regular thing, so let me know if there's anything you're interested in seeing: a series about frugal travel, work attire, beauty, home improvement, etc. Anything you have a question about, let me know and I'll try to cover it! First up let's dive into how much does it cost to go camping?
Why Camping? It's the Ultimate Cheap Getaway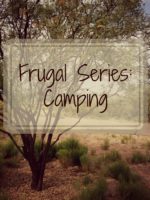 A few weeks ago, B. and I went camping. He had just finished up school, as a substitute teacher, and I was dying for a vacation/break from work. For us, camping has always been a cheap travel option. Between B and I, one of us already had:

We pack anything non-perishable in plastic bins, which most young people have from moving. We pack our clothes and any toiletries in backpacks, which most people still have from college or even high school. Yes, I still had a high school backpack lying around – Jansports really are indestructible!
Besides the tent, which we got for free from my Dad, the only other big necessities are a stove, which you may not even need, camp chairs (you can get cheap camp chairs for $10, so it's not really a splurge), and camping food. By the way: camp chairs are a necessity. You can get some nice affordable camping chairs here.
As someone who enjoys camping, not having your own place to sit (the sticky, hot, sometimes crusted in unidentifiable substances picnic table does not count) is hellish when all you've been doing all morning is hiking. You will want a camp chair to plop down in and relax, trust me!
If you are planning on driving around the country allot, a car that is very fuel efficient is a must (for example, a Fiat 500L) this will save you money on each of your journeys that you make.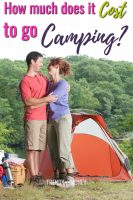 The Camping Cost Breakdown
Below is the breakdown for our most recent camping trip:
$30 for 2-night space rental ($15/day)
$40 for camp supplies (stove, more propane, and a first aid kit because our old one was almost empty)
$70 for food, including drinks (beer and wine). Some stuff was on sale as buy one get one free, and we ended up getting all the materials for s'mores for only $5 thanks to that deal!

Our camping trip came to a total of $140 for a 3-day, 2-night stay.
Camping is Cheaper Than Other Travel
When you add up what it would have cost to stay at a hotel over a long weekend (conservatively $80/night = $160), plus the cost of breakfast/lunch/dinner for those two days (again, conservatively and assuming you didn't split your meals to save money, $20 per meal x 3 meals a day x 2 days = $120 – and yes, that's assuming each meal costs $10 for one person).
That comes to $280 for a 3 day, 2-night stay. You can round up or down according to how much you eat and how much it costs to rent a hotel, but the end result is the same: camping is way cheap. Even if you are camping with a dog (which we did and I totally left out before)!

Just with food alone, it would cost us as much to eat as it did to camp, with meals and drinks included. And really, who can put a price on campfire s'mores?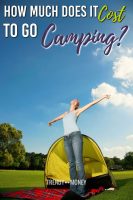 Continued Camping Savings
The best part about camping is, after a certain point, you start accumulating camping things (like sleeping bags, a stove, tent, coolers, etc.), which really reduces the amount of money you have to shell out to camp. The only things you end up needing to pay for are your space and food. It goes without saying that your food could even be cheaper than ours if you chose to hunt or fish and cook your food. If you think camping is too rugged, you can always try glamping on a budget. That way you are still getting a trip away but not roughing.
Here's a handy visual to keep in mind when you're planning your next cheap camping adventure: