This post may contain affiliate links, which means if you click through and purchase something using my links, I receive a small commission. You can click here to read my disclosure policy ? Thank you!
It's almost summertime, and you know what that means – travel! You probably already know that camping is one of my favorite ways to frugally travel, and I have a lot more camping articles coming up for you soon! Until then, I wanted to highlight some of my frugal and fun places to camp in Arizona. Let me know your favorite places to camp (nationwide!) in the comments!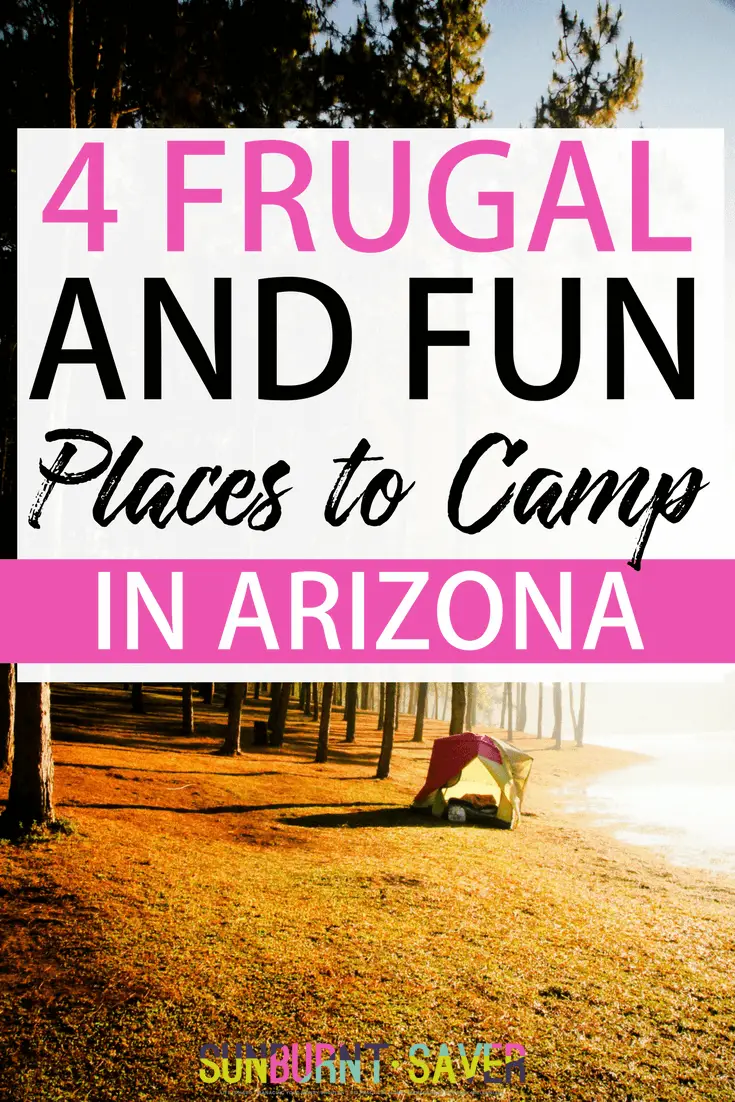 Arizona is one of those states that you can camp and enjoy nature year round. Phoenix too hot? Luckily, you can head to any of the number of lakes that are scattered around the state. Looking for even more camping resources in Arizona? Check out the guide below!
So many places to camp in Arizona!
Lake Havasu isn't a place you probably want to visit during Spring Break, as it is a bit crazy (crowded and more expensive!). However, almost any other time is a good time to visit Lake Havasu State Park.
My husband and I took a massive, 3 week road trip camping (and Airbnbing) up the coast of California, Oregon and the interior of Washington, then down through Idaho, Montana, and Utah – and one of the most frustrating things about camping (apart from taking our dog camping for the first time) was knowing what kind of amenities each campground offered! Luckily, Lake Havasu makes it super easy to understand what you're getting at the campsite.
Nightly camping at Lake Havasu State Park is $35 a night, except beachfront sites which are $40 a night. Included in your camping stay are flush toilets and showers, woohoo! There are plenty of things to do at the lake, including (of course) kayaking, boating, etc. You can also take a walk on the nature trails, check out the birds, and visit the Lake Havasu Museum of History if you want to head indoors!
Also, don't forget to visit the Interpretive Garden and the Mohave-Sunset Trail as the views are spectacular and you might be lucky enough to see a Great Blue Heron or a Great Horned Owl.
Similar to Lake Havasu, camping at Kartchner Caverns is $30 per night (cheaper than Lake Havasu, but of course, no lake!) If you love nature and science, you can't go wrong with a long weekend at Kartchner Caverns State Park. The underground cave is an amazing sight for any age, and Kartchner Caverns offers cave tours ($23 for adults).
Make sure to have your reservations secured ahead of time as they sell out quickly, then make your campground arrangements after that. This state park also has full restrooms and showers too! If there are no fire restrictions (you'll be told by the campground staff), make some s'mores in the shadows of the cave!
S'mores Roasting Kit!
When you want to get out of town for a bit, but you don't want to go too far, head to Lost Dutchman. It is named after the lost gold mine and is in the heart of the Sonoran Desert, just 40 miles east of Phoenix. One of the best times to go is during the spring as the wildflowers and cacti burst with colorful flowers.
Don't be surprised to see wild javelina, mule deers, coyotes, or jackrabbits. This park has miles of mountain bike and hiking trails. Depending on where you stay, you'll pay $20-30 to camp at the Lost Dutchmen State Park, and you'll have amenities like flush toilets and showers.
One of Arizona's hidden treasures is Patagonia Lake. Not only is there a beach in the middle of the desert, but this lake is the perfect spot to go fishing. The lake has bass, bluegill, catfish, crappie, and trout – bring your poles as you can spend the whole day trying to catch dinner.
Bring the mountain bikes and get ready to take a hike along the creek trail. The Nature Conservancy is a great place to learn about the history of the area. Who knew that the tracks for the Arizona/New Mexico railroad lie beneath the lake!
You'll want to book Patagonia Lake early – although it's a hidden gem, those who know book up spots quickly. Prices are $30 a night for tent camping, and offer toilets.
Where are your favorite places to camp? I'd love to get some more ideas for camping around the US! 🙂