This post may contain affiliate links, which means if you click through and purchase something using my links, I receive a small commission. You can click here to read my disclosure policy ? Thank you!
It's been a few months since B and I got married, and I'm finally finished writing thank you notes and going through all the photos our awesome photographer shot. Now it's time for the fun part, the wedding budget breakdown!
Want more tips on saving money on your wedding? Check out the latest: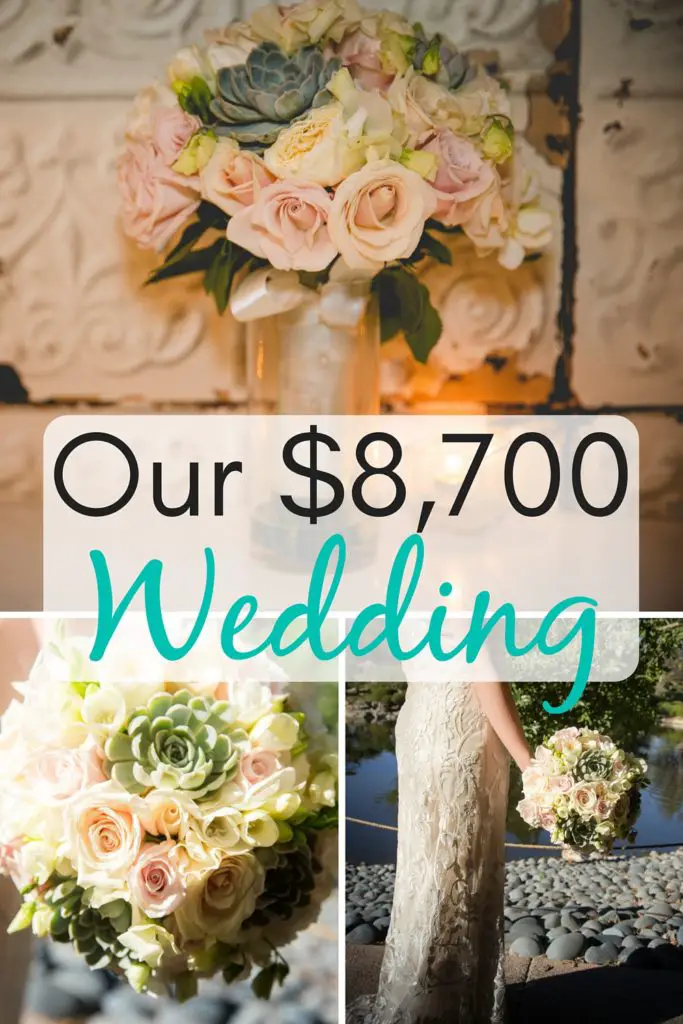 It's been a great couple of months transitioning from an engaged couple to newlyweds – although that transition is definitely more stressful since we're also moving into our first house together as a married couple (use this new house checklist, it has all the essentials)!
Related: How to Budget for a New House
When we first started talking about marriage, B and I initially wanted a long engagement (about 2 years) so we could save up and pay for the wedding entirely in cash. Unfortunately, life had other plans and my father became very ill less than 9 months later.
We kind of rushed into becoming engaged and sped up our "getting married" timeline, just in case anything happened to my Dad.
Related: 4 Things I've Learned Since Becoming Engaged
Our 2-year engagement turned into a 1 year engagement, which was enough time to sock away about 50% of our budget for the wedding. A 1 year engagement is also long enough to lock in some discounts, which we did immediately.
Now that all the invoices have come in and I've paid off the last of our wedding debt, I wanted to share with you what our biggest expenses were for our $8,700 wedding – I'd love to hear what your biggest expenses were, or what you expect to spend the most on for your wedding!
Our Wedding Budget Breakdown: The Biggest Expenses
Our biggest wedding expenses were all the "typical" expenses… without some of the typical price tag. We spent:
$3,000 on food and drink
$1,000 on photography
$1,100 for our ceremony location
$800 on my dress
$800 on our flowers
The best things we bought out of "the big things" list? Food, drinks, and our flowers. We had a 4 course meal which included appetizers and dessert, and everyone was allowed to pick from the menu at the event. This meant we didn't have to hound anyone to send us their "chicken, beef, fish, vegetarian" request ahead of time, and everyone got to pick what they felt most in the mood for.
We also had an open bar, but we discovered something interesting when we asked for an "open bar." It turns out even an open bar has to have restrictions, otherwise, people can order the $42 a shot tequila and quickly blow your food/drink budget! For our open bar, we let people order as many drinks as they wanted from an approved list of well and premium drinks.
Finally, flowers! Oh my gosh, I still get choked up about how beautiful the flowers were. Here's a peek: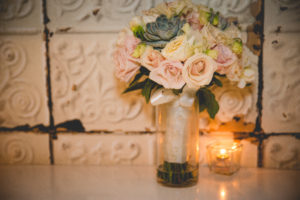 I just loved them. They were everything I could have hoped for in flowers: beautiful color, big bouquet, smelled lovely. Just perfect!
But, I had a friend use artificial flowers from Amazon for her centerpieces, and I was amazed at how good they looked too! Here's what they looked like:
[
Click here to check out these faux centerpieces
on Amazon. They are *super* affordable!]
While photography was (clearly) amazing, the location was beautiful and my dress pretty near perfect, the things I will always remember will be the food, drinks, and flowers. They were well worth every penny.
The Little Things Added Up In Our Wedding Budget
For the smaller yet almost as important things, we spent: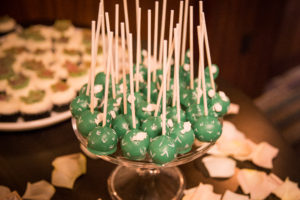 Look at how cute these were! Since we live in the southwest, we wanted our cake, cupcakes and cake pops (yes we had all three) to reflect where we live, and southwestern cactus was the perfect choice. They were so good, we didn't have any leftover cake pops and only 5 cupcakes left!
As for everything else… B's ring looks amazing, of course, but the officiant and invitations? Hmm. The invitations were lovely and beautiful, but I ordered way too many. When planning your wedding, keep in mind couples: not every person invited needs an invite! Couples get one invite, not one invite per person. Duh!
Our officiant was just not good. It turns out, asking around for officiants a year before our wedding was not enough time, because some of the best ones in Phoenix were already taken. Lesson sadly learned! The 20 minute ceremony was one of the most awkward, weirdest ceremonies I have ever seen… and it got to be my ceremony. Oh well, something for the guests to remember! 🙂
Getting Married is Spendy, But I Liked It
If you've been adding up our expenses, you'll notice this doesn't quite add up to $8,700. Truthfully, there were a few more expenses I can't quite remember, like Uber rides for friends and my husband and me to and from venues, but everything ended up being under $9,000. I remember being pretty stoked it was under $9,000, as my initial budget was (total) $8,000.
[I recommend buying a planner to keep you organized. Check out
this wedding planner on Amazon
that has 200+ positive reviews. It has stickers, a budget tracker, checklist, and more!]
Before I got married, people told me getting married was going to be "the best day of my life", but I didn't believe them. Surely buying your first house, or having a child, would be a better "best day", right?
However, after getting married and going through all of that, there are a couple of things I learned: I would never get married again (in terms of spending all that money), but it was a huge occasion. It was one of the best days of my life because of the people there.
Where else are you going to get his parents, your parents, family members, and close friends all together for a party? When else is everyone going to look at you, wishing you nothing but the best, celebrating your union to your best friend? I am so glad my friends were there to witness our union, no matter how weird the ceremony. I'm so glad everyone enjoyed themselves, had fun, laughed, met new people.
I'm so glad I married my best friend in front of people we love, and for $8,700? It was perfect.
What do you think of our wedding budget breakdown? Do you think you can do it?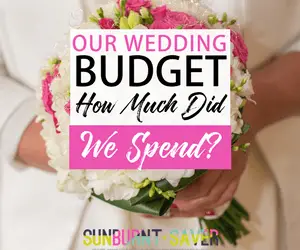 Want more tips on saving money on your wedding? Check out the latest: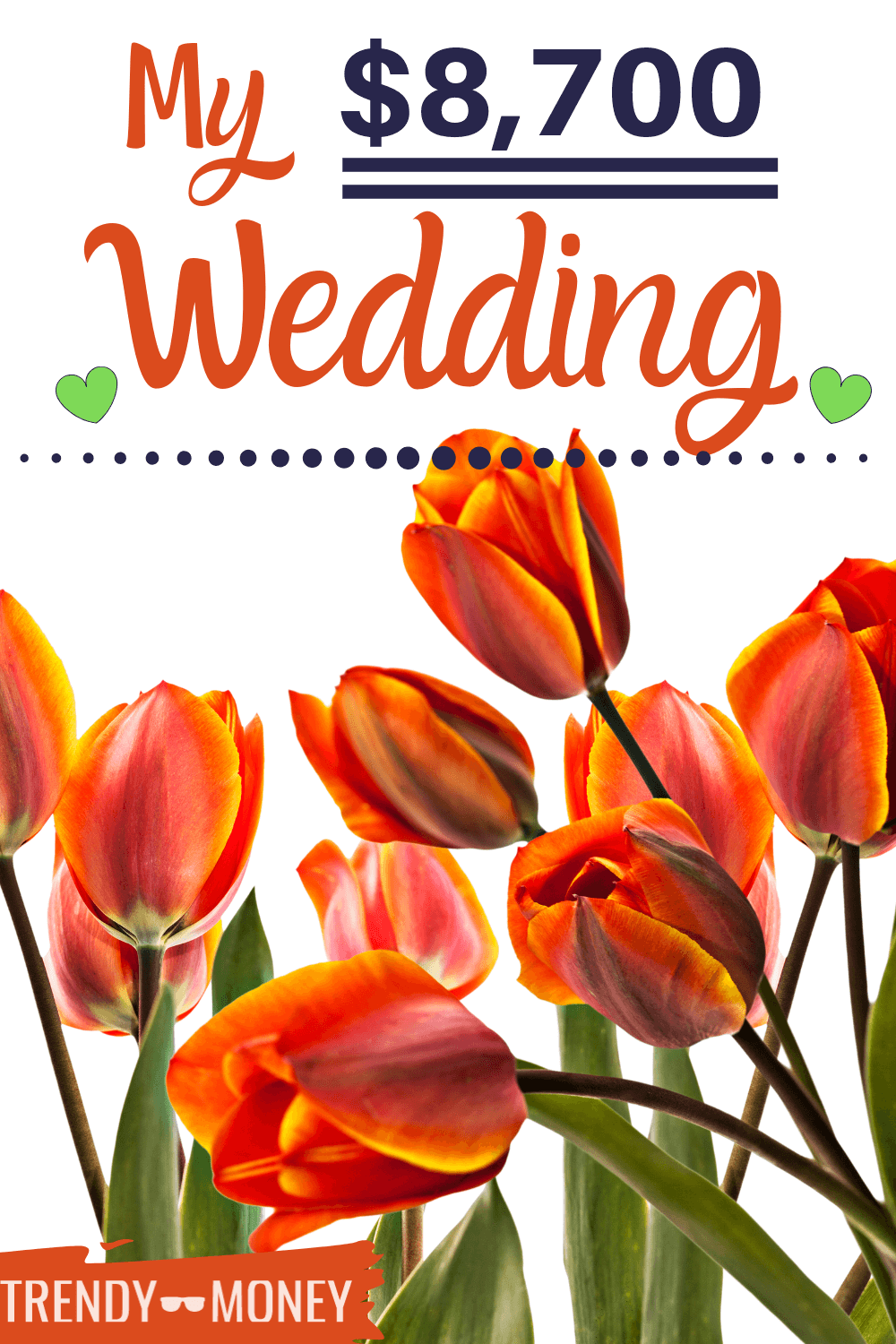 Save
Save
Save
Save