This post may contain affiliate links, which means if you click through and purchase something using my links, I receive a small commission. You can click here to read my disclosure policy ? Thank you!
When it comes to wedding food and drink, everyone has an opinion. You thought people's opinion on your wedding dress was bad? Just bring up "food and drinks" and everyone from your mama to your old cranky uncle is going to have an opinion. And they're not just giving you their opinions, everyone is basically judging you. From:
"You're offering a full course meal? That's too expensive!"
"You want to do a potluck? How cheap!"
"You're not serving drinks? Well, no one is going to your wedding then!"
"You're having an open bar? Well, that's wasteful!"
We heard all of that and more – before we even told anyone what our food and drink plans were!
But let's keep it all in perspective. If you've been following Sunburnt Saver for a while, you know I spent less than $9,000 on our wedding, I gave tips for saving money on your wedding dress and how to have amazing flowers on a budget. What do all of these things have in common? Sticking to a budget!
Regardless of what anyone says about your wedding food and drink, it's important to stick to your budget. Here are 6 clever ways to save money on wedding food and drink!
Think Beyond Catering
Maybe I've been unlucky, but almost every catered-food wedding I've attended has just been… blah. It's fine, but nothing to brag about. Conversely, every wedding I've attended where the bride and groom brought their own wedding food and drink from outside vendors has been amazing!
That's not to say caterers are bad at all – in some cases, your venue will require you to use their caterer, and that's fine. But if you have the option to bring in an outside caterer, you might get better (yummier) food and save money too!
You can save money by: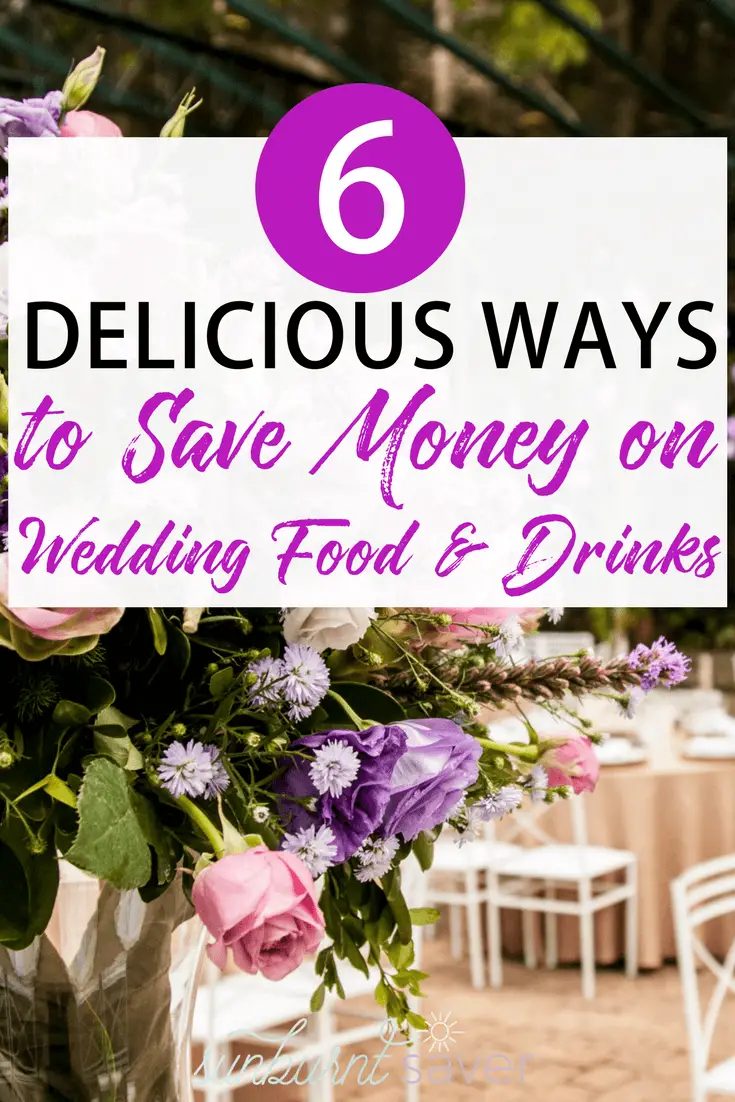 Having a restaurant cater your wedding – or having your reception at a restaurant in a private area, like we did for our wedding
Bringing in an outside caterer – one you've tried before or has been recommended to you by a friend
If you do have to use the venue's caterer, sometimes you'll be able to choose from different menus – try to mix and match! Buy the more expensive appetizers, for instance, to use as your meal, instead of paying more for the cheaper full-dinner option
Consider Brunch or Lunch Instead of Dinner
Honestly, I didn't even think of brunch or lunch before we got married, but I really wish I had. A coworker got married after I did, and she had a brunch instead of dinner for their wedding – and it looked amazing (plus saved them a bunch of money!)
You can either get married in the morning, and have a lunch reception afterward, or have brunch in the morning and have the wedding ceremony in the evening (sunset! So romantic!)
Again, if you are required to use your venue's caterer, by choosing a lunch or brunch option, you're likely to save much more money than by buying their dinner or even appetizers option. Also, who doesn't love breakfast?! 🙂
Consider What Kind of Options You'll Offer Your Guests
You've probably seen the invitations, asking you to choose between "chicken, fish, beef, vegetarian, etc." Not only is tracking down those requests difficult (why don't people believe in RSVPs anymore?!) but it's also a lot of work to keep track of. Plus, people change their minds at the last minute.
You may already know that certain food options are more expensive than others: chicken is cheaper than lobster in most cases, for example. But what if you don't want "just" chicken and vegetarian options (usually the cheapest)? Think about restaurant catering or a buffet-style meal.
If you're allowed some freedom to pick a caterer or dining style at your venue (or if you do what we did, and have your reception at a restaurant), you can avoid the "pre-planning" food choice invitations by offering a selection to your guests – that they can pick in the moment. This saves you time (tracking down food requests!), money (by not offering a huge selection, you can buy "in bulk" and save money) and headaches (people changing their minds last minute and then messing up your food order!)
Get Your Caterer On Board with Your Budget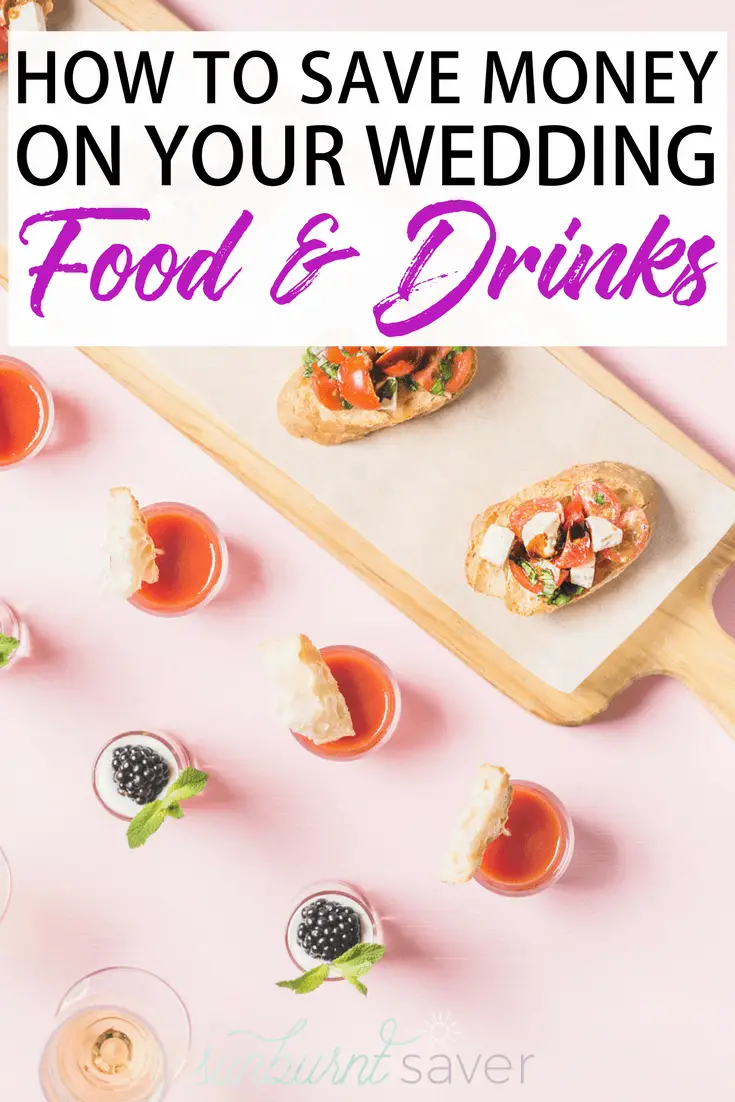 Let's face it: in many cases, your caterer is going to want to upsell you on every single thing. Basic appetizers? Oh, but what about the beef tacos? Oh, that's the "Silver" option – aka more expensive. Don't get talked into supersizing your food budget!
One way to avoid miscommunication (and upselling from your caterer) is to let them know your budget, flat out, at the beginning. If you have budgeted $2,000 for your wedding food, let the caterer know that's the budget and what you'd like to have for your meal, appetizers, etc. You want to make sure that you have enough left over in your budget for things like wedding photography or even your wedding dress.
If you're using your venue's caterer, they likely have several options within your budget that offer a variety of meals. This may mean you have to stick with more chicken or vegetarian meals to keep your budget low, but don't be afraid to mix and match "expensive" appetizers with a cheaper dinner to keep everything in budget.
Don't Rule Out an Open Bar
For our wedding, it was very important to me and my husband have an open bar. Not saying you have to have alcohol to have a good time, but we know our family and friends, and we knew they would love an open bar. We also had a small (under 50) list, which made the choice easier for us.
One thing we didn't know? Open bar does not mean "free for all" drinks – which is what many people assume. If I had a nickel for every time someone told me an "open bar would bankrupt us", I could have paid off the wedding in 2 months instead of 6+! 🙂
So what is an open bar? An open bar is unlimited alcohol within a price point and liquor type that you choose. This means we did not choose the $42 per shot tequila, we chose the much cheaper (although better than basic) tequila option. In many cases, your wedding food and drink venue will have a price list of several different alcohol options: cheapest, medium priced, and premium. Think Smirnoff vodka (cheaper) vs. Grey Goose (premium).
You can still offer the $42/shot tequila at your reception – but your fancy uncle will have to pay for it himself!
Keeping it Cheap: Signature Drinks, Beer and Wine
By far one of the best ways to keep wedding drink costs down is going with one or two "signature drinks" and beer and wine. Obviously, no alcohol is cheapest, but if you're planning on having alcohol, then keeping the options short will also keep your drink budget small.
Signature drinks can really be a hit – I've seen it done several times now, and people usually have a "his choice" and "her choice" drink. For example, he's into rum and she's into vodka, so he has a mixed rum drink option and her "signature drink" is a mixed vodka drink option. Guests can choose between the two based on which drink they like more, or they can stick with the beer or wine options.
A Note About Potlucks
I've only seen a potluck wedding done once, and it was because the bride and groom were on a very tight budget. They also had their wedding outside in a public park (some cities will allow you to do that for a very small fee).
It went fine, but be aware this may be a coordination nightmare on what is usually a very busy and stressful day for both you and your future spouse. If you have solid family members who live in the same city, you could possibly pull it off, but just be aware that the stress and logistics will be difficult.
Everyone Is Going to Judge You
For better or worse, people remember food and drinks at weddings. Unlike flowers or even your wedding dress, everyone will talk about the "amazing" food – or they'll remember getting violently ill from tainted salad (yes, this happened to me at a friend's wedding… it happened to many of us who ate the salad).
That said, don't let anyone pressure you into spending more money on wedding food and drinks than you can afford! Like I always say: unless someone else is helping you finance your wedding, only you and your future spouse's budget matters. Don't go into debt for your wedding – it's not worth it and only puts you on shaky ground. You'll (hopefully) be married for a very long time – you can always splurge in 10 years for a big anniversary party!
What do you think of these wedding tips? Have any horror stories or good stories to share? Do you remember wedding food or drinks at weddings you've attended? Let me know in the comments!
Want more tips on saving money on your wedding? Check out the latest: