This post may contain affiliate links, which means if you click through and purchase something using my links, I receive a small commission. You can click here to read my disclosure policy ? Thank you!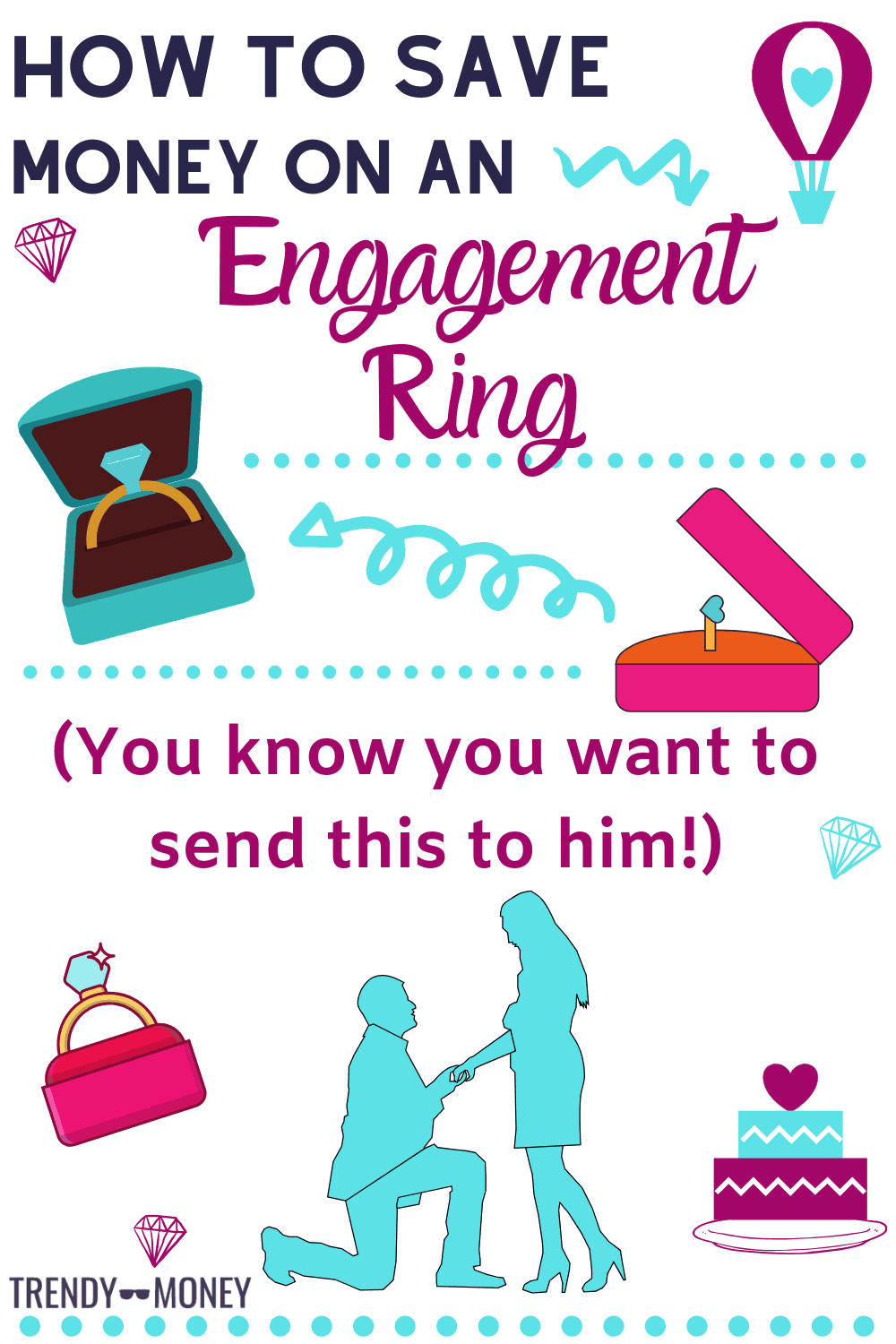 Have you ever heard "your engagement ring should cost 2-3 months of your fiance's salary." I don't know about you, but I think that's crazy! I guess that's typical, though, since The Knot says the average cost of an engagement ring is well over $5,000.
I'm going to go out on a limb and say for most of us, $5k on a ring is just nuts. With student loan debt, down payments to save up for, passion projects (mine is traveling, my husband's is home remodeling), and, you know, OTHER LIFE EXPENSES, $5,000 for just a ring is a little hard to save up for.
Luckily, there are a lot of engagement ring and wedding ring options out there today in a variety of price points. Lots of selection usually means lower prices. But how do you find the right engagement ring for you at an acceptable price point? Read my sanity-saving tips for spending less on your engagement ring below!
Want more tips on saving money on your wedding? Check out the latest:
Determine What You Want Ahead of Time
It's definitely hard to see what type of ring you're into just by looking online, but give it a good try. Much like wedding dress shopping, knowing what you definitely like (rose gold?) and what you definitely don't like (gold?) will be invaluable when you go shopping. Not only will you save time only looking at what you want, you'll also save money by not getting up-sold into something you're only so-so about.
Once you're ready to go out and try on rings, you'll be on good footing to know what you like in the ballpark of what you may spend. For me, I knew I wanted an emerald ring with a white gold band, so that narrowed our decision as we went ring shopping.
Also, yes, I went engagement ring shopping with my husband. It's great if your future spouse surprises you and you're on board with that, but for me, I am wearing the ring, so I needed to make sure I'd like it forever. It's too expensive to leave to one person – unless you love surprises – which I don't!
Know There Could Be Additional Expenses
It's important to know your likes/dislikes when you're going engagement ring and/or wedding ring shopping. It's also important to know when you go "ring shopping", you're not just getting "the ring" – you're getting the stone, the band, you're paying for the cut/color/clarity of the stone… etc.
When we went ring shopping, I was upfront about the stone I wanted, so then we "just" had to narrow down the band. We eventually settled on three bands (your ring, basically, minus the stone) and the jeweler told us the prices. "That's with the stone, right?" I said, calculating it + our budget in my hand. "No, the stone is separate and can cost [a few hundred dollars] depending on the band and size you want."
Say what? Oh yes, my friend! If you've never been ring shopping before, your band is one price, your stone is the other – and your stone can be wildly expensive depending on what you want (a giant diamond = $$$$$, a smaller-sized emerald or sapphire stone = $$).
One thing I loved about my ring was that an emerald stone is so much cheaper than a diamond. Did some people give me a hard time? Yes, absolutely – but until they're paying for my ring, they can just be quiet!
Related: The Same Goes for Your Wedding Food – If They Don't Like It, They Can Get McDonald's After the Wedding
Stay True to What You Want
While I'm really happy we saved money (and got the stone I wanted!) by getting an emerald ring, I did end up choosing a band with small diamonds in it – because traditions surrounding engagement rings are hard to break.
Related: Want to see pics from my wedding that cost less than $9,000? Click here!
People are going to judge you hard on the type of ring you choose, even if you go with the beautiful traditional white gold + diamond look. It's going to be "so small" or "is that it?" If you choose an emerald, like I did, it's going to be "oh, not a diamond? Too expensive?" Even if people mean well… people can also be insensitive.
That said, stick to your own tastes AND your budget! If you really want a diamond, that's cool! Clear stones are pretty – but be aware that diamonds cost a lot and can really impact your budget.
If you want a diamond but can only afford something small, you may want to go for a slimmer band (like the one below) so your diamond is the focal point, vs. a bigger band where a smaller diamond could get swallowed up.
Visit as Many Stores As You Can – Including Online
Going online is one of your best bets for finding an appropriate budget for your ring and style you like. You can spend as much time as you want looking at rings online – you can't in a store (eventually they have to close!)
You could also even order your engagement ring online, although I didn't because it seems risky. If you're really not sure of your ring size or the band style you want, it helps to go in the store. Yes, they will try to upsell you, but at the same time you can see if the style you think you like is really the style that looks good on you.
If you don't know anyone who has gotten married in your city (you don't have friends or coworkers to ask), this is a good starting place.
In a lot of cases, you pay a premium for better service or location, but when it comes to an engagement ring or wedding ring – face it, you're going to be paying a premium wherever you go. So choose based on service and how they treat you. If they talk down to you because your budget isn't what they want – go to another place that actually wants your business!
How Many Rings Do You Want/Need?
I know it may sound controversial to say, but do you really actually need a wedding ring AND an engagement ring? If your engagement ring is pushing your budget, as ours started to, you can always… just get married with your engagement ring!
You see, my husband and I didn't really "get" that you needed a wedding ring plus an engagement ring. We just thought engagement ring = wedding ring. Yeah, I don't know what we were thinking either. So when it came time to actually get wedding rings, we had just enough money to buy him one – not enough money to get me one too!
Luckily, it all worked out. No one noticed I used my engagement ring to get married, and no one cared I didn't have a wedding ring for a while.
If you do want a wedding ring and an engagement ring, seriously consider getting them at the same time. If you want to wear your engagement ring with your wedding ring after you're married, as some people do, then they should at least match a little. They don't have to, but often engagement rings will have a similar wedding ring so they look nice next to each other.
However, if you can only afford one ring – then just get one ring! A wedding ring vs. an engagement ring will be much cheaper, and you can wear it as an engagement ring – don't let people get judgey on you!
If you want a bling engagement ring, get that, where it, use it for the wedding ring and then save up for a smaller, less expensive ring later.
Final Thoughts
Weddings can be stressful enough – don't let people and their opinions make you feel like you have to spend more than you should. We spent a lot [but within budget] for my engagement/wedding ring, and I love it! I always wanted an emerald ring and that's what I got.
However, engagement rings are usually big, and big can get in the way of cooking, cleaning… living… so a year after our wedding, my husband and I went to Sedona, AZ (a beautiful place if you haven't been!!) and he bought me a $40 wedding ring made by a local jeweler. No one said anything, and I only get compliments for what a pretty (and practical) ring it is.
The emerald still comes out for fancy occasions, but my point is: after the wedding is over, no one cares what you're wearing! Don't break the bank getting a ring you might end up sticking in a drawer anyway. Plus, you can always save up over the years for that big expensive ring – maybe you just get it on your 5th year anniversary vs. your first year!
The best thing I can say about all wedding planning is: set a realistic budget by doing some online research first, determine what makes you happy first (prioritize your wedding expenses) and do what works best for you and your future spouse. A solid financial future together is more important than any ring or party!
If you're married, what does your wedding ring look like? If you're not married, do you have an idea of what you'd want your wedding ring to look like?
Want more tips on saving money on your wedding? Check out the latest: