This post may contain affiliate links, which means if you click through and purchase something using my links, I receive a small commission. You can click here to read my disclosure policy ? Thank you!
Becoming engaged is simultaneously one of the most exciting and most stressful times of my life. Since becoming engaged, I've started a new job, my freelance writing has taken off (want to hire me?), and my fiance and I are planning on selling our home and moving right after the wedding. Add that to regular family shenanigans, life, and trying to occasionally get out of town for vacation, and it's been a pretty crazy last 10 months.
All that said, being engaged is a ton of fun. Like everyone says, it's your last hurrah before being officially married, whatever that means. Before becoming engaged, I didn't think actually being engaged was anything special. After all, B and I have been together for almost 6 years – surely a ring on my finger wasn't going to change anything!
Well, as with some things in life, I was wrong (never tell B I said that!) It turns out being engaged is a bit different from regular dating. Here are the 4 things I've learned since becoming engaged. Feel free to chime in the comments if I've missed something!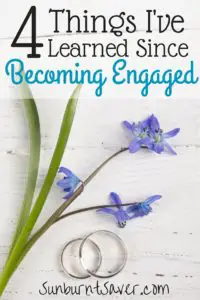 1. Celebrate your engagement!
When I first got engaged, I was overwhelmed with my Dad being sick and work stress. Getting engaged was awesome, but I just wasn't as excited about it as I should have been.
About 8 months into being engaged, I started to get really excited about the wedding. Unfortunately, most of the excitement from everyone else had dissipated. I was already engaged – why celebrate 8 months later?
I learned a little too late that, when you first get engaged, you have to celebrate it as much as possible. People who are low-key (most of my family, friends, and coworkers) won't care after the second month mark, so embrace their excitement at the beginning and expect for that excitement to wane as your engagement goes on.
That said, do surround yourself with friends who are excited about weddings! I have one friend here in Phoenix who loves everything about weddings, and she's my rock when I need to share my wedding excitement. I also have friends in other states I plan on visiting, who haven't been inundated by wedding planning and are still excited about it. With those people, I can still be as excited as I want and not feel like I'm annoying people with my wedding chatter!
2. Some things you have to plan really early for, some you don't
I learned the hard way that some things you really need to plan early for – like, right after you get engaged and set a date. B and I had already talked about our wedding date way before even getting engaged, so the minute he proposed, I immediately contacted the venues we wanted.
In hindsight, I may have moved too fast for one venue (it wasn't my first choice), but I'm glad I secured us a location. Depending on when you get married, your wedding venue could be booked months if not a year+ ahead of time. As soon as possible, try to find some venues you like and contact them to set tentative dates. Some places will only hold your reservation for a few days, too, so work quickly to make sure that's the date, time, and location you like!
Surprising to me, you also have to move fast on securing a wedding coordinator and officiant. I wanted a particular coordinator and officiant, and both of my first choices were already taken. I had assumed that these people weren't quite as in demand as venues, and I took another month to book them – too late!
On the other hand, flowers, cake, and stationary shopping? That's been a piece of cake (no pun intended!) I've been able to get appointments will all my first choice vendors, and all are available to deliver on my wedding date.
It helps that florists, cake bakers, and stationary people all typically hire extra staff during busy times to accommodate everyone. While my baker will likely be baking our cake, she has staff to help her decorate, pack, and deliver the cake, freeing up her time to work on another person's cake at the same time.
3. Sending out save-the-date sucks
Okay, this might just be me, but I've taken my sweet time getting out save-the-dates, and now it's a pain in the butt. Why even have save-the-dates if you're calling out of state people and telling them the date anyway? Do they really need a save-the-date? And at this point, I'll be sending out my real invites only a month after the save-the-dates!
That said, I bought them, and they are definitely going out. I just have to get stamps, which is another fun challenge. Seriously thinking about using Postmates, but I think that would be a waste of money when I could just go get stamps myself…
It doesn't help when one of my friends, who isn't getting married until 6 months after me, has already sent out her save-the-dates. A whole year ahead! :-O
At this point in the engagement process, I do a lot of talking to myself and note taking in my iPhone! I'm hoping this whole "being engaged and slightly crazed" feeling goes away before the wedding!
4. Set up a calendar, and lower your standards
There are calendars, and then there are engaged-people calendars. I thought I had a pretty good handle on my calendar and planning before being engaged, but since becoming engaged, I've increased my calendaring skills to level 10 (from level 5).
I always thought I was a paper calendar girl, until becoming engaged. Now, all of my appointments are on my phone and work calendar, so I can track and add to my calendar at all times.
A lot of things I do now are on auto-pilot. Getting up in the morning? I have a routine so strict, the military should hire me. Gym time? So compact I could be a HIIT instructor. Weekends? So jam-packed, I consider going to work to be a break from the weekend!
On the other hand, some things are on such auto-pilot, I'm not putting my full effort or attention into them. I'm 100% on work (both full-time and freelance), but anything beyond basic hygiene is operating at about 50% (showers, yes, full makeup, no), and I'm not as good of a friend as I used to be. I text and Facebook regularly, but it's definitely not the same as regularly talking or Skyping with people!
While I've definitely become more productive about my time, part of me is pretty excited for wedding planning to be over, and just to have to wait for the wedding. Even though it's already been 10 months, I think I still have a lot to learn about being engaged – and eventually married! 🙂
What did you learn when you were engaged, and what do you think other engaged couples should know before becoming engaged?