This post may contain affiliate links, which means if you click through and purchase something using my links, I receive a small commission. You can click here to read my disclosure policy ? Thank you!
Everyone says one of the most important things on your wedding day is your dress. There are even shows, like Say Yes to the Dress, that make a huge deal about your wedding dress, what it means to you, and even what it means to your family.
While wedding dresses are important (you need clothes to get married in, after all), if you're on a budget, a wedding dress can be a huge expense. If a wedding dress is one of your top priorities, then by all means spend as much as you want on it. However, if you're looking to save money on your wedding dress, I've got some tips for you!
For me, a wedding dress really wasn't that important. I had a certain style in mind, but when I went traditional wedding dress shopping, I found the dresses were huge, heavy – and crazy expensive for my $9,000 budget.
Below are a few things to keep in mind to keep your wedding dress budget manageable and still get what you want on your big day.
[Tip: I recommend buying a planner to keep your budget organized. Check out this wedding planner on Amazon that has 200+ positive reviews. It has stickers, a budget tracker, checklist, and more!]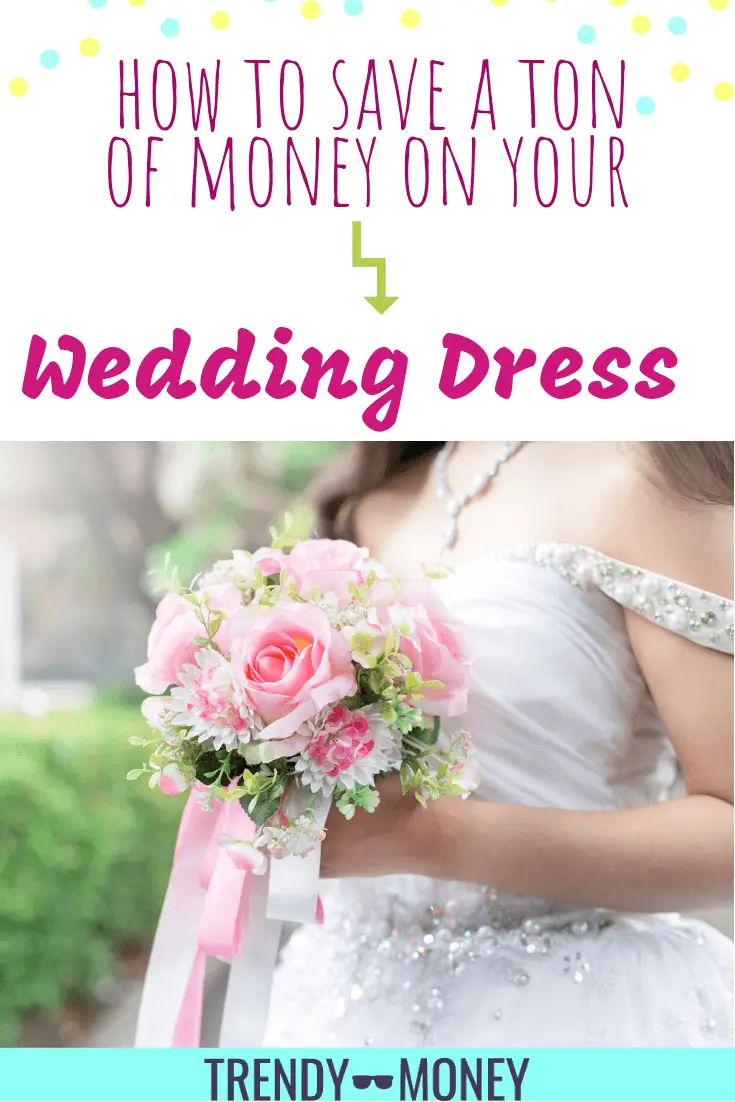 Know What You're Interested In
Whether you've been scouring wedding magazines since before you were engaged, or whether you would never ever pick up a wedding magazine – it's time to pick up a wedding magazine. Sorry, wedding haters 🙂 But you're doing it for your budget!
Take a look at every single ad related to wedding dresses. Look at all your friends' Facebook and Instagram photos. Look at pictures of people who have a similar body type to you. Be honest about the things you like in wedding dresses and how they'll look on your body.
For example, when I went wedding dress shopping, sleeveless dresses were in style (and still are!) However, I'd worn sleeveless "tube top" type things in the past – and I knew they weren't for me.
Yes, brides are beautiful no matter what – but this is your wedding day and you have to be comfortable. This is likely going to be your wedding day:
Wake up early (either excitement or because you have stuff to do)
Sweating (even if it's cold outside – either excitement, nerves, or you're hot!)
Smiling (so much smiling)
Stressed
Nervous
Happy
Sad
Go to bed late, have to pee, yell at your new spouse to help you get out of the dress RIGHT NOW before you pee all over it (or was that just me?)
See? You don't want to also feel self-conscious in your wedding dress, so pick a style that works 100% for you.
It's critical to know what you want before stepping into a store, because trust me, people are going to force some weird stuff on you.
Get Your Budget on Lock and Don't Be Talked "Up" Into a Dress
Quick note: I highly recommend you go into wedding dress and bridal stores. Even if you don't end up buying a dress there, at good wedding dress stores, they'll put you in dresses, add different veils and accessories, and really complete the experience. Again, you don't have to buy there, but going can help you see the overall picture of your wedding dress might look like "on the big day."
That said, when you walk in and speak to a salesperson: be upfront about your budget right away. You don't want the salesperson going in the back and pulling out a dozen $10,000 dresses when your budget is $1,000. That will just make everyone sad.
Also, try to find a wedding dress under your budget. Why? Alterations, my friend!! Oh boy, can those mess up your budget. My dress was $800, but then needed a few hundred in alterations (thanks, A-cups).
[Also – do you want to save money on a veil? Did you know you can buy a really nice one on Amazon and save hundreds of dollars? Check out this example here.] 
Well-meaning people (like friends and family) may try to talk you into buying a dress outside of your budget – unless they are paying for the dress, shut that down quickly. Luckily, my Mom loved the dress I picked, so that didn't happen, but it totally can. Unless Mom and Dad are paying, tell them nicely that you'll find a dress in your budget.
Try on ALL THE DRESSES
This was advice I should have taken but didn't, because I really just got tired of wedding dress shopping. Soldier through it, my friend. You can do it.
Sad confession: I don't entirely love the dress I picked. It was a great dress and I looked good in it, but I was self-conscious at times… I definitely should have tried on more dresses, but I was over it and that dress was "good enough" (and it was in my budget).
I don't want you to feel that way, so please try on as many dresses as you can. Don't actually say no to anything (unless it's a style you hate, like me and the sleeveless dresses). If it's in your budget, try it.
Consider Trying on Dresses Without Friends and Family
I know it sounds like a crazy thing to do, but consider trying on dresses without friends and family. If you know you have a really pushy aunt, mom-in-law, mom, sister, or friend – maybe leave them out.
Or, take them with, try on a bunch of dresses, pick one or two you like – then go back and try on those ones you picked by yourself. In some cases, you may be able to take the dresses home with you to try on by yourself if you pay a deposit – check with the bridal store first.
This is definitely something I should have done. While no one pushed me into the dress I chose, I could tell my Mom and friend really liked that one and, since it was "good enough", I went with it. Trying on more dresses or trying them on by yourself could help you see things from your perspective, without interference from others.
This is where ordering online could be helpful – while it will save you time by getting your dress, alterations and accessories at one store, you may end up saving money by shopping online and finding your own alterations person. Plus, you get to try on dresses in the comfort of your own space!
After the Wedding
Now that the wedding is over, what do you do with your wedding dress? If you want to hold on to it and pass it down, great! Just get it professionally cleaned and preserved in a nice box or soft hanger.
However, what if you're like me and just want to pass it along? You can, of course, take it to Goodwill, but there are many options for making a little money on your wedding dress, too. Here are several reputable places where you can sell your wedding dress and make a little money back:
PreOwnedWeddingDresses.com – this one is my favorite because they have a wedding dress calculator to help you decide if it's even worth it to sell your dress. I honestly didn't think mine would be worth that much, but according to their calculator, I could get $320 for my dress. Minus their $25 fee – not bad!
Nearly Newlywed – Nearly Newlywed also charges a $25 fee, but they handle the promotion and shipping, which is nice if you just want to get your wedding dress out and not deal with any of the photos or shipping.
StillWhite.com – Still White only charges a $20 fee, but you will handle the photos and shipping.
Weddings Can Be Emotional
I actually still haven't sold my dress, even though I actually didn't know where it was until I wrote this post. I texted my Mom and said, "Who has my wedding dress?" Turns out, she kept it and got it cleaned for me and was keeping it in her closet. Clearly, she loved that dress more than I did 🙂 (Btw – it cost $125 to get the wedding dress professionally cleaned and preserved. Ouch!)
Wedding dresses can be a big deal, but keep in mind a few things:
Sticking to a budget will be better for your marriage in the long term than "the perfect dress"
As my Mom said about her wedding dress, "the dress didn't last but the marriage did!"
In the end, that's what counts! Starting off your lives right, together, living a financially secure future for the rest of your lives together.
Now, I've got to go get my dress and sell it. It's time (2 years later). And I owe my mom $125.
What recommendations do you have for sticking to a wedding dress budget? Let me know in the comments!
Want more tips on saving money on your wedding? Check out the latest: