This post may contain affiliate links, which means if you click through and purchase something using my links, I receive a small commission. You can click here to read my disclosure policy ? Thank you!
I love music – but didn't have any of my own at my wedding. I spent months (okay, years) planning my wedding playlist. Seriously, I had a playlist on iTunes (and then Spotify) called "Wedding" where I collected all of my (and my now-husband's) favorite songs. I was so excited for our wedding playlist I even shared it with my friends ahead of time!
That probably jinxed it, because when it came time for the wedding music playlist – it was a complete disaster. The Bluetooth speaker we brought wasn't loud enough, my phone (which had the music attached to it) kept turning off (which turned off Spotify and the playlist) – luckily, we found out all of this before the actual wedding day, but WTF? Seriously?
If you've been following my "How to Save Money on Your Wedding" series, you already know we had our wedding reception in a restaurant so, lucky for us, the restaurant had great, low-key but fun music piped in, so everyone got music. We also knew we didn't want (or have enough room for) dancing, so luckily the music didn't end up ruining the wedding.
Before I got married, I thought "aw, music. Besides maybe hiring a band or a DJ, what else do you need to worry about? Just a make a playlist!" No, my engaged-friend. Do not assume an indifferent attitude about your wedding music. You have to prepare for your wedding music just as seriously as you do your food. Luckily, wedding music doesn't have to break the bank. Here are 3 ways to manage your wedding music at every price point.
The Cheapest Wedding Music Option: No Music
I know "no wedding music" sounds insane – all of my friends thought it was absolutely crazy that I didn't plan on having any dancing at my wedding. However, hear me out. If you're having a small intimate get-together, let's say 50 people or less, and you're not going to have a dance floor anyway… maybe consider not paying for wedding music?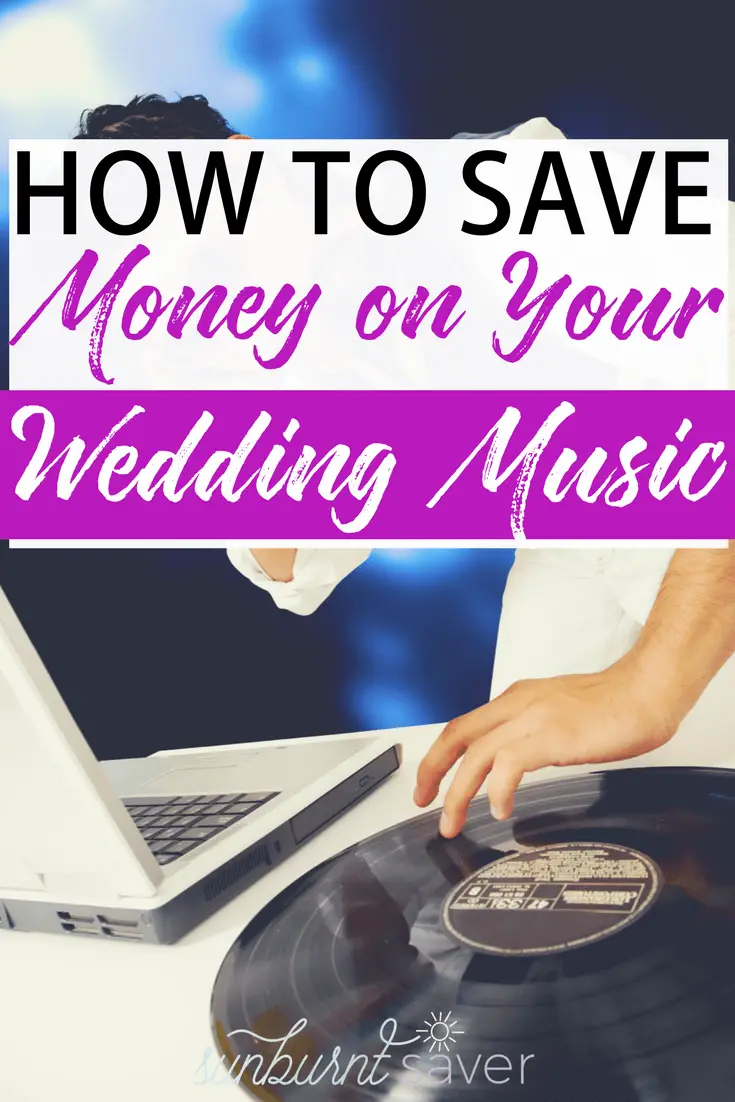 That doesn't mean you won't have any music. Depending on where your reception is, there may be music piped in from another room – you may even be able to tap in and use their sound system for your own wedding playlist (cost to make: free!).
In our case, we had our reception at a restaurant that played very trendy, southwest-style Spanish guitar music along with some pop. I'm not describing it well, but I promise it sounded perfectly fine!
DJs and bands around the world are howling at me for saying this, but you don't need wedding music to make your wedding. Think about your venue and your set up. If you don't have the budget for a large venue with a big hall for dancing, maybe downsize it by a lot and just have a nice dinner with some casual music piped in.
Unless your family/friends have to have dancing (like, you come from a family of dancers or something), people won't die if they can't do the "rubber chicken" at your wedding. Chilling, talking, eating, drinking and photos will keep them busy!
Next Cheapest Option: Setting Up Your Own Wedding Music
As I mentioned above, we first thought we'd do our own thing for music since I already created a playlist. We thought we could bring in our own sound equipment and make it work… but it's never that simple.
If you are going to bring in your own music, you will need to have some way to play the music loud enough so that everyone can hear. We looked into wireless (Bluetooth) boombox type devices, but no matter where we placed it, either some people would be deafened by music while others on the other side of the room would barely be able to hear it.
One way to get around this would be to link up several different "boombox" type devices, like a Bose system, put them around your venue and link them wirelessly to your playlist. This would make sure everyone can hear the music equally, since the music would be spread out around the venue.
One thing to keep in mind is you'll also need someone to keep an eye on the playlist if for some reason you run out of songs, or if someone's drunk uncle commandeers the playlist and starts playing weird stuff no one likes.
There are definitely ways around this, like connecting your playlist directly into the reception's sound system, so you'll want to work with the reception coordinator or restaurant manager to see what the options are.
More Expensive: Hiring a DJ or a Band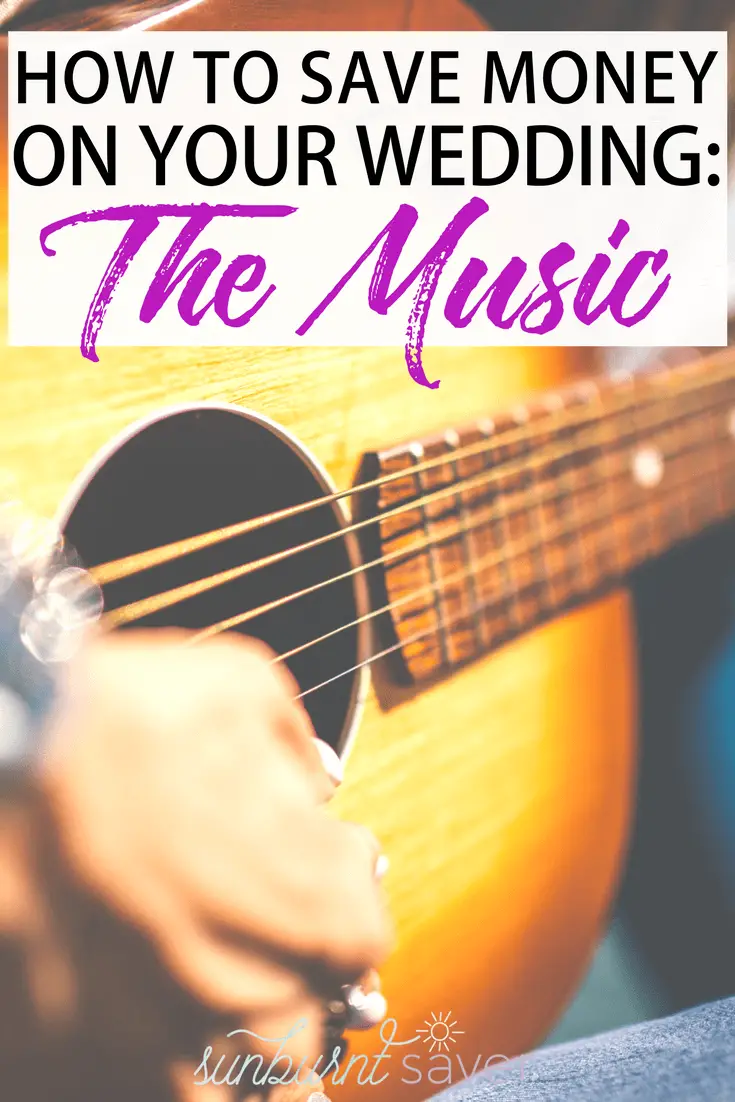 Having a DJ or a band is super, super fun. Personally, I prefer the DJ to a band but I've seen both and both are great options. They're just more expensive than doing it yourself, but if music is a big deal to you and/or your future spouse, go for it and spend the money on it!
For reference, it can really depend, but DJs typically charge anywhere from $400 to $2,000 depending on the DJs skill, how many hours you need them, and your city location. The bigger the city, the more pricey the DJ typically. Bands really can differ in price, depending on what you're looking for, but they will typically cost you $700 to $1,500.
If you're getting married at a hotel, your coordinator should have some affordable options for DJs and/or bands in your city. Your hotel may be able to offer you a discount for using their music options, so be sure to ask!
Local brides and grooms have it even easier – just as friends, family and coworkers who they've heard of are good DJs/bands for weddings. Everyone knows someone who knows a DJ, so you won't go wrong asking around. Just make sure to get several quotes and make sure the DJ/band is familiar with the type of music you and your fiance want.
Should You Go with a DJ or a Band?
This question really comes down to personal preference. Personally, I'm more of a DJ fan because DJs can get your Grandma's Frank Sinatra fix while also making sure the DJ Khaled fans are appeased as well. Most bands won't have the range to do both Frank and Khaled justice.
On the other hand, bands are a really good option to get in a variety of music that's not the typical DJ variety. I've seen bands that can do everything from jazz to reggae to pop, covering the classics while also putting a spin on contemporary hits.
The biggest thing to keep in mind though is: how familiar are the DJs/bands with your favorite music? You'll want to interview the bands and DJs ahead of time, talk about their style of music/what they usually play, and even ask to see videos of them in action.
Those answers, along with your budget, will help you make your decision.
Wedding Music & Your Budget
I'm going to sound like a broken record here, but unless someone else is helping you pay for your wedding, you have to stick to your wedding budget, regardless of what others want. People thought it would be the end of the world for us not to have dancing and music and, you know what? No one actually noticed we didn't have dancing.
People told me later that they were happy we didn't have dancing – instead of feeling forced into something some people don't like, everyone just relaxed, mingled, ate, took pictures, caught up – enjoyed the wedding, go figure! 🙂
On the other hand, if you have to have music? Go for it!! Music is super fun at weddings too! You just have to know your audience and your budget.
Did you have music at your wedding? What's one song from your wedding playlist?
Want more tips on saving money on your wedding? Check out the latest: