This post may contain affiliate links, which means if you click through and purchase something using my links, I receive a small commission. You can click here to read my disclosure policy ? Thank you!
If you have a dog who is your best buddy (much like my cute mutt is!) you've probably considered camping with a dog as a great way to travel and take your furry pal with you, right?
Even though camping with a dog is easier than a lot of other types of travel, it's not totally smooth. There's a lot of preparation that goes into taking a dog camping for the first time, as many campsites and trails have strict rules about what you can and can't do with your pet. Luckily, it's not impossible to travel and camp with your pet pal, as long as you prepare and do a little research ahead of time.
[Check out a great hiking harness for dogs here.]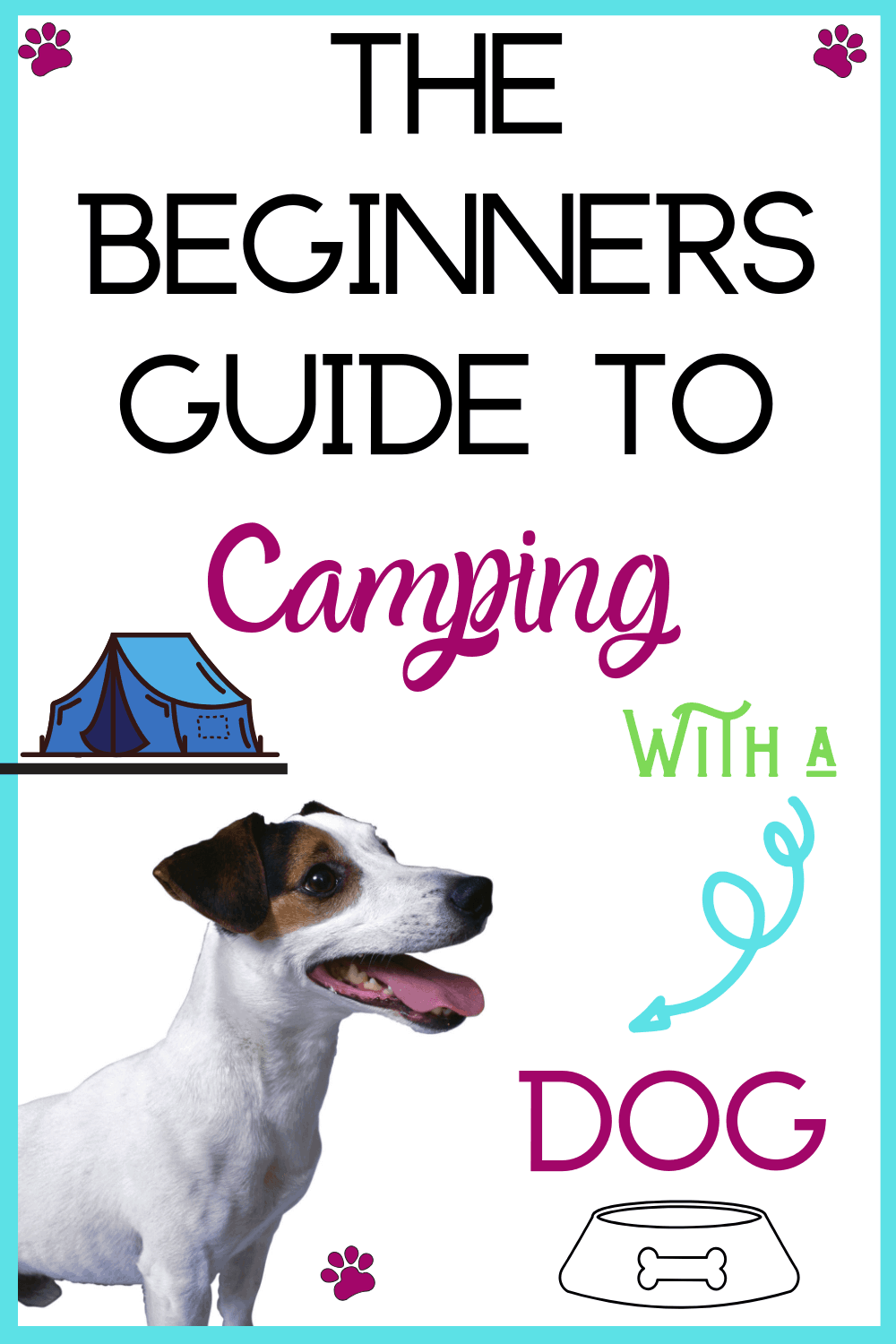 It's worth the time it takes to research for your trip because camping with your dog can be really fun! When my husband and I took our super long camping trip (3 weeks! With some Airbnb thrown in, of course), we took our dog and we were so happy we did.
She was a great little traveler, she got to sniff all sorts of new smells, and she kept us active because, no matter how lazy we wanted to be, she had to go for a walk! Read on for ways you can have a successful trip camping with a dog.
[This is my favorite collapsable water bowl for my dog – perfect for camping!]
Camping With a Dog for the First Time
If your dog has never gone on a camping trip, it's important to think about a few things before you jump into full-on camping with your pet. First, ask yourself these questions:
How does my dog do with road trips? Are they nervous, do they cry, or do they look out the window and chill?
How does my pet do alone? Do they cry or tear things up, or do they sleep?
How will my pet do on long hikes? Are they healthy enough to hike and jump in/out of a car? Will I need any dog toys to keep him/her occupied?
How does my dog do with a disrupted schedule?
Dogs can often vomit in a new environment. How can you best prevent that or prepare?
These are just a few questions about your dog's general health, fitness, and ability to take the disrupted, probably poor sleeping and more activity that is involved with camping. If your dog is old, sick, or bad at car rides, s/he might not be a good contender for camping.
That said, there are ways you can prepare to have a successful camping trip with your dog. First, make sure to download the Pet First Aid app from the American Red Cross, with tips on how to keep your pets healthy and what to do if your pet gets sick while on the road.
Next, you'll want to find camping spots that accept dogs. That can be harder than it sounds!
[Also check out this great elevated dog bed that folds up small for easy travel.]
Where Can You Go Camping with a Dog?
The National Park Foundation has a great list of 7 national parks that are dog-friendly, so if you live around those places or are planning on visiting them, you're in the clear!
However, it can be tricky to know exactly which parks are dog friendly and which ones are restrictive, so it pays to do your homework on camping and hiking locations ahead of time. Always plan on having your dog on a leash, and always plan on having someone (you, your spouse/partner/an adult friend) with your dog at all times. Yes, it can be burdensome, but if you're bringing along your dog, it's just something you have to plan for.
For example, we took our dog to Yellowstone and, as long as you follow their rules about putting away food/water at night (wildlife!) and keeping your dog leashed and off trails, you'll be fine. Yes, your experience is limited and that is a bummer, but it's still fun camping with your dog.
Other parks (local parks, state parks, etc.) are much less restrictive than national parks, so if you are going camping with your dog, I highly recommend you go to a state park instead! In many state parks, you're allowed to bring your dog on trails, which makes the whole camping and hiking experience much more fun.
[Check out this cool elevated, airtight dog bowl/food storage container you can use at night to put your dog's food away!]
Should My Dog Be on a Leash When We're Hiking?
Always keep your dog on a leash, whether you are hiking, resting at your campsite, or cooking in your fire pit/grill. You can easily tether your dog (with a long leash!) to a nearby tree or the picnic bench in your campsite (depending on how big your dog is – at some campsites, our 60-pound dog would pull the bench when she saw a squirrel!)
Why do you have to keep your dog on a leash?
Safety – you do not want to lose your dog at a campsite! No matter how "urban" (aka populated by people) it is, you just don't want your dog loose in an area s/he is unfamiliar with.
Concern for other people – even if you're in a very remote location, you may be camping/hiking near other people. Not everyone is comfortable with dogs. Other people hiking with their dogs may not be comfortable having a strange dog run up to them. Be considerate of others who are camping/hiking.
Follow the rules – in most cases, dogs are not allowed to be off-leash (for reasons 1 and 2) at any state/national park. No one wants a fine because they let their dog off-leash. We're trying to save money, not spend it!
What Gear Do I Need For Camping with a Dog?
So you're ready to go camping with your dog. Your dog is a good traveler (or seems to be), you've done your research on some places to camp – now what? If you've never taken your dog camping before, here's a list of key things you'll want to bring to have a successful camping experience: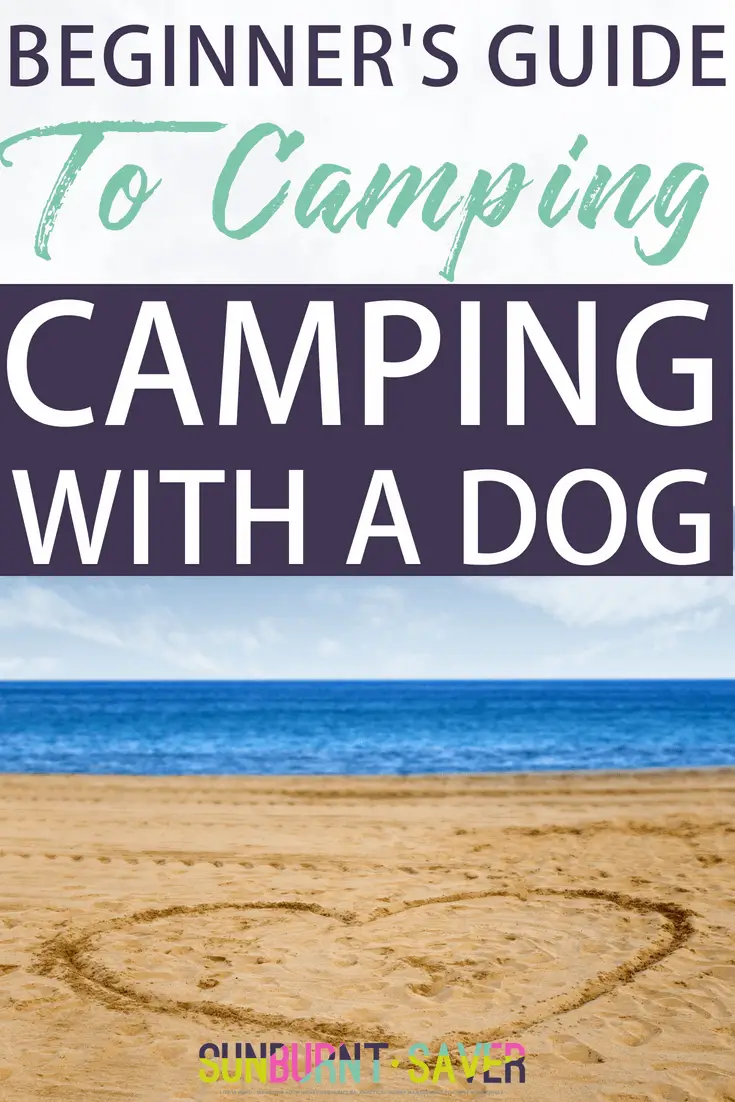 Your Dog's Bed and a Toy
Try to bring along your dog's bed and a toy your dog loves (hard toys survive camping trips better than plush toys). This will make your dog's experience better because they will have something to remind them of home and make them feel more comfortable.

Bowls & Backpacks
Obviously, your pet will need water and food. My favorite way to bring along our dog's food and water bowls? Collapsible bowls with carabiners, which we clipped to our dog's backpack – she carried her own bowls!

These bowls are lightweight and fold up easily, which means they're perfect for a camping trip. You just pop them out when it's time to feed/water your pet and pop them back in when your dog is done.
Click here to buy these collapsible bowls
Poop Bags
You have to clean up after your pet no matter where you go, so you might as well get some bags that aren't horrible. Yes, you could use plastic shopping bags depending on how long your trip is. Our trip was too long, though, so we purchased these biodegradable Pogi Poop Bags. They held up really well (gross), actually had a nice smell (so you don't completely hate your life while you're cleaning up your dog's poo), and are Earth-friendly (bonus!).

[Click here to check out those biodegradable, Earth friendly poop bags. It's the thing you never really knew you needed.]
Pet First Aid
We ended up purchasing a pet first aid kit, and it was great for peace of mind. for peace of mind.
[Click here to see the pet first aid kit we used. A human first aid kit could work too; just check with your vet on what to do if they get stung by a bee or bitten by a bug.]
Our dog is also allergic to bees/wasps (she likes to eat them), so we packed kid's Benadryl as well. If you're not sure, you might as well add it to your first aid kit just in case!

Buy this pet first aid kit here, you will be happy to have it when you need it!
Leash and Harness
You probably already have a leash for your dog, but I highly recommend using a harness and a hands-free leash if you want to splurge on it. The harness is great, especially if you have a dog like ours who loves to chase squirrels and darts off quickly. Normal leash-collars can choke your dog if they move too fast, whereas the harness won't (and it makes it easier for you to grab and control your dog).

[Buy this great hiking harness for dogs here.]
Can't Go Camping with Your Dog?
Is your dog not a good camper? Do you really want to see a lot of national parks, going on trails and really exploring, and can't bring your dog with you? That's okay too! Sometimes it's just not possible to bring your dog camping – but then what do you do with them while you're camping?
You have a few options:
Ask family/friends to babysit your dog while you're gone. If you won't be gone long (one weekend), you may be able to pay them in food, wine, souvenirs. If you'll be gone longer than 2 nights, I would recommend paying them something.
Boarding your pet at a local boarding facility. Make sure you do a ton of research on kennels and other boarding facilities though. Read the reviews and be picky. Choose a boarding facility that allows you to "see" your dog on camera and/or one that sends you text updates about your dog.
Hiring someone from Rover to come to your house to babysit or boards your pet at their house. If I couldn't get friends/family to watch my dog, I would definitely use Rover and have someone vetted come to my house. We've had some sketchy boarding experiences with our dog, and I'd rather have our dog be comfortable in her own house than have to board her.
If you do decide to go with Rover, make sure to read the reviews carefully and choose someone who has experience with your dog's breed/age/temperament if possible. You can email or call people on Rover to make sure they are a good fit for your dog as well (you'll contact them through the site first).
Ultimately, camping with your dog can be a fun, enjoyable bonding experience for you and your pet. Yes, there is some advanced planning and some things you may need to buy before you first go camping, but once you have the gear and have done your research, camping and hiking with a dog is easy and enjoyable after that!
Have you ever gone camping with your dog? Where did you stay and how did it go?