This post may contain affiliate links, which means if you click through and purchase something using my links, I receive a small commission. You can click here to read my disclosure policy ? Thank you!
Earlier this year, I was having a really tough time with my full-time job. It got to the point where my only goal was to get out of there and do something, anything, else. But since we have a mortgage and bills to pay, I knew I couldn't just submit my two weeks resignation and call it good. After all, who would feed the dog??
My husband works and has a good job, but with my student loan debt, we wouldn't be able to survive as a one income only family. Luckily, I had been side hustling to pay off debt for a while and figured out I could make side hustling work, so I would still have an income to pay off my student loans and not stress out our family finances.
If you're in the same boat, considering leaving your job or maybe having to leave your job sooner than expected, there are ways you can make transitioning to a smaller income (or even one income) work. Here are nine steps I took to transition to a smaller income.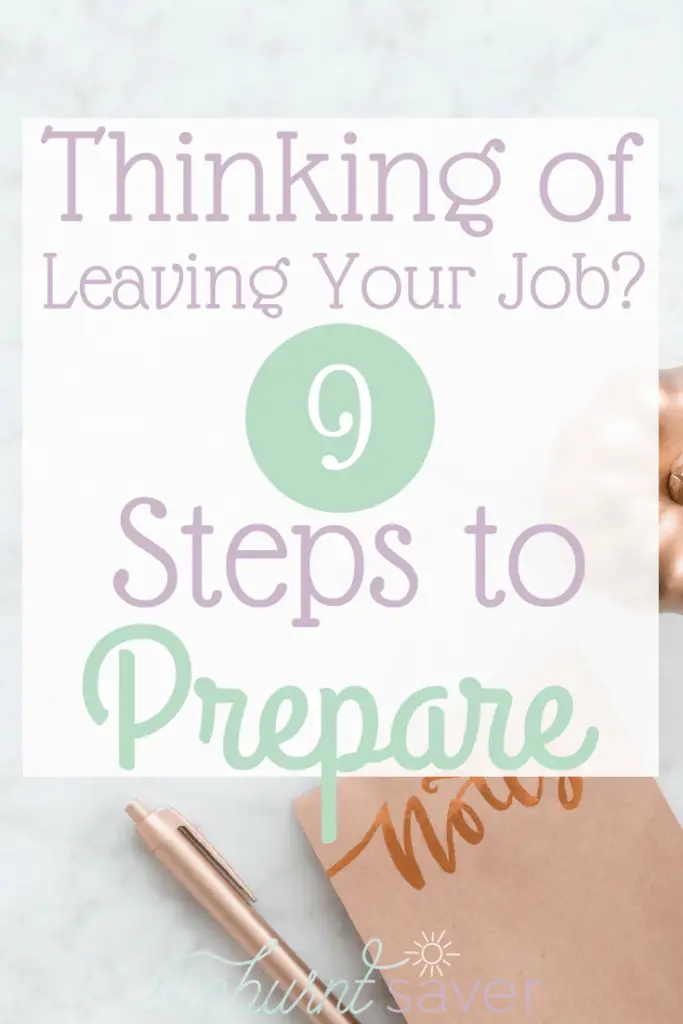 Step One: Stock Your Emergency Fund
Since I was the one leaving my job, I took the responsibility of stocking up our emergency fund myself. After all, if there was an emergency, chances are it could happen to me and if I couldn't work for a period of time, I wouldn't be able to take sick or vacation days and get paid for them like my husband could.
Related: What You Need to Know About Emergency Funds
Dave Ramsey suggests you have $1,000 stored in your emergency fund until you pay off debt, but I stocked our emergency fund with $4,000, which is roughly my half of our mortgage payments plus my student loan debt for about 4 months. This is less than the six months personal finance experts recommend, but I felt 4 months was enough time for me to get back on my feet and even get another job if necessary.
Your emergency fund may be higher or lower than mine, but seriously consider what your housing and monthly debt costs, and try to save up at least several months worth of these expenses. You need a roof over your head and you don't want to fall behind paying off debt, but you may also be the breadwinner and may need to factor grocery costs in your budget as well. Take a look at your budget to determine exactly what you may need.
Related: Need to create a budget? I got you covered!
Step Two: Account for Savings
If you've been reading this blog for a while, you know there are 3 things I advocate for:
Paying off debt

Saving

Making more money
As much as you can before you leave your job, build up some savings and account for savings in your next job or side hustle. As much as possible, you need to be saving something every month, even if you leave your job. As Millennials, we know it's going to be up to us to take care of ourselves in retirement.
To repeat: we can't rely on anyone or any government program to take care of us when we're old.
When we're old, we're probably not going to have the same Social Security benefits of our parents. Luckily, we do have youth on our side, which means we have to save every month. Before you leave your job, build up your savings and take into consideration how you're going to save something every month.
Step Three: Side Hustle
Before I left my job, I was already side hustling to pay off our wedding and pay off my student loans faster. Side hustling is actually a great way to build employable skills that can allow you to transition to a new career path after a certain period of time.
Plus, if you're unwillingly leaving your job (being let go or having to leave for another reason), having a side hustle will give you something interesting to do and may even lead to a higher income!
Step Four: Make Sure to Earn a Consistent Income
So you've found a side hustle you really like and the money is coming in. Awesome! But how much are you bringing in a month? Is it $300, $500, $1,500 a month, every month? Awesome! But what if it's more like $150, $40, $1,000 a month? Not so great…
To pay your bills, you need to make sure you're bringing in a consistent income from your work. This may mean you need to put clients on a monthly retainer. For instance, let's say you're a virtual assistant and you've been billing by hour. Approach your client and see if they'd be willing to pay $X amount for X number of hours a month.
If your work is more seasonal, look at expanding it year round. Maybe you do gift guides for bloggers – but did you know you can make gift guides and other things, like printables, year round? Get into some Facebook groups, build a blog to showcase your portfolio and client recommendations, and get hustling!
Step Five: Make Yourself Invaluable to Clients
Once you have some steady clients covering your bills, make it so they could never imagine working with anyone else. It's actually pretty easy to do. Simply:
Email your clients back promptly, especially if they ask a question

Always accomplish your tasks on time

Offer suggestions on how you could help them more – take things off their plate, like email responses or working with sponsors
Clients not biting? That may mean you need to find more clients. Check out Facebook groups and ask if anyone needs a virtual assistant – bonus points if you have a blog and can point to your previous work!
Step Six: Build Your Brand
You have a blog or at least some kind of portfolio, right? If you're working online (and maybe even offline!), you'll want to have a blog. A blog can house work you've done for clients, or perhaps t-shirts or soaps you sell online.
A blog gives you a place where you can keep accolades from clients, your work, and your brand. It's building you and giving clients a place to find you. Plus, starting a blog is really easy and really cheap – it's a no-brainer!
Step Seven: Cut Expenses
When you're transitioning to a smaller income, you'll probably feel a pinch until you can make enough to pay all your bills plus some. Before you move to a smaller income, start cutting expenses.
For me, this meant no more monthly gym membership and drastically cutting back eating out. While lunches with coworkers are fun, it adds up – in pounds and a toll on your wallet!
Start cutting out things like eating out and extraneous "stuff" early and you won't feel as deprived when you go to one income.
Step Eight: Build Up Your Resume
Similar to building up your brand with a blog, keep building your resume! You never know when you'll want to get another job, or when a client will want to see a resume instead of your blog. It's rare, but it definitely happens!
In addition to keeping your resume updated, make sure you're engaged in the community! Join a public speaking group, do volunteer work for causes you care about, or even join a book club! While you probably can't put book club on your resume, the other groups you can, and getting out of the house is a great way to network. Continue adding to your resume even if you never end up needing it again.
Step Nine: Network in Your New Field
No matter what you're doing now, whether it's starting over in an entirely new field, working for yourself, or being a full-time parent, embrace everything it entails. Throw yourself into networking with your new crew.
If you've gone into another field entirely, join an association specifically for people in your field (like the National Association for Realtors, for example). If you're a solopreneur, like I am, network by guest posting on bigger blogs, be a podcast guest for other bloggers, and participate in Facebook groups. New parent? Join your local PTA if your child is old enough or take your child to library play groups and reading time.
Transitioning to a smaller income, or out of your current job, doesn't have to be the end of the world. When I left my job, my world was rocked because I felt my coworkers were half my life (and when you consider how much time you spend at work, they are somewhat!) But there's a lot more out there once you leave your job: you'll find it eventually, or you can follow the steps above and be much better prepared for it!
Have you transitioned to one-income or to a smaller income? What were your experiences with the transition? Are you currently transitioning to a smaller income, and how is it going?