This post may contain affiliate links, which means if you click through and purchase something using my links, I receive a small commission. You can click here to read my disclosure policy ? Thank you!
I can't hide it anymore, so I'm going to come clean to you all… I love public speaking. Could you already tell from my title? As much as I am an introvert, I actually love public speaking. However, I wasn't always that way…
A Long Time Ago, in a City Not-So-Far-Away
It was my sophomore year of high school, and my high school only offered a handful of electives. One was math-related, which was out (would you believe I wasn't math-oriented in school?), one was woodshop, which was out, because I am a klutz and can't imagine how I would have maimed myself in that class, and one was 'forensics.' That one seemed cool, sort of futuristic, so I signed up for it.
Imagine my horror when I, an extremely shy person, walked into a room with a gregarious teacher who announced 'Welcome to Public Speaking 101!' She made it worse by insisting that we would be so good, we would end up joining the school's award-winning speech and debate team.
I made it through a good 3 months without making a single speech in that class – as a shy person, I can be very good at hiding behind people when I'm trying to avoid something. Unfortunately, my good luck ran out when the teacher called on me to give an impromptu speech.
This wasn't just any impromptu speech either – the teacher would ask me a question about anything, and then I had to give a 2 minute speech in response to her question. What… the.. heck?! was the only thing I could think of as she explained the rules. What kind of sick person asks an unprompted question and expects a coherent answer in 2 minutes? Yeah, little did I know that most of life is a series of impromptu questions you're supposed to have coherent answers to!
Surprising everyone in the class (myself included), I gave what ended up being a hilarious speech – and could you guess what it was about? Starting your own dog washing/grooming business. Yeah, I was thinking about side hustles even before I knew what they were called!
So I was Successful from the Start – How is that Helpful?
But wait! I actually wasn't that successful. After that successful speech, I gave dozens of other speeches that went nowhere. I ended up competing for our school's speech and debate club, as the teacher predicted. I was very successful sometimes, and came up way short other times.
However, like many things in life, practice really does make perfect. While I had a head start in public speaking from an early age, it's not too late to practice public speaking. It will be worth it, even if you just practice a little!
Top 3 Reasons to Join a Public Speaking Group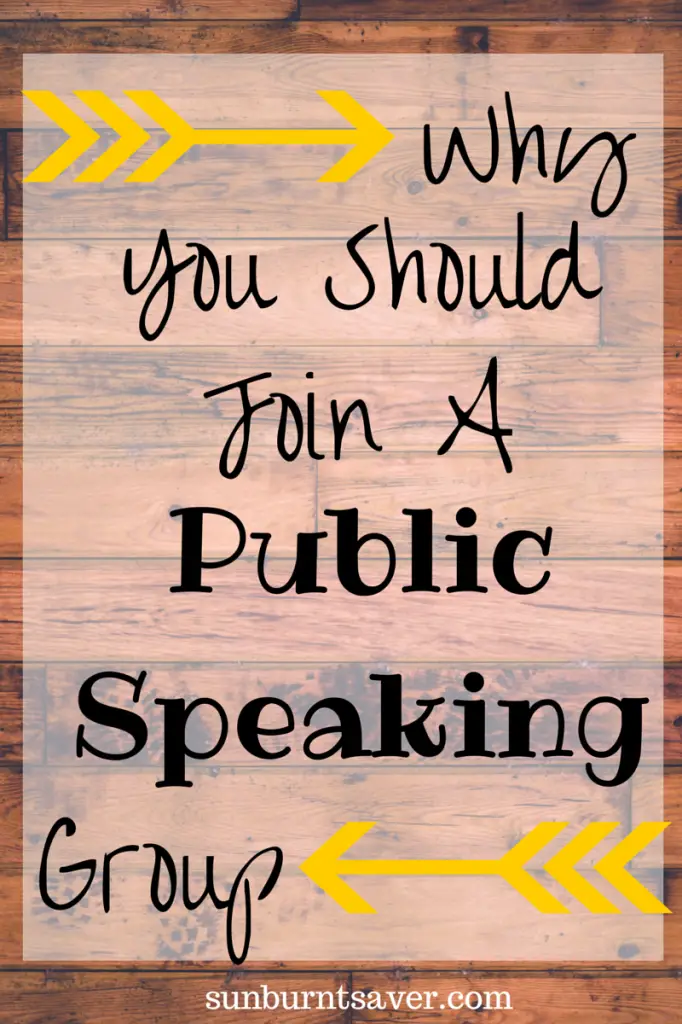 In my experience, here are the best benefits of joining a public speaking group, such as Toastmasters.
Joining a public speaking group helps you conquer your fear of public speaking – it seems counter-intuitive, but by speaking publicly more often, you will actually desensitize yourself to public speaking. You may not enjoy it – I don't even enjoy it all the time – but you will look and sound more professional.
Did you know the number one fear of Americans is public speaking? Even over death! It's really not that bad, I promise!
Public speaking will help improve your presence – have you ever walked into an interview, or a meeting, or some other type of event and felt invisible? Like no one was listening to your incredible ideas? Worse, has someone heard your idea, then used it as his/her own? In my experience, getting more comfortable publicly speaking and giving presentations, I have dramatically improved my presence in meetings. By learning how to use gestures and pauses for effect in a public speaking group, you will naturally bring those attributes to your daily life.
Public speaking, as a skill, will make you more marketable – everyone I have ever talked to, once they find out I am in Toastmasters, is immediately impressed. I'm not bragging when I mention it, but people are so nervous about public speaking, they see someone in a public speaking group as a person with a seriously marketable skill that, unfortunately, not a lot of people have. Some people even turn public speaking into a full time job, and they get paid to speak and travel the world. Pretty awesome, huh? If this is something which you would like to do then why don't you check out someone who can help teach you online how to speak and write proper English.
Things A Public Speaking Group Should NOT Do
You should only look into a public speaking group if you really want to. I wasn't asked to write this post by anyone, and I'm not receiving compensation for it (if I were, you would know already :)) I really want you to check out a public speaking group because you want to.
However, being in public speaking groups, I know what bad ones and what good ones look like. Here are 3 red flags for bad public speaking groups.
Pressure you to join right away – most public speaking groups allow you to attend 3 meetings before they start to ask if you'd be interested in joining. Someone may approach you at the end of the meeting to gauge your interested in joining, but if they put the pressure on, or tell you you can't attend future meetings without joining, then run the other way!
The club seems disorganized – give the group one or two visits before you make this decision, but if a club seems disorganized and no one knows what's going on, then hit the road. You won't be getting good feedback from a club that doesn't even have its own routine down.
There is a lot of infighting, or you get a 'weird' vibe – public speaking groups aren't high school. If you get the impression that people don't like each other (or worse, they actually start arguing in front of you), don't join or attend any future meetings of that group. Feedback on speeches in public speaking groups should be constructive, not destructive.
Have you ever joined a public speaking group, or been a part of a public speaking group? If so, are you still in it, or why did you leave?