This post may contain affiliate links, which means if you click through and purchase something using my links, I receive a small commission. You can click here to read my disclosure policy ? Thank you!
Has a scary situation ever made you re-evaluate your financial goals? I ask because on Saturday, B and I went out around 7 p.m. to celebrate his birthday. After our really stressful week, I decided that we really needed to get out of the house and celebrate, so we set off for one of B's favorite restaurants.
While we were waiting to turn off the freeway, we both watched as a car flew off the freeway, driving way too fast with no intention of slowing down, skidded around our car, narrowly missing us, before plowing into a light pole and coming to a stop in the middle of the intersection.
Amazingly, the guys in the car didn't hit anyone else, and they were all fine. However, B and I watched the whole thing unfold in paralyzed horror and, when we talked about it later, we started going over all the things that would be affected if we got into a car accident like that.
One thing that bothered me was, hypothetically, if I ended up losing my job because of a car accident, I would need $9,000 in emergency savings for 6 months, based on my current expenses. I don't have anywhere near $9,000 saved, which made me worried. However, the more I thought about it, the more I realized that amount was impractical. It's not just the money that would be a problem, it would also be getting a lawyer if this car accident wasn't my fault. There are loads I could pick from such as the San Diego car accident lawyer, but it's just more money being spent that I can't afford. Even though I know I would need a lawyer if this car accident ever happens.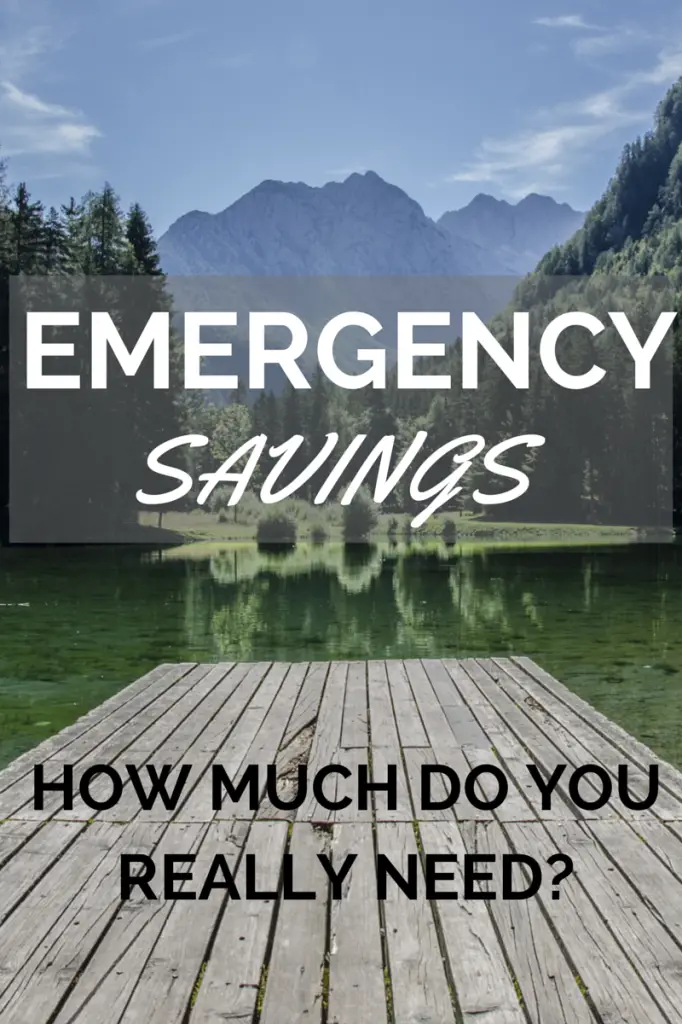 How Much Emergency Savings Do You Really Need?
If you really get down to it, some things I spend my money on could be cut back or cut out entirely if I lost my job. What could go?
Student loans – at least temporarily. If you're not working, you don't have any money for the government. Obviously not an ideal scenario, because interest would accrue, but that would shave roughly $450 from my expenses.
Clothing and hair budget – if I lost my job, again, really? Would I need to visit the salon like I do now? No. I would buckle down, choose an easy to maintain style, and make my hair and wardrobe work. That would save me about $150 (probably less, but that's what I budget for).
Phone – again, if I lost my job, I wouldn't need the phone plan we have now. I use my phone to check and respond to email when I'm not at work, and I simply wouldn't need the data plan I have now if I weren't doing that. Savings? $100.
Being Realistic but Cautious
Those three expenses could be cut out immediately if anything tremendously serious happened to me and I couldn't work. That means I would need to save $4,800 for 6 months of emergency savings… but you know what? I'm still going to work to a savings of $8,000, just slightly less than the $9,000 I originally thought I 'should' have.
Why? Because things happen. As we all know by now, life is unpredictable and can change in a moment, from an accident in your home to an accident on the road. And even though I have insurance, and my work offers disability leave, you never know what can happen. Plus, sometimes you have to pay for things out of pocket before you get reimbursed, so it's always good to have money in the bank.
Has a scary situation ever made you re-evaluate your financial goals, and what did you do to plan for that situation? How much do you think is necessary for your personal or family's emergency savings?