This post may contain affiliate links, which means if you click through and purchase something using my links, I receive a small commission. You can click here to read my disclosure policy ? Thank you!


Do you go out to lunch with your co-workers, but need to stick to a budget? I understand the benefits of going out to eat lunch with co-workers: networking, keeping up with people you used to work with, and yes, keeping up with gossip ("industry news" ☺) It's completely valuable.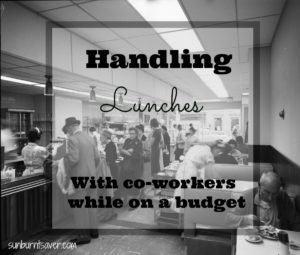 But (and you knew there was a 'but' coming!) sometimes it feels like a little too much. Knowing how important having connections is at work, I try to schedule lunch out with someone once a week (preferably a group, if possible!). Sometimes this works, but lately, people have had to reschedule a lot which, in the past, wasn't a problem.
However, it all came to a head last month when I had a dishwasher emergency and spent $300 replacing the dishwasher and the various parts associated with it. Right after I paid that bill, I discovered I had three lunches scheduled in one week, and I just could not afford to spend ~$30 that week on lunch. I need to create a 'getting lunch while on a budget' plan!
But $30 a week isn't that much!
Sure, $30 a week isn't that much… if that $30 a week is going into your savings account! However, while I was trying to reschedule some of that week's lunches, I had a coworker approach me and ask to get lunch with her that day. I had to tell her I just couldn't afford it, because my lunch budget wouldn't allow it.
She did not understand this concept at all. This coworker and I are really good friends, so I felt comfortable breaking down my budget (generally, not in its entirety), recent emergency expense, and my lunch-scheduling budget strategy.
Still she didn't get it. When I thought about it, it turns out that a lot of people in my department go out for lunch daily, including this coworker. The places around us to eat are also not cheap – for some reason, there are only 2 fast food places near work, a McDonald's and a pizza shop. It's pretty likely that even if my coworkers aren't eating at a sit-down place, they are buying an $8 sandwich to go. This works out to roughly $50 a week, just for lunch!
Setting a Budget and Sticking To It
This post isn't designed to criticize my coworkers or those out there who eat lunch out, even if they do it daily. People have their reasons for doing what they do, and I'm not going to look down on someone else's choices.
However, if you're a millennial just starting out in your career, like I am, or even if you've been in your career for a while but want to rein in expenses, you have got to make a lunch budget or a plan for eating out. Confession: before I started this blog, I spent so much money eating out at lunch, and I had no idea where my money was going. B helped me start a budget (I know, ironic, since I work in budgeting…) and once I realized how much I spent eating out just for lunch, I knew I had to cut back. Since I've been aware of this, I've drastically cut back my lunch budget into something much more manageable that still keeps me out there networking.
Try it for yourself: monitor what you spend on lunches out for one month. Keep your lunch receipts and tally it all up. If you're anything like how I used to be (and occasionally still am, I admit), you'll be shocked by how much eating out with your coworkers costs.
Once you've determined how much you spend on lunches out monthly, then determine how much you want or should be spending. If you spend $200 a month on lunches but can really only afford $75 a month on lunches, you're going to have to be ruthless in what you cut out. For me, I used to spend almost $200 a month on lunches, but I only wanted to spend $50 a month on lunches. That works out to roughly one lunch a week ($40 total) with a cushion of $10 if I'm treating someone or if a coworker picks a pricier place. You'll need to be honest with what lunches in your city cost: if the lunches you typically get cost $10, you'll be lying to yourself if you want to have a $75 budget and still go out twice a week ($10 lunch x 2 days a week = $20 a week x 4 weeks = $80. Close, but you don't have any cushion and you've already gone over your budget by $5).
Handling Coworkers
The tricky part comes when you have to manage your lunches with coworkers. Luckily, I've been able to mostly manage my schedule so that I don't end up going over my weekly/monthly budget. Sometimes it's been hard to manage reschedules for a group, so those I try not to reschedule as much as possible. That means some weeks I have 3 lunches, but then have no lunches scheduled for the following 2 weeks.
If you have coworkers you feel comfortable around, you can mention, if they ask, that you're on a lunch budget and need to pay attention to cost. Personally, I don't have many people who understand that concept at work, so I just try to carefully manage my schedule as much as possible.
Photo credit: Flickr with my own edits.
Did you have a 'lunch budget' for work and, if so, what's your breakdown? How do you handle scheduling coworkers, and have you ever had to tell a coworker you couldn't get together because of your finances?