This post may contain affiliate links, which means if you click through and purchase something using my links, I receive a small commission. You can click here to read my disclosure policy ? Thank you!
Finding work you can do from home that isn't a scam can be challenging. However, you can easily find work as a virtual assistant, and it is work you can do in your spare time to make extra money. Who knows — it might even turn into a full-time gig.
In 2012, the virtual assistant market was estimated at $352 million and is expected to grow 30.6% by 2019.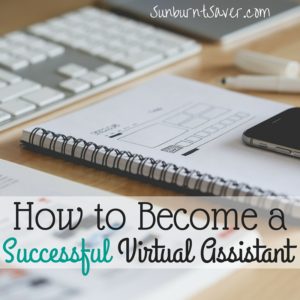 What a Virtual Assistant Does
If you're wondering what skills you'll need to become a virtual assistant, there are many. Virtual assistants complete a wide variety of work just as an in-house assistant does. These duties can include:
Taking phone calls
Scheduling appointments
Arranging travel
Answering emails
Website updates
Transcription
Creating letters
Bookkeeping
Managing projects
Creating slideshows and other data
And these are just a few of the things a virtual assistant might do on a daily basis. If you don't already have these skills, you'll want to be sure you acquire them by studying and taking courses (either online or at a local community college). You'll also want to be sure you understand the most current:
Word processing software
PowerPoint
Excel
QuickBooks
HTML
PHP
CSS
You'll be spending most of the time on the computer, so you'll need to be proficient at typing (around 55 words per minute).
What Are Your Specialties?
Of course, not every virtual assistant has the same set of skills. Before you start your own virtual assistant business, ask what you are best at, what you can easily learn and what tasks you can hire out or team up with another virtual assistant to offer.
For example, if you are great at web design and another virtual assistant is skilled in accounting, you can work together and refer business to one another. Just make sure the referrals are a two-way street and you are also getting referrals back. Otherwise, you can just hire someone on contract to handle accounting for your business and pay them per job.
How to Become a Virtual Assistant

Once you're ready to begin your work as a virtual assistant, you'll need to get the word out. 85% of people use the Internet to locate a business to use. With that statistic in mind, your first step is to set up a website and social media presence for your virtual assistant business.
If you plan to offer web design or web update services, this is your chance to show off your skills. If not, you should hire a web designer to help you create a professional-looking site and talk to the person about continuing on contract with you if any clients need web design work.
You'll also want to set up a social media presence on Facebook, Twitter and LinkedIn. This can allow you to have an online presence and get your brand in front of businesses that might be looking for a virtual assistant.
In order to gain traction, you'll want to add content to your website about what a virtual assistant can do for a business, as well as other useful tips. Link to this advice via social media, too.
Notify Family and Friends
When you're ready to start taking clients, make sure you reach out to everyone you know and inform them you're now available as a virtual assistant. Ask them to spread the word to every business owner they know and to share your links on social media. Often, your first customers will come from those in your inner circle.
Once you have a few happy clients, ask if they will refer you to others.
Researching a New Client
When a potential client contacts you, the first thing you should do is some research on their company. Look up the client's LinkedIn profile to learn more about the business and the client. You can also learn about the history of most companies on their official website pages.
With this information in hand, it is easy to schedule an in-person or virtual meeting (use Skype, for example). During the meeting, you can learn about one another — what the client needs, what you can provide and if you are a good personality and professional match for the work.
Keep Business Coming In
As with any type of freelance work, you will have times when your business is slower than others. Know how to gain new business during these times. For instance, you can join a local networking group and ask for referrals.
Many freelancers have several possible streams of income. You can sign up with companies that have ongoing work such as writing resumes or transcribing documents. The pay may not be as high as what you can demand from private clients, but when other work is slow, it can mean the difference between paying the electric bill and not.
Working as a virtual assistant is demanding and exciting work that will challenge you. It will also allow you to help businesses grow. By giving their daily tasks to you, they can focus on building what they need to.
Want to become a virtual assistant? Gina Horkey, of Horkey Handbook, is an incredibly successful entrepreneur who got her start as a virtual assistant. She's now running her own successful company and has launched her "30 Days or Less to Virtual Assistant Success" to teach you everything she's learned. Click here to check it out and sign up for her (very affordable!) course and matchmaking service!
Note: these are an affiliate links, but I highly recommend Gina and her course. They're comprehensive and almost guarantee success!