This post may contain affiliate links, which means if you click through and purchase something using my links, I receive a small commission. You can click here to read my disclosure policy ? Thank you!
If you're reading this, you're probably recently engaged. Congratulations! One thing people don't talk about enough is how to handle wedding expectations (and those of your family members!)
For example, I was hoping to have a really low-key wedding: small ceremony, only a few people, small reception, and little to no stress. That's just me: while I seem extroverted, I'm actually really introverted. The thought of dozens of people staring out me, even on my wedding day, makes me incredibly nervous!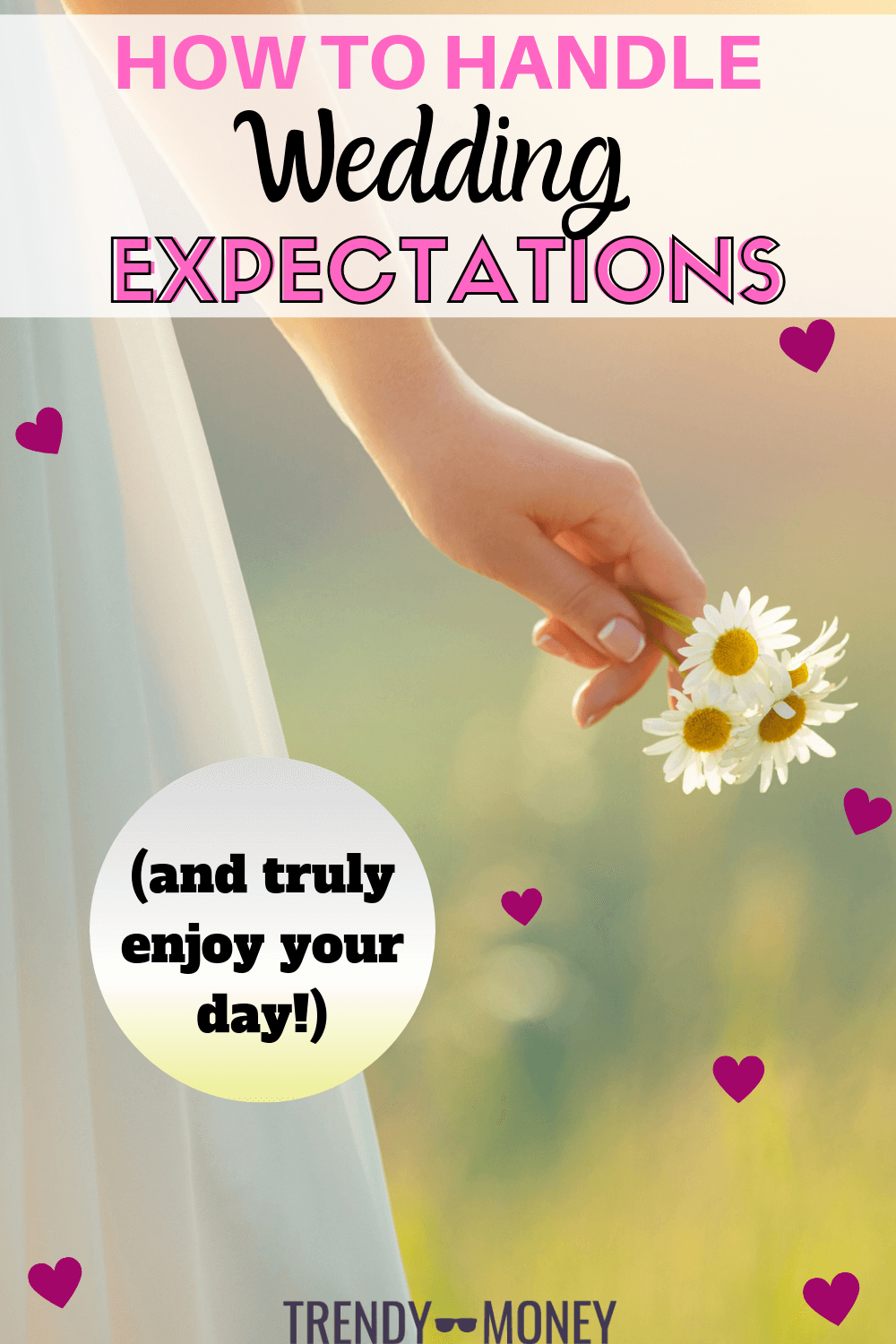 My mother, mother-in-law, and mother's friends, on the other hand? They want a party. A show. A gala, or event, if you will. We've only been engaged less than a month, and I'm already in the midst of balancing everyone's expectations. Here's how I plan on handling my family's wedding expectations while also making sure that my fiance and I truly enjoy our special day.
Be Upfront Early
Right after announcing the engagement to our parents, we let them know this will be a small wedding. We are currently searching out small venues. The implied point we're trying to make is with a small venue, fewer people can attend (one of the venues we're looking at holds a maximum of 50 people which, while still bigger than I wanted, is small).
Talking about finances with our parents is tricky: both our parents want different things (one wants a traditional wedding, the other prefers we elope), and both don't seem to understand we want to spend as little as possible. Yes, I know – wedding expenses can creep, so maybe our parents are thinking "suuuuure, you're going to have a small wedding… riiiiiight!"
The bottom line is that by being up front early, about our wishes for a small party and keeping the costs as low as possible, no one can act surprised if they (try) to invite 20 people and we deny them.
Handling Invitations Delicately
On the subject of a small (and small number of people invited) wedding, we do have to realize our parents will want to invite their friends. Instead of saying "no" to everyone, B and I went over who we think our parents will probably want to invite – close family friends, relatives we don't see that often, or former co-workers.
Having met (and liked!) a lot of these people, B and I came up with an approximate number of people (say, 8 from his side and 4 from my parents) we think our parents will invite, and our goal is to talk to our parents about their thoughts before telling them "yes to Aunt Jenny, but Cousin Dave is a 'no'".
By telling them upfront that our wedding will be small, we're hoping they will think about who they'd like to invite beforehand. That way, when we ask them who they'd like to invite, hopefully they'll pick the closest friends and family members first.
On my side, there are a number of people I don't want coming to the wedding, so my mom and I have had the sit down, heart-to-heart talk. She doesn't agree with everyone I vetoed but, for the sake of a low/no-drama wedding, I had to draw a line somewhere. She does get to invite more friends though!
Involve Family – To a Degree
My mom is really excited about everything wedding. I made the mistake of being a little too short with her when she was going on and on about a bridal shower, and I had to realize (quickly) that denying my mom some of the fun of wedding planning is really mean (even Brizezilla-ish? Eek!)
Instead of just saying "no" to a bridal shower because I'm shy and don't want to be the center of attention, I had to realize not everything is about me (revelatory, right? 😉) and let my mom plan some activities.
We came to a compromise that I could vet the guest list (just to make sure she's not inviting anyone we don't plan on inviting to the wedding, because I think that's impolite), but everything else she could plan. Could this mean I play silly bridal shower games with a bunch of my parents' friends? Absolutely. But will mom be totally and completely happy planning this? Yes. And that, to me, is worth more than my short-lived embarrassment.
So those are some of my (current) methods for handling our families' wedding expectations. I've never been involved in wedding planning ever, so I'm really not sure where the dividing line between Bridezilla and Walked All Over Bride falls.
Truly Enjoy Your Wedding Day
I do know this, though. By managing everyone else's expectations ahead of time and having clear communication, I was helping to manage my own feelings about my wedding day. By being firm, but nice, I'm making sure that I'll be able to truly enjoy my special day. It was hard to keep a small guest list, but I know I have exactly who I want there. Also, it's helping to keep my budget small. All of that contributes to less stress and a happier bride.
[P.S. Weddings aren't always rainbows and butterflies. Buy a wedding journal (like this one) and jot down your thoughts and feelings throughout the planning process. It can be a fun way to look back on the days leading up to your big day and a great way to de-stress.]
Want more tips on saving money on your wedding? Check out the latest: