This post may contain affiliate links, which means if you click through and purchase something using my links, I receive a small commission. You can click here to read my disclosure policy ? Thank you!
This post is part of the #WomenRockMoney Movement, a large group of female personal finance bloggers who have come together to inspire more women to learn about money. If you have money questions, or want support for your financial goals, learn more about how you can join us at the movement homepage. I hope to see you there!
You've probably heard by now about the Harvey Weinstein scandal, and other stories of men using their positions of power to coerce women into doing things they didn't want to do, because the women felt they had to. You may have seen the hashtag campaign on Twitter and Facebook, where women posted #MeToo if they had been victims of sexism or sexual assault.
What you may not have seen a lot of is how women fight back. There was a great article recently at The Billfold, a Choose-Your-Own-Adventure of sorts, where the author basically makes the point that financial freedom for women is so much more than "getting to do fun things because you're debt free." For women, financial freedom = personal freedom.
That freedom is partly why I advocate so much for side hustles. Not only do side hustles help you get out of debt, but they can be life-changing for women. Today, I'm covering the real reason why women need to side hustle, and how they can get started.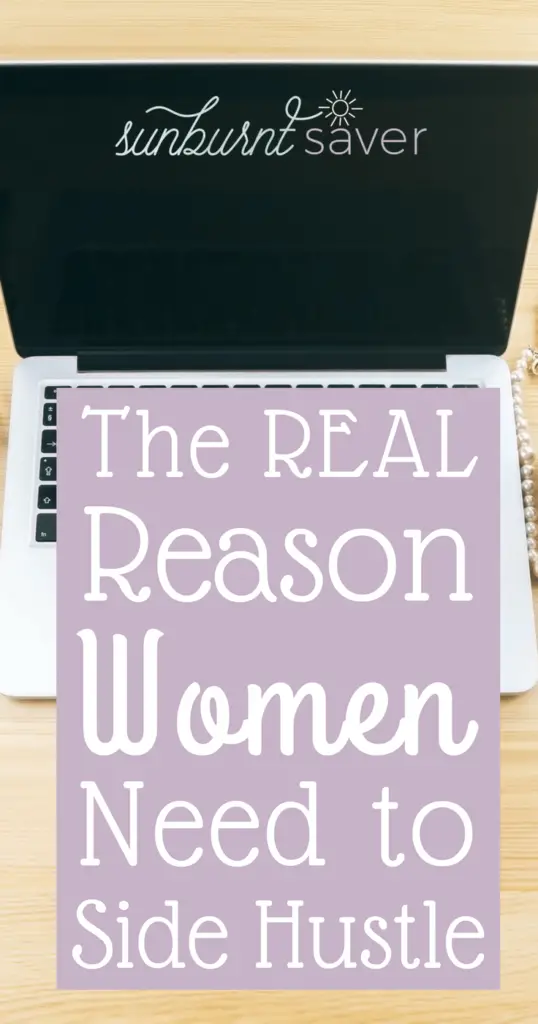 What is a Side Hustle and How Can You Find Time for It?
Briefly, we'll cover what a side hustle is and how you can find time to side hustle. As we get older, time becomes more precious. When I was 22, I worked 3 jobs, no problem (no spouse, no house, plenty of time!) Now? Everything is scheduled to the minute, and I still don't feel like I have enough time.
Basically, a side hustle is a second job. In some cases, side hustles can also be passion projects, things that pay you less than your full-time job but that you really enjoy doing. In other cases, it's "just" a second job: serving, bartending, rideshare driving, working retail, etc. You may not love it, but it's a pretty good source of additional income.
How you find time to side hustle depends on the hustle and how much time you have. When I was in my mid-20s, I worked retail on top of my regular job because retail offers flexible hours. So I could pick up the late night shift, 6 pm to close, after I ran out of my first job. Other people choose rideshare driving after they drop off their kids, others choose bartending because the 9 pm to 3 am shift is the only time they have.
If you pick a side hustle where you can work from home, like freelance writing, you can do that whenever you have time from your house. Personally, I prefer the online side hustles now, mostly because I don't have to drive to a second job. Driving = spending money on gas. When I work from home, I save that gas money!
Need some side hustle inspiration? Check out:
Why Do Women Need to Side Hustle?
So why do women specifically need to side hustle? Honestly, because a side hustle can get you out of bad situations, at least at your job.
When I was in college, I worked an amazing job that was great for my career. It paid well, looked great on a resume, and everyone was super smart and talented. Perfect job for a college student, right?
Except it wasn't. Without going into a ton of detail, I was sexually harassed, even though I didn't realize it. For me, it was embarrassing to say "hey, is it okay that this guy is stroking my arms and my shoulders, leaning way too close, trying to take me to dinner and get me to stay late with him?"
After a certain point (inviting me to dinner was when I started to realize this was weird), it was pretty clear what was happening. I didn't do a lot of the things I "should have", like go to HR, tell him to stop being creepy – but I was 21 and this was my first "real" office job. I thought those stories my Mom told me about sexual harassment from the 1970s couldn't possibly be true in the 2000s… right?
So I quit. This could have been very bad for me and put me in a precarious financial situation… except I had a second job, or a "side hustle." It was in customer service and it was boring, but everyone was nice (no harassers!) and I could get more hours when I needed them.
Get Out of Bad Situations
Basically, having a side hustle can get you out of situations like the one described above. If I only had that job, I probably would have put up with it because I would have needed the money. Luckily, I was already working a second job and had the ability to get more hours, which meant I wouldn't take a huge financial hit by leaving the office job.
If you're not worried about another paycheck coming in, you won't have to put up with bad things happening at your "other" job. Whether it's harassment at work, or your boss asking you to do unethical things, or coworkers who make your life miserable, if you have a side hustle, you don't have to deal with it.
Some caveats: make sure your side hustle can support you if you say "forget it, I quit" to your job. Establish an emergency fund. And if things are getting bad, make sure you plan your exit carefully so you don't damage your reputation.
Not Get Into Bad Situations
Lack of money can make you desperate. Not having any other options for work might make you take a job you feel uncomfortable about because you need the money.
With a side hustle, you don't have to get into bad situations because you have no other option. With a side hustle, you can at least pay bills and wait for a better opportunity or job. You might not have a lot or any savings, but you're at least staying afloat and not jumping into something because you have no other option.
You're The Only One You Can Rely On
I love my husband and no one plans to get a divorce, but what if something happens and you don't have a Plan B? Or what if something happens and your spouse isn't around? There's a case to be made for life insurance policies or pre-nuptial agreements, sure, but there's also just taking care of yourself.
Why not side hustle if you have the time? Your spouse is terrific and you love them, of course – so side hustle, pay off debt, and have fun with them! Travel the world, buy a house, adopt a bunch of puppies – whatever makes you guys happy.
Hopefully, we all find someone we love and stick around with them forever. In that case, your side hustle money is fun (after debt and retirement savings!) If not? Then you're a person who can take care of your bills, no spouse necessary. It's a win-win no matter what happens in life.
Side Hustle Because It's Fun and Interesting!
Side hustles aren't just to protect yourself in case the worst happens. I've seen and/or experienced bad things and I've always been lucky because I've almost always had two or more jobs. Sure, it's hard sometimes, but being able to leave a bad situation and still pay bills is an amazing feeling.
And you don't have to do retail because it's the only thing you know – I started side hustling with freelance writing a few years ago, and it's led me to now working for myself. Freelance writing for me was a fun and profitable side hustle – I didn't expect it to go anywhere and was just happy to have extra, additional money coming in, separate from my full time job.
Ladies, Let's Hustle
You don't know where your side hustle will take you. It could be temporary, it could enrich your life with extra spending money, it could provide for your future in terms of retirement – or it could get you out of a bad situation.
Now, side hustling won't get you out of every sexist issue women deal with. It's not going to solve the problem of guys following you back to your car or your apartment, or yelling terrible things at you because you "didn't smile" at them. It's not going to prevent men at a bar or on the subway from groping you. Side hustles pretty much just prevent crummy things from happening to you at work, because you have a back up job.
Also, this advice goes for men and women, but since I'm a woman, I can only speak to my experience and the experiences of my female friends. Check out that article at the Billfold for the Choose-Your-Own-Adventure version of what I'm saying, then seriously consider a side hustle, ladies!
Do you side hustle in your free time? Why did you decide to side hustle? Any advice for young women out there in the workforce – office jobs or otherwise?