This post may contain affiliate links, which means if you click through and purchase something using my links, I receive a small commission. You can click here to read my disclosure policy ? Thank you!
As you all know, I started side hustling late last year. It was always a goal of mine to get paid to write, so it was really thrilling when I applied for a freelance writer position and was accepted!
But I want to know: why are you side hustling? Or, if you're not side hustling yet, what makes you want to start a side hustle?
Starting a side hustle certainly has its ups and downs, but if it were easy, everyone would be doing it. There are few people who want to commit to starting their own side hustle and put in the hours necessary to get a good return, but if you're one of them, the reward is worth the effort!
Here are a few reasons I, and people I know, started side hustling. Share your reasons why you side hustle (or want to get started!) with me in the comments!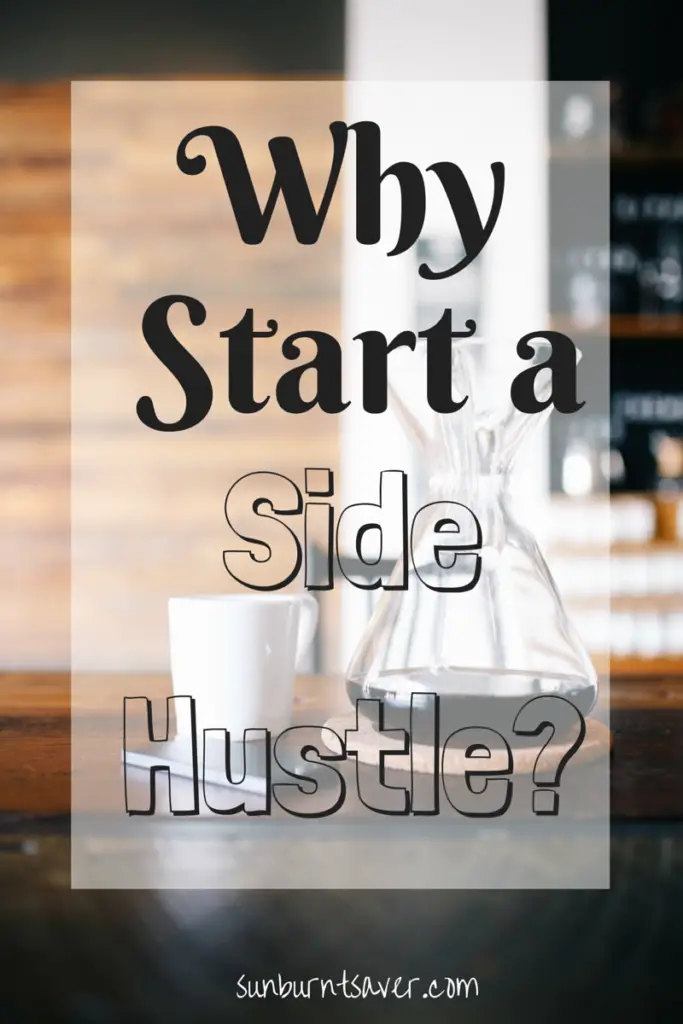 Multiple Revenue Sources
Some people start side hustling to generate multiple revenue streams. Harry, from YourPFPro.com, has a site called The RideShare Guy, where he chronicles his work as a rideshare driver. While Harry works as an engineer for his full-time job, he also has a side hustle driving for Uber and Lyft.
For people who work a full-time job and side hustle on the side, there is a lot more planning that has to go into your side hustle. Personally, I have to set aside time in the mornings, after work, and almost the entire weekend to work on my side hustle. It definitely cuts into time spent with friends, but it's worth it if you enjoy the work. Just be prepared to work a little more than you thought you would to get your side hustle off the ground!
Necessity
As opposed to working a side hustle for extra money, some people start side hustling out of necessity. A large number of millennials graduated at that totally perfect time: The Recession! Hooray… Due to baby boomers returning to work, and a depressed job market, some people (not just millennials) turned to freelance work to help make ends meet.
Whether you've suffered a job loss, are underemployed, or recently moved to a new place where you don't have any connections, starting your own side hustle can help you make ends meet. Depending on your side hustle, you may be able to start making money right away. If you can write, websites like Fiverr.com, Elance.com, and Textbroker.com can get you started right away writing content in a variety of subjects. Or, you can consider these other low-investment business ideas.
By getting creative and hustling, you can market yourself on Twitter, Google+, LinkedIn, and around blogs. Establish yourself as a trustworthy and reliable writer, and eventually you can raise your rates and become pickier in who you choose to write for.
Diversify Skills
Many people decide to side hustle to branch out from their regular job or improve their hobby skills. Look at all the crafters on Etsy: many of those people crafted as a hobby first, and then made the transition to selling their crafts on Etsy. For some, it's an incredibly lucrative business that allowed them to leave their jobs, or to stay at home with their kids.
Ruth from Living Well Spending Less initially started her very successful blog to hold herself accountable for her money decisions. In a few years, Ruth has taken her blog to incredible heights, wrote a best-selling book about blogging, and is in constant demand for her coaching services.
While Ruth may not have started her blog hoping to improve her writing and marketing skills, she ended up diversifying her talents greatly. In addition to writing and marketing, Ruth is a coach and an inspiration to thousands of people. Beyond diversifying her income, Ruth has created a very successful brand.
Freedom!
Ultimately, some people start side hustles in order to make enough money to support themselves outside of a typical 9-to-5 job. Cat from Budget Blonde is able to work at home and raise her twins while running her freelancing and coaching business. While she started off with her blog, Budget Blonde, it has now morphed into something that allows her to work from home, make good money, and stay home with her kiddos.
Even if you don't have kids at home – doesn't making your own schedule and making money doing what you love sound too good to be true? For some, side hustles stay just that – side gigs. However, if you have the drive to learn, save up some emergency money for tough times when you can't find work, and above all else, hustle your butt off, it is possible to make an income from your side hustle.
If you're just starting out, you likely won't make a ton of money in the beginning. While you'll want to pick a side hustle that has the potential of generating some money, don't focus on the money in the beginning. Work on building a portfolio of work – which sometimes means offering your services for free. It's not forever! Once you build up a portfolio and, best yet, testimonials from people satisfied by your work, you can start charging and marketing your side hustle more aggressively.
What advice do you have for those looking to start their own side hustle? If you side hustle, what made you begin? If you're thinking of starting your own side gigs, what are your reasons for starting? I'd love to hear why others got started!