This post may contain affiliate links, which means if you click through and purchase something using my links, I receive a small commission. You can click here to read my disclosure policy ? Thank you!
Occasionally I'll see things on the web that inspire a blog post, and something that has popped up here and there in the personal finance sphere is subscription boxes. Specifically, how they're a waste of money and if you buy them, you're a lazy, uncreative Millennial who must enjoy wasting her money.
I say 'her' because it seems to me that people who say subscription boxes are a "waste of money" or people who buy them are "too lazy to shop for themselves" are directing their criticism to other women. Sure, men buy subscription boxes too – Bark Box is gender neutral, for goodness' sakes! But a lot of subscription boxes are marketed to women, and women buy subscription boxes more than men (although only slightly more).
Frankly, subscription boxes are not why many Millennials are in debt. Yes, some people may take them to extreme and have, like, 50 subscription boxes mailed to them every month. However, the underlying criticism of subscription box shoppers seems to be they're unable to control their spending and that's why they're in debt. Subscription boxes are not why we're in debt, and you shouldn't feel bad for buying subscription boxes (or not! The choice is yours!) Here's why subscription boxes don't make you a financial failure.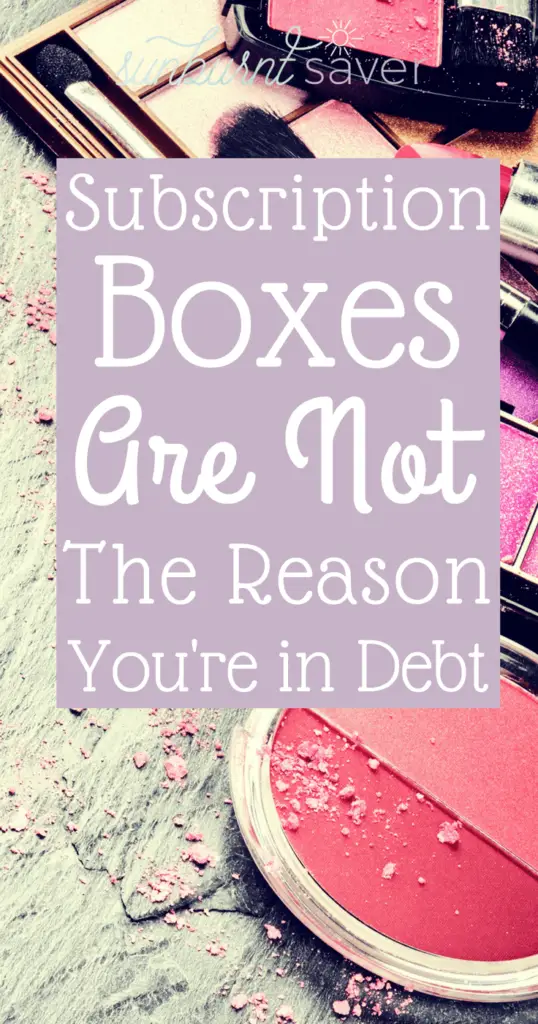 What's Up with Subscription Boxes?
There are dozens if not hundreds of subscription boxes for almost every hobby, interest, or person/animal out there:
Loot Crate for "geeks, gamers and nerds"

BarkBox for people who like spoiling their dogs

Ipsy and Birchbox for make up (and don't forget Sephora!)

Dollar Shave Club for razors

Blue Apron for meals

Stitch Fix for clothes
Subscription boxes come in different sizes and prices, but generally range anywhere from $10 to $100 a month. For as many subscription boxes there are, there's almost as many reasons why people buy them.
Why are subscription boxes so popular? Well, for one, it's a fun present that arrives every month (depending on the subscription). A few other reasons:
They're a cheap (usually) way to try things you probably already like

You get things you'll actually use

Things are usually travel size (like make up and face products), which means they're perfect for travel

In the case of BarkBox, my dog loves getting new toys and we do actually go through the treats!

It can be a convenient and fun gift for people who live out of state

For treat subscription boxes, it can be a delicious way to try things you can't find in your city/town

People actually like subscription boxes!
When Subscription Boxes Become a Problem
Obviously I'm a fan of the one subscription box I get now, but I can understand why people have a negative opinion of subscription boxes. Not everything you get in them is amazing – and I've admitted that before. Subscription boxes are automatic expenses every month and, if you don't remember to cancel the box, it can be an expensive "surprise" every month.
In addition to being a problem if you forget to cancel yet hate the products, subscription boxes can be a big, unnecessary drain on your finances. There's a difference between a $10 beauty box you get every month and use regularly and a $60 or more box of food that goes to waste.
Another big problem with subscription boxes can be clothing subscription boxes, like Stitch Fix. I've used Stitch Fix before, and I absolutely loved it – but you have to be careful. Stitch Fix is $20 a month, regardless if you buy anything, and you get $20 "off" your purchase. If you purchase the whole box, you get an additional percentage off – making it really tempting to buy the whole thing.
In these cases, it's not worth it to pay for subscription boxes if they're tempting you to buy things you genuinely can't afford. In my case, I needed new professional work clothes, so I used Stitch Fix for 6 months to build up my wardrobe, then I canceled. It served its purpose, but then it had to go.
Subscription Boxes for Food
You've probably seen the commercials on TV or Facebook for Blue Apron, Plated, Hello Fresh and other meal prep/planning subscription boxes. If not used correctly, these can be a huge drain on your budget.  
I tried Freshly for two weeks (normally $60 a week but we had a 50% off coupon). While it was cool to try, we received six meals. That's lunch and dinner for two people for three days if we stretched it (and sometimes we couldn't stretch it because my husband ate it all). However, our weekly grocery bill is only about $60 and while this saved us 3 meals worth of food, our grocery bill was still $50 since we needed breakfast and lunch/dinner for 4 other days.
We went from a grocery bill or $60 a week to $50 + $60 for Freshly = $110. That box would not be worth it to get monthly! If a food grocery box ends up costing you more monthly than your average monthly grocery budget, it's simply not worth it – no matter how many cool new cuisines it introduces you to. That's what recipe sites like Yummly are for!
Subscription Boxes Aren't Making You Go Broke
If you like your subscription box and it's not causing an unnecessary strain on your finances (like my $10 beauty box that overall makes me happy and keeps me looking young and fun!), keep your subscription box!
What people spend their money on for happiness, as long as it's not hurting their ability to pay bills, pay off debt, or save money, is up to them.
I started this blog to learn more about personal finance, but I wasn't clueless: I knew if I spent money on something and hated it, it was a waste of money and I wouldn't do it again. Subscription boxes are like that: people who regularly hate their subscription boxes will unsubscribe. People who like their subscription boxes shouldn't feel shamed for spending a little money on something that makes them happy.
Do you agree or disagree with me? Do you have a subscription service and love it, or do you think subscription boxes are overall worthless? Let me know in the comments!