This post may contain affiliate links, which means if you click through and purchase something using my links, I receive a small commission. You can click here to read my disclosure policy ? Thank you!
It's that wonderful time again – time to review the latest Sephora Play Box! This month, Play Box subscribers received some pretty neat things. The theme was "Glamp Out!" and everyone received a mask in their Play Boxes.
I don't really equate camping and wearing a face mask… seems like bugs or smoke from your fire would get stuck to your face mask, thereby negating all the positive effects of a face mask but, hey, I'm not a marketing genius like whoever Sephora hired, right?
My required reminder: I know, I blog about personal finance and saving money, but this blog is also about enjoying life. One thing I really like is new makeup, skin care, and hair products. For $10 a month, I can indulge in this little habit of mine, see what I like and don't like, and then make a judgment call based on my budget to buy a full-size version of what I like or try to find a cheap dupe at the drugstore.
Also, this post may contain affiliate links. I'm not affiliated with Sephora, and any recommendation I make is based on the efficacy of the product, not the commission I receive. All affiliate income goes directly back into this blog. Thank you!
On to the July 2017 Sephora Play Box: Glamp Out!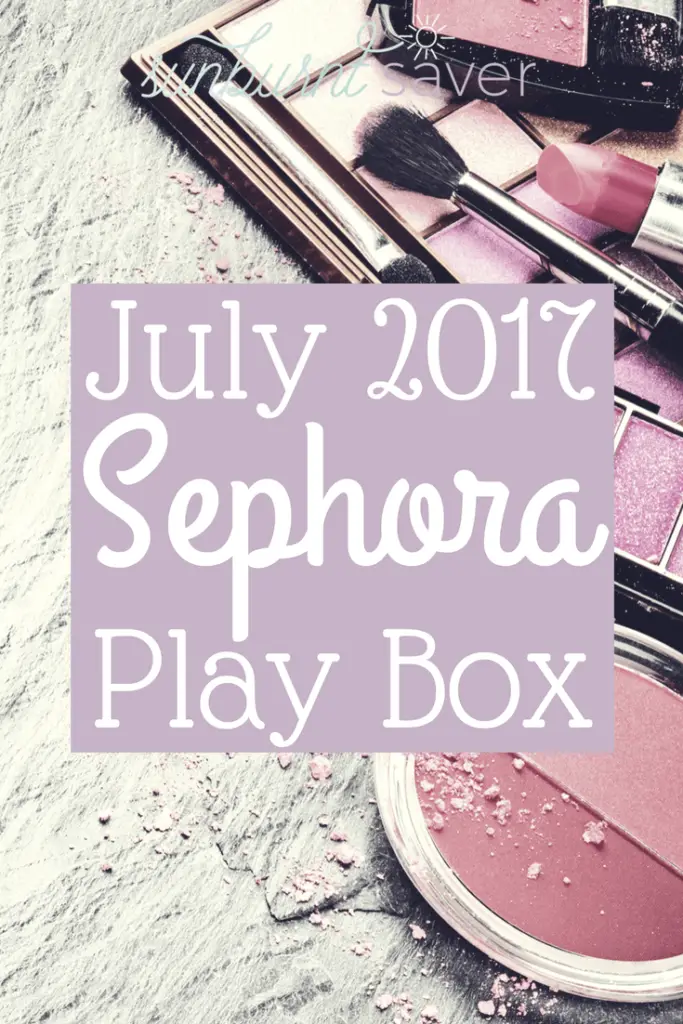 July 2017 Sephora Play Box
As I already mentioned, the theme this month was "Glamp Out!" which I guess is a fancy way to camp. I guess I'm not that fancy, though, because I've never brought a face mask or sticky lipstick camping. But on the Sephora Play Box! 🙂
In this month's box, I received:
In addition to all of that, in every box you also receive:
PLAY! Book packed with tips and tricks on how to use the stuff you received
PLAY! Pass to redeem for 50 bonus Beauty Insider points (if you decide to buy a full-size purchase of anything you received, or if you buy something else!)
PLAY! Date, a monthly subscriber event for you to learn how to apply the products in your box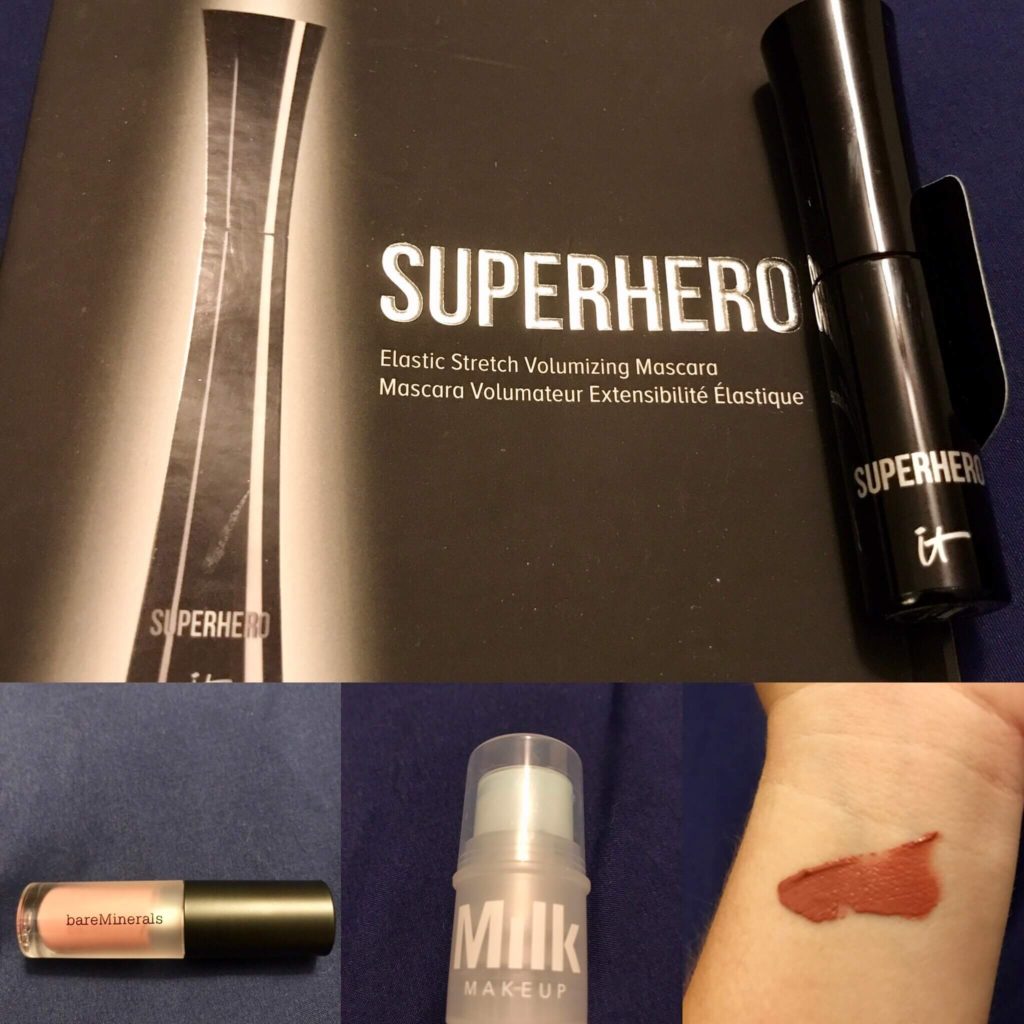 Hard No's
Hard no's are things I received that are, as the title suggests, hard no's. I wouldn't wear it or use it because it doesn't work for me, but I'll still let you know what I thought of it!
Atelier's Cologne is going to be the first hard no because, uh well, it's cologne… for men. Unless cologne is now in style for women and I missed out, I don't really need to get cologne in my Play Box. My husband has plenty of cologne.
His thoughts on the cologne? "It was all right, but I have enough cologne. It's not my favorite." So there you have it 🙂
bareMinerals Gen Nude Lipcolor was the next hard no, but for a different reason! Unlike last month, when I received a lip color that was way too bright for my style, this lipcolor (Slay) matched my lip color exactly.
When I put it on, it looked like I wasn't wearing any lip color because my lips are the same shade as the sample they sent. Sad, because bareMinerals does make really good products!
Maybe's
Maybe's are either items I really wanted to like, but just didn't.
At first, Briogeo's Leave-In Conditioner was going to be a hard no, because I didn't think I needed it… but then I used the leave-in conditioner and my hair immediately felt softer. Easy to spray, smells good but doesn't leave too much of a smell in your hair, and it made my hair softer – why is this not a yes?
Well, it didn't do anything for my curls. Regardless if I air-dried my hair or used the blow dryer, it did nothing to tame the frizz. Not a single thing. While $20 isn't bad for a leave-in conditioner, I'm just not thrilled to spend $20 on a product that only does one thing for my hair. I need my products to do double duty, like make my hair feel nice and tame frizz.
For reference, my hair when I just scrunch my hair naturally is a curly 3A, and when I work with it a little or use the diffuser, it's a wavy 2B. I always have to use product in it if I want to go out in public, otherwise it's frizzy. Just so you know what we're working with here 🙂
MILK Makeup Cooling Water was one that I was also a "hard no" on but converted into a tepid "meh." I don't like pretentious descriptions of products, and in the booklet describing this product, it said something along the lines of "MILK Makeup is for cool kids" or something and I was like… no. I don't need a "cool" product, I just need it to work and be affordable.
This worked. It was nice to put on instead of my moisturizer-with-SPF. This face moisturizer doesn't have any SPF so I guess you'd want to wear your SPF moisturizer (I recommend Cetaphil's Moisturizer SPF 30) on top of this if you went outside. Again, that's a product that doesn't do double duty and costs $24 so… gonna skip it! But it felt nice on my face 🙂
Finally, IT Cosmetics Mascara. I really wanted to like this! I don't have a favorite mascara yet (I know!). My eyes are hooded (doesn't that sound pretty?) like Blake Lively's, except I just wish I looked like Blake Lively!
That said, it's pretty hard to wear mascara for a variety of reasons, mostly that it rubs off because of my hooded eyes or makes my eyes look smaller (particularly if the mascara is a deep black color).
For me to love mascara, it has to check all of the boxes below. Which boxes did IT Cosmetics Mascara check?
No clumping
No flaking – X
Easy to use applicator/wand – X
Comes in different colors, like brown
Volumizing
In the end, IT Cosmetics Mascara only checked 2 of my 5 "must haves". I tried to give it a chance and will probably use it out, but I wouldn't buy it.
Yes!
The only product in this month's Play Box that I absolutely loved was boscia's Charcoal mask. So many things to love about this, and here are just a few reasons why I loved it:
Smells great! This mask smells like going to a fancy spa.
Non-irritating – I have sensitive skin, and this didn't irritate or make my skin red.
Reduced oiliness – I also have oily skin, yay! This mask reduced oiliness without drying it out.
Did I Buy Anything?
I really loved the boscia Charcoal mask, so… did I buy it? No! Haha, I know, I teased you 🙂 I've read that face masks last anywhere from 6 months to one year, and frankly, I still have face masks I need to use from Christmas. 
Also, I have a face mask I like better – and it's cheaper! I'm a big fan of Origin's Charcoal Mask that does virtually the same thing that boscia's mask does, but at a better price. You could buy boscia's mask at $38 for 2.8 ounces, or you could buy Origin's Charcoal mask for $30 and 2.5 ounces. You could actually save an additional $8 and buy the 1.7 oz. – I've bought both and a little goes a long, long way!
Sure, Origin's doesn't have that spa-like smell, but Origin's does a better job of really cleaning out my pores. It's a great solution to those days when you know you need something a little stronger to clear out your pores effectively.
While I'll be sad to use up my boscia mask, whenever that happens, once again my regular products beat the competition.
Due to some other circumstances, this may be one of my last Sephora Play Box reviews! I've been really disappointed by Sephora's customer service, and my recent order (I did buy things from Sephora! I'll review them later :)) reminded me that their quality of customer service has gone downhill.
So expect to see new reviews soon of a different beauty box!
Do you subscribe to any makeup or other subscription boxes? Any recommendations for me? Any questions about July's Sephora Play Box I didn't cover?