This post may contain affiliate links, which means if you click through and purchase something using my links, I receive a small commission. You can click here to read my disclosure policy ? Thank you!
Omg, it's November! Can you believe how quickly October went by? It's the holiday season, hooray!
One thing I love to get for the holidays is make up, skin and hair products. Usually I pick it out and then send the links to my Mom, and she chooses from there, but still – it still seems like a surprise! What can I say, I love all of these products but I'm loathe to spend the money on myself, which is why the holidays and my birthday are great ways to get new stuff!
October definitely didn't disappoint! Sephora went back to giving me what I really want, which is more before make up face stuff, like primers and serums. This month's box actually did have three make up products, a foundation, powder and glow drops (i.e. highlighter) but I found this Play Box to be much more neutral – no more hot pink Kat Von D lipstick, thank goodness!
My required reminder: I know, I blog about personal finance and saving money, but this blog is also about enjoying life. One thing I really like is new make up, skin care, and hair products. For $10 a month, I can indulge in this little habit of mine, see what I like and don't like, and then make a judgment call based on my budget to buy a full-size version of what I like or try to find a cheap dupe at the drugstore.
Related: Your Subscription Box is Not Making You Broke
Also, this post may contain affiliate links. I'm not affiliated with Sephora, and any recommendation I make is based on the efficacy of the product, not the commission I receive. All affiliate income goes directly back into this blog. Thank you!
On to this month's Play Box: Complexion Companions!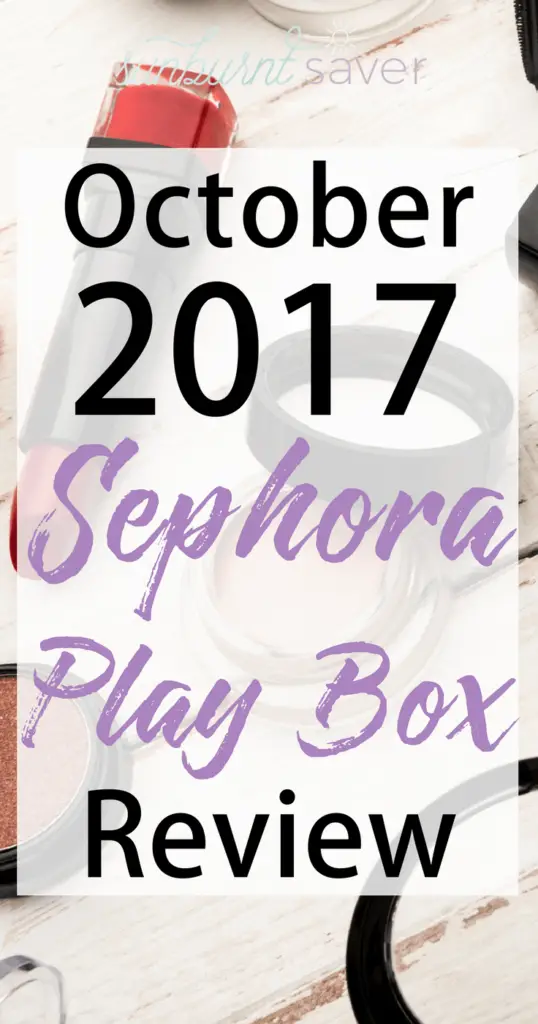 October 2017 Sephora Play Box
This month's theme was Complexion Companions and it's all about getting ready in the morning, getting your face primed for some serious makeup. But almost everything in this month's box is actually my entire routine, minus the mascara, so this box was a real deal for me!
In October 2017's Play Box, I received:
In addition to all of that, in every box you also receive:
PLAY! Book packed with tips and tricks on how to use the stuff you received

PLAY! Pass to redeem for 50 bonus Beauty Insider points (if you decide to buy a full-size purchase of anything you received, or if you buy something else!)

PLAY! Date, a monthly subscriber event for you to learn how to apply the products in your box
Hard No's
Surprisingly, not a lot in the box was a hard no! The only thing I didn't really like was the Make Up For Ever Ultra HD Invisible Cover Foundation only because it didn't get my color right (Sephora goes by the color you've identified yourself as, but even then, foundation for me is super hard to get right!)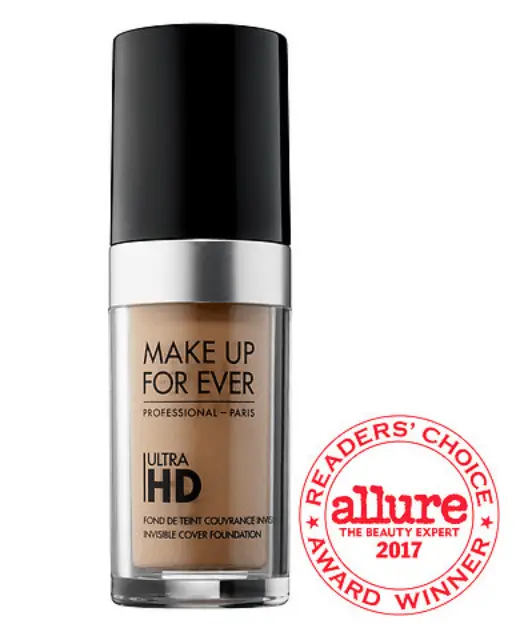 Also, I just am not a fan of foundation. It's great for some people, but I have combo skin that goes nuts in the Phoenix desert. I sweat, which makes the foundation look "wet", but then my skin is usually dry also, and the foundation looks like it's cracking because I didn't moisturizer enough.
I usually stick with tinted moisturizers, preferably something that's oil free. It's a horrible conundrum that my T-zone is an oil slick, while my cheeks and sometimes my chin are super, embarrassingly dry. It's a constant battle.
So what do I use instead of foundation? Stick with me here, because it's about to get super specific: Laura Mercier's Oil Free Tinted Moisturizer with SPF 20 in Bisque. Yeah, told you it was about to get real! I like this because it has everything I'm looking for with a hint of color – and the color choices are very specific, so if you have a yellow/pink undertone (and how many people have combo undertones?) like I do, there's actually a match for you.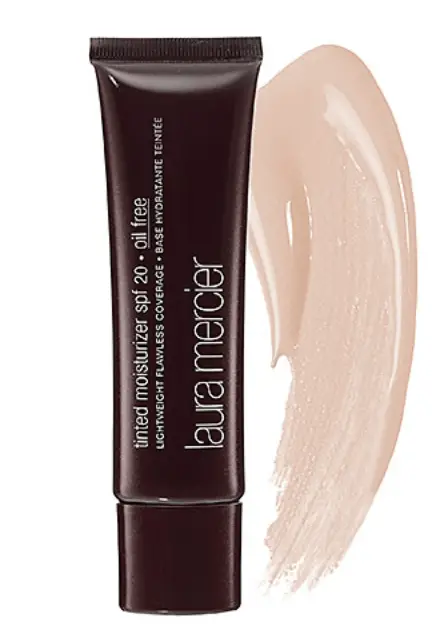 I wear more sunscreen than that, too (I apply my Cetaphil before the Laura Mercier), but that's because I live in Phoenix, AZ…
Maybe's
So remember how I said I use Laura Mercier's Oil Free Moisturizer? Well, I'm just blah about her translucent powder!
Let me correct that: Laura Mercier's Translucent Powder is actually great… just not as great as the (cheaper) Bare Minerals Mineral Veil.
So while the LM was nice, it's just a maybe unless I could score a really good deal on it. Other maybe's:
Make Up For Ever Ultra HD Skin Booster – it claimed it would "plump, smooth, and hydrate" my skin, but it was just too thin to do any of that. Then again, I haven't found a lot of hyaluronic acid serums that do work on me… so maybe my skin is just too leathery?
One serum that does work actual wonders on my skin? Vitamin C serum! I used one in the past that worked miracles on my skin and I've been obsessed with Vitamin C serums ever since… but I haven't bought one because they're pricey. If I splurged on myself, I'd buy Peter Thomas Roth's Vitamin C Brightening Serum, but I've also read the slightly cheaper Ole Henriksen Truth Serum is amazing as well.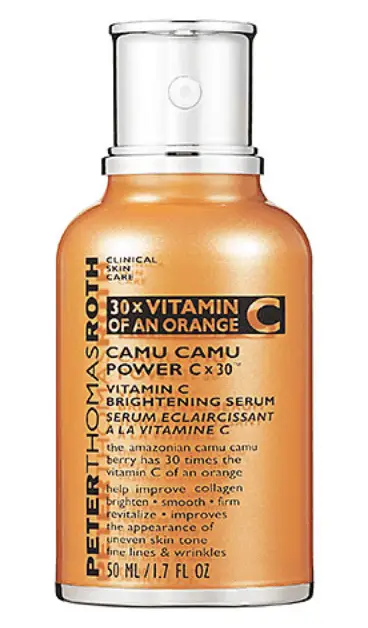 Cover FX Custom Enhance Drops in Moonlight was really nice, and I liked the dropper aspect of mixing it into your foundation (or tinted moisturizer), but Benefit's Watt's Up! Highlighter is cheaper and does a great job too… plus is easier for me to control and contour.
Yes!
I honestly did not think the Becca First Light Filter Face Primer would be amazing, because it's face primer. I have pretty good luck with primer, even if it's super cheap – I could probably even get away without using it – I know, I know, I look better with it, of course! But just saying, I'm lucky to not really need it.
But this face primer… when they say "lightweight" they mean it. It went on super easily, nothing thick that makes me feel like my face is being smothered. I loved the purplish color it had (it's a prism effect, very cool!) and it gave me just the right amount of "glow" without looking like I was sweating.
It was pretty remarkable how lightweight and effective it was… which definitely puts it on top of my "to buy" list when I run out of primer!
Chanel's Gabrielle Chanel perfume sample was amazing, and I don't even like perfume that much. Then again, I'm a sucker for jasmine and orange blossom scents, and this had both. This will be one of those "please buy me for Christmas, husband" gifts… in like 2 years because $105 for a bottle of perfume is mind-blowing to me!
Did I Buy Anything?
Not this time, because I still have other primers left I need to get through!
Also, I love this perfume smell but I rarely wear perfume, just because I know so many people (family, friends, etc.) who are very sensitive to smells. I wear it on the weekends, but that means I keep perfume (even tiny sample vials) for a really long time… so I won't need to buy Gabrielle Chanel for a long time! 🙂
Do you subscribe to any make up or other subscription boxes? Any recommendations for me? Any questions about October's Sephora Play Box I didn't cover?