This post may contain affiliate links, which means if you click through and purchase something using my links, I receive a small commission. You can click here to read my disclosure policy ? Thank you!
This might seem crazy to say as a personal finance blogger (particularly one focused on paying off debt!) but I love make up, hair products, fragrances. If it's sold at Sephora or ULTA, chances are I'll love it. Before I left my full-time job, I was easily a "VIB" – in Sephora terms, that's a "Very Important Beauty" (Insider) – which basically means you spend $350 a year to get some special perks, like custom make overs.
While I rarely paid full price for things, Sephora even with discounts and RetailMeNot.com freebies is expensive, which is why I knew when I left to become a full-time freelancer, I'd have to drastically cut back on my make up purchases. And honestly, since I don't wear make up every day now, why would I spend $350 a year on make up and hair products?
Yet… I still missed Sephora and felt called to their deals (I guess I could have unsubscribed to their mailing list, but why!) My solution? The Sephora Play Box! The Sephora Play Box is a $10 a month subscription service that sends you make up, face products, hair products, and one fragrance every month. In general, Play Boxes are worth roughly $68 per box, although I've seen it range as low as $35. I didn't calculate this month's Play Box but will in the future!
It was a win-win for me: getting to try new make up and products I definitely wouldn't pay full price for, finding new things that work well for my face/hair/life, still getting my product-fix and only spending $10 a month for a luxury I really enjoy.
Since there are several Sephora play boxes every month, I thought I would share which box I got, what I thought of everything, and which ones I recommend. Fun disclaimer: there is no disclaimer! None of these links are affiliates (yet :)) which means I don't make a commission off anything you buy. No matter what, you're always going to get the straight deal from me though: I'll always tell you exactly what I think of everything I buy so you can make the final decision!
On to the June 2017 Sephora Play Box!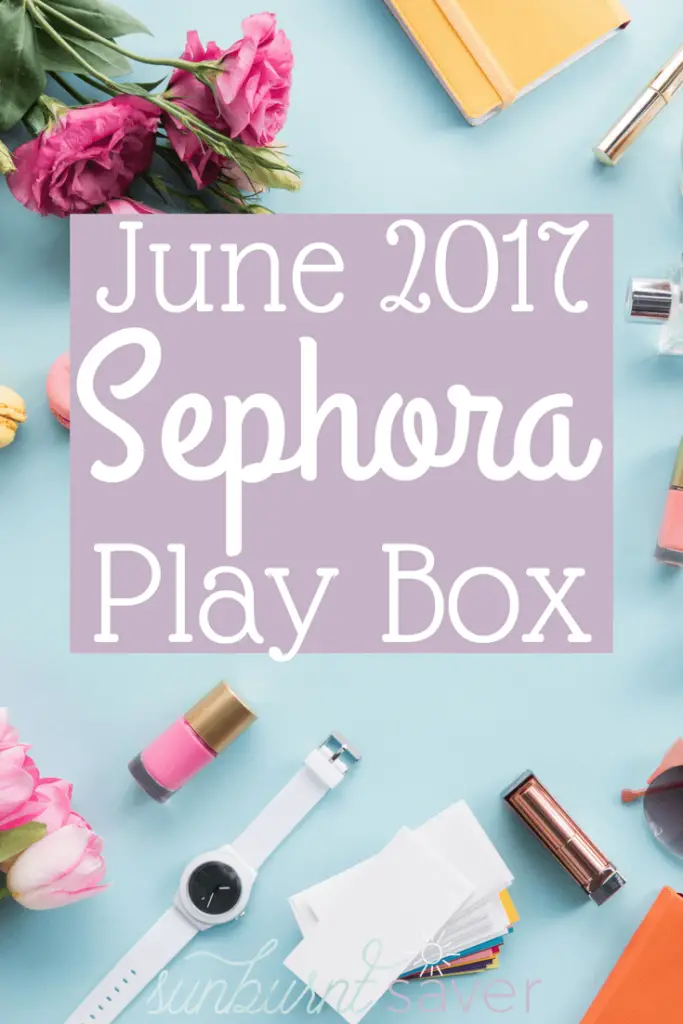 This month's box was called "Summer Starters" and, apparently, had everything you would need to get your summer started. Since summer technically started June 21, I'll buy it, but did anyone tell Sephora that summer starts in May (if not sooner!) in Phoenix? Hmm…
June 2017 Sephora Play Box
This month, I received:
In addition to all of that, in every box you also receive:
PLAY! Book packed with tips and tricks on how to use the stuff you received
PLAY! Pass to redeem for 50 bonus Beauty Insider points (if you decide to buy a full-size purchase of anything you received, or if you buy something else!)
PLAY! Date, a monthly subscriber event for you to learn how to apply the products in your box

Hard No's
Hard no's are things I received that are, as the title suggests, hard no's. I wouldn't wear it or use it because it doesn't work for me, but I'll still let you know what I thought of it!
Yves Saint Laurent's Black Opium was a hard no. I'm super picky when it comes to fragrances, but the notes of "Coffee Accord, Orange Blossom, Cedarwood Essence, Patchouli Essense" from the Sephora description just didn't do it for me. It went on heavy and stayed on heavy, which just isn't me.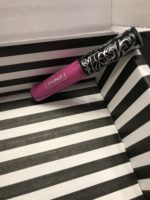 Next was Kat Von D's Everlasting Liquid Lipstick. As you can see in the swipe picture above, it was pink. Like, super pink. When I put it on, my husband tried to find something nice to say (he's thoughtful like that) but really struggled.
Worse for me – it's very difficult to get off! In general, I love lipstick that stays on forever, because I like my lipstick. This bright pink, though, was not appropriate for me – day, night, work, errand-running. Just not me. It's unfortunate, because it looks like there are a lot of liquid lipstick options from Kat Von D, so I may try another color in the future (Melancholia or Berlin looks more my type).
Maybe's
Maybe's are either items I really wanted to like, but just didn't. It's a shame, because in the June Sephora Play Box, I really was excited to try Benefit's POREfessional and the Rose Hair & Body Oil! I usually love Benefit products and I'm a big fan of anything that smells like roses, plus hair oil during the humid months? Sign me up! 
Unfortunately, they just did not work out. POREfessional simply did nothing… I also have super big pores, so I should have seen something. Nada! The Hello FAB Coconut Priming Moisturizer also really didn't do much – it wasn't hydrating enough in the dry Phoenix climate, and I don't need any more priming lotions for my face. It was just so-so!
On to the Rose Oil, hooray!! I only used this on my hair, but everyone's been telling me oil is really good for dry hair. I also have color treated, curly hair, which tends to get dry, so I was like… yesssss good-smelling rose oil, this is going to be a win-win!
By the way, for reference, my hair when I just scrunch my hair naturally is a curly 3A, and when I work with it a little or use the diffuser, it's a wavy 2B. I always have to use product in it if I want to go out in public, otherwise it's frizzy. Just so you know what we're working with here 🙂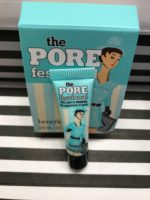 The rose oil… did very little for my hair! Not only did it not tame the frizz, it didn't even smell like much once I worked it in my hair. No yummy smelling rose and too much frizz? No, thank you!
Yes!
So what was left? Ah yes, IGK's Rich Kid Coconut Oil Gel. I didn't think much of it at first – more oil gel for my hair, probably a weak gel at that, definitely not going to tame my frizz. Well, I'm very happy to say I was wrong!
This gel did an amazing job of taming my frizz, so much so that I replaced my regular product (Deva Curl's Ultra Defining Gel) with this and I went out in public with it!! Yay!! I'm almost finished using it now, which is a shame, because it's light yet effective.
Did I Buy Anything?
I was soooo close to buying the IGK Oil Gel. It works, it smells good, it's light, I look fine in public – basically, it checks all my boxes. However, it's $27.00 for 5 ounces, whereas my Deva Curl is $22 for 12 ounces. My Deva Curl gel works just as well (without the yummy smell) and I get way more for way less.
I didn't end up buying anything in this Play Box, but I definitely "liked" the IGK Oil Gel and will recommend it to family for gift ideas 😉
Do you subscribe to any make up or other subscription boxes? Any questions about June's Sephora Play Box I didn't cover?