This post may contain affiliate links, which means if you click through and purchase something using my links, I receive a small commission. You can click here to read my disclosure policy ? Thank you!
A while ago, I wrote a post called "Get Organized to Save Time and Money", and I was so proud of myself for decluttering and organizing my stuff. "It'll stay like this forever!" I said to myself.
Yeah, I'm sure you're laughing right now 🙂 No matter how good our intentions are, keeping a neat, organized house is tough, even tougher if you're busy, stressed, or had a crazy week (or few weeks… months…)
When B and I moved into our new house a few months ago, I made it my mission to not add any more junk to our house, because with new junk and stuff comes more work for me, since I'm the one who typically picks up and cleans more in our house. I need a minimalist house in order to have a less-stressed life, instead of just organizing the chaos.
Luckily, I'm also the one who usually adds junk to our house, so I knew this task of keeping a minimalist house would be on me. But can you really be a minimalist and live in a big house? It seems counter-intuitive, but it turns out you can make minimalism work in any size house – here's how we do it.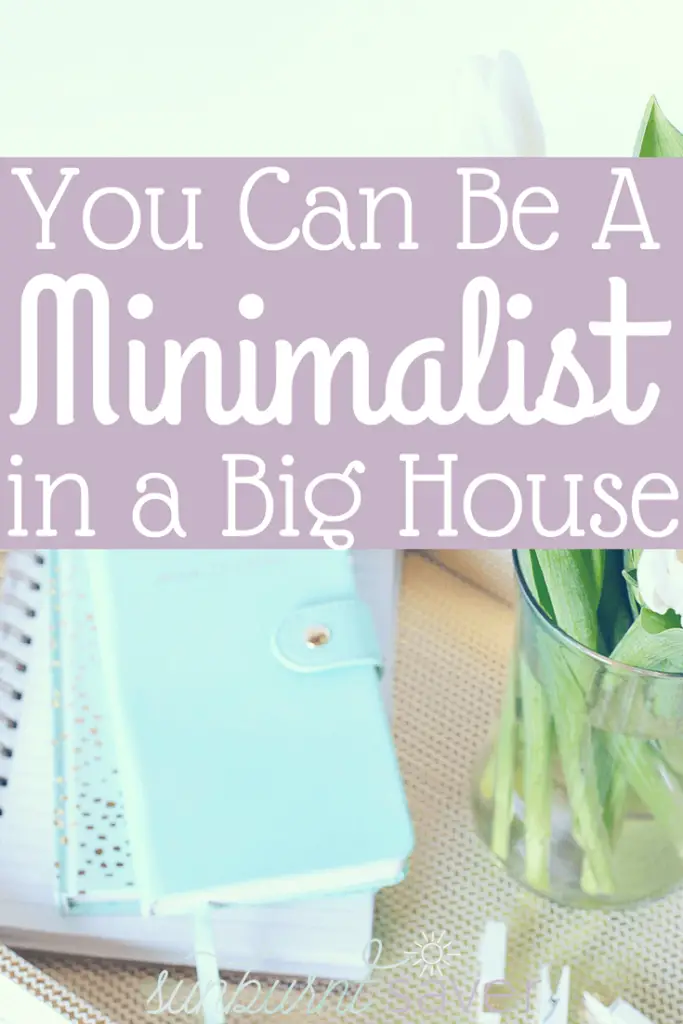 Our Giant House
Our house, to me, is huge. It's roughly 2,100 sq. ft., which is the largest house I have ever lived in. When I lived alone, I stayed in some of the best Austin apartments, but unfortunately when we decided to have a family, my dream apartment couldn't accommodate for it so we had to move. Our new home has two stories and also has a big backyard. All of this to say: a lot of room (and rooms) to fill.
In our house, we have:
3 bedrooms

An office

A loft

2.5 bathrooms

A living room

A kitchen

A dining room

An outdoor patio
This all sounds amazing, and it really is a blessing to live in a house so nice in our price range, but it really is too much house for two people. After all, once we have our bedroom, bathroom, and office set up, what's next?
So far, we did add a guest room (the guest bed is hand-me-down from our parents), and the guest bathroom mostly has extra supplies from travel-size things we've bought or received.
But have you noticed that leaves a few places pretty… empty? Yeah, the extra bedroom and the loft area!
The Problem With Too Much Space
Not to get too into the whole Tiny House Hunters-craze, but there's a lot to be said for smaller places. For one thing, you don't have empty rooms because every space in your house has purpose! 
It's easy to think, in a bigger house, that you have to fill every space. When we first moved in, our dining room table, which we bought for a smaller house, looked tiny in the room it was in! We thought about buying a new table, but dining room tables, it turns out, are expensive. And why buy a new one, when we had a perfectly good one already?
However, leaving the rooms empty or at least with less furniture seemed weird, too. What kind of person leaves a room in their house empty, weirdos? It turns out that was the consensus of some of our family. They couldn't understand why we were leaving some rooms empty – some thought we "poor", some thought we had furniture being delivered and it just hadn't arrived yet, others tried to give us their old furniture to "get rid of it" and help us "fill" the rooms. Also, if you've got too much space when the winter months arise and you've got heat all of this space up it can be very costly! The heaters are running all day and night, we've always made sure they've been serviced and all necessary components have been replace or repaired, for instance, the Heat Pumps!
It Turns Out, Some People Think Minimalism Is Weird
Do I wish we lived in a smaller house? Yes, but we will again soon! While this house is large, it fit within our finances and had the other things we were looking for, including location, finishing touches, and backyard.
Want to see what our backyard is like? Hint: pool! Follow me on Instagram here 🙂
But actually, we have the same amount plus a little more furniture than we did in our last house, and that's fine. I know how long it takes me to clean around that furniture and, while I do have to carry a vacuum up and down stairs now (hello, arm workout!), it's not that much of a hassle.
People might not ever get that having an empty room or a sparse living room is our thing. We don't want more furniture or "stuff" on the walls so, we simply called in the NYC painters to get the walls done: we have a comfy couch, family photos, and a guest room for beloved family and friends. That's all we need, and it doesn't take (or cost) me extra to clean around and maintain this house.
Yes, You Can Be a Minimalist in a Big House
At first, B and I thought it was weird to have a big house not completely "filled" with stuff, as we were raised. But slowly, we had more room to move around, fewer things to clean, and more time to spend outside in our gorgeous backyard with our dog – exactly the reason we fell in love with the house in the first place.
It seems like a lot of the minimalist craze is focused on small homes, if not tiny homes. But you can be a minimalist in whatever size home you have – it's called "not buying as much stuff."
Yes, some of our expenses have increased, like the utility and water bills. But now we love living in our house and we don't want to go out and spend money, so we actually save more now since we spend more time in the kitchen cooking (and less time out spending money at restaurants) and more time at home, in the backyard swimming or relaxing on the couch. 
It is possible to live a minimalist lifestyle if you want to. Minimalist isn't "one time and you're done" – you do have to consciously say "no" to adding more useless stuff to your life, but it is possible – in any place you choose to live!
Do you try to live a minimalist lifestyle, either out of interest or necessity? What are your favorite (and not so favorite!) parts of living a minimalist lifestyle?