This post may contain affiliate links, which means if you click through and purchase something using my links, I receive a small commission. You can click here to read my disclosure policy ? Thank you!
Just barely over 9 months ago, B and I moved into our baby money pit of a new house. It turns out, the former owner really wanted to do his own DIY home remodel. Sounds fancy, right? It's not; it's a horror show. Also, no, it's not a pit of babies waving around money. It's just a small pit where we keep throwing money into and we have no idea why. Although a pit of babies waving around money would be super helpful right now…
We actually closed on our home two months before we moved in to it, but once we started to move in, we discovered so many problems. While we knew about some of the smaller issues thanks to our home inspection, the market in this part of Phoenix was (and is) so hot, so we decided to overlook the potential issues. We had no room to negotiate and couldn't ask for additional time (10 days inspection period is not enough!)
Also, the house is less than 20 years old! The few issues our inspector found could be solved for a few thousand dollars and, with a 20 year old house, how bad could things be really?
Oh, the naivete of new(ish) Millennial home buyers. This is my first house purchase, and while it will end up being a great house for us, this house is turning into a (small) money pit. The former owner's DIY home remodel is going to cost us, and I break it down for you below.
Note: not everything on this list is expensive, it's just weird. Some of the things on this list are dangerous and expensive. Some are expensive. Buy a new home at your own risk, or maybe just rent and have a landlord take care of everything 🙂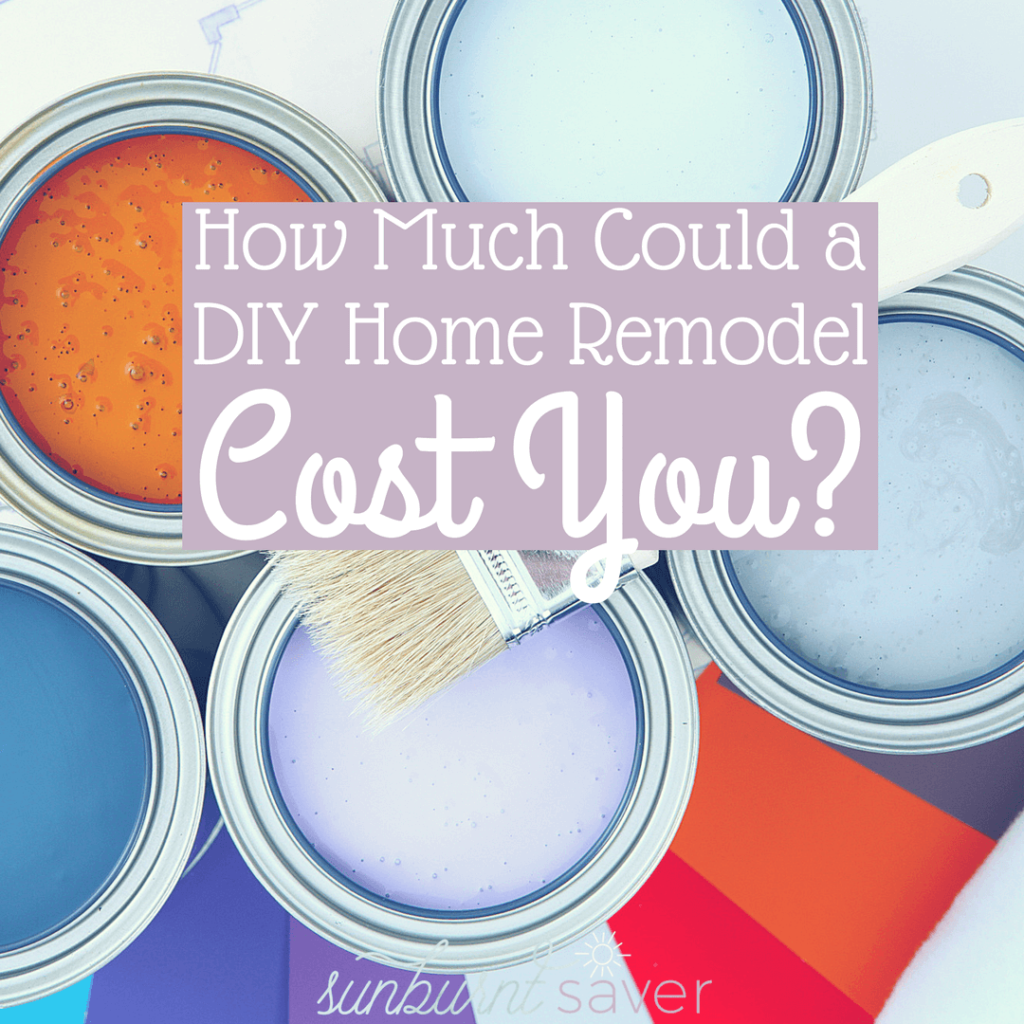 Lights Not Properly Wired
Perhaps one of the most exciting discoveries so far, the former owner decided to DIY his own electrical, and hooked up the microwave to the same circuit as the kitchen lights. This is a no-no. This is why getting the professional in is paramount when dealing with electricity.
B and I thought it was weird that the kitchen lights looked like they had been burnt, and our inspector did say they "looked like they were melting." So we knew something was up… little did we know the whole microwave hookup was totally not safe and that's why the lights were melting.
Also, the microwave would turn off every time you turned off the kitchen lights using the switch on the wall. Because… same circuit and all…
Basically, huge fire hazard. Also expensive because we had to hire an electrician to get us a dedicated circuit for our microwave. Oh, and we had to replace the kitchen lighting.
Lesson learned: don't DIY your own electricity! Leave that to the professionals.
Cost: $100 per light
Tile Flooring Laid Down On Top of Other Tile Flooring – No, No, No
The right way to lay new flooring in your house? Replacing the old flooring (for tile, this can mean breaking it up to remove it and then laying down the new flooring you want).
The way the former owner laid the flooring? He just put new tile over old tile. Cool. While you wouldn't notice it normally, you do notice it when you're trying to measure to put in a new dishwasher (because former owner broke the dishwasher that was already there).
Note: Wood flooring might be different, I'm only familiar with tile flooring.
Cost: $500 to replace the dishwasher (which was broken and we didn't realize), untold hours to cut some other tile around the dishwasher to get it in properly
Holes in Walls for No Apparent Reason
Not because the former owner was moving and his furniture bumped into the walls. Just inexplicable holes in the walls.
Cost: $50 per hole, plus a bucket of paint (we repainted most of the house, so this cost was included)
Broken Doors
As if someone had tried to kick open a locked door… And no, this guy didn't have a lot of young children that could fight with each other.
Cost: Roughly $100 per door (your costs may vary depending on the type of door you get).
Security doors are not only for the office, they can also be for your home. If you feel you need a different form of protection, be sure to do your research into which one will secure your property the best (your costs may vary depending on the type of door you get).
Leaking in the Second Floor Laundry Room
"Second floor laundry room" – even saying that should make you shiver. Anytime a serious amount of water (like a laundry room) is flowing around on a second floor, you should automatically think "potential leak + dripping through onto first floor + potential mold issue = $$$$$$$ all the money $$$$$$"
Just basically picture a pit full of money (no babies) and then imagine the money on fire. That's what the words "second floor laundry room" should trigger in your head.
And of course, the former owner didn't properly install his washer, so we did discover a leak in the second floor laundry room. Easy fix because it was caught early, but still!
Cost: Only about $20 for parts, because the fix was easy and we found it early
Weird Stains on the Walls
I don't want to know. Let's just say it looks like someone smeared chocolate on the walls. The walls aren't brown. And no, we didn't notice it on the final walk-through. And again, no young kids.
Cost: The cost of paint (and time to clean the walls)
Destroyed Window Coverings
I didn't even realize it was possible to completely break nice window coverings, like wooden blinds. I mean, intuitively I knew that if you leaned on wooden blinds hard enough, they could break. But these blinds are seriously broken.
While tightening up and fixing wooden blinds doesn't cost very much, it's just another inexplicable thing on our list of "what did the other homeowners do to this house? And why? And why are people so terrible to their homes?"
If there's anything we've learned on this home-buying journey so far, it's that some people are incredibly hard on their homes. I understand having pets and children, but I know plenty of people who have both (we happen to have 3 pets!) who don't completely destroy their homes or decide to DIY their own electrical outlets (friendly reminder again: don't DIY your own electricity!)
I personally love DIY projects and have friends who like to come over and do projects together too. But this type of DIY is more frustrating, because these are the things that are necessary but not "sexy". It's not sexy to tighten up and fix wooden blinds. It's not sexy fixing leaks and replacing shoddy plumbing work. It's somewhat sexy to replace your lights, but that's about it.
Sorry that this post was more of a rant than an informative post. Millennial homebuyers, watch out when you're buying your first home! Don't get intoxicated with the "this is our first home" romance. Really analyze as much as you can but, in a sellers' market, understand there will be costs and there will be things to fix.
Try to teach yourself some basic handy skills, because you never know what you'll need to do when you move in, like turning off your water, in case you see a serious leak.
For any home buyers out there, what kind of things did you discover when you moved into your first house? And for any soon-to-be home buyers, any questions that I can answer? 🙂