This post may contain affiliate links, which means if you click through and purchase something using my links, I receive a small commission. You can click here to read my disclosure policy ? Thank you!
Have you ever looked through your filing cabinet (or whatever counts as your filing cabinet, including a drawer, the closet, or the floor) and thought, "wow, that's a mess!" In our busy lives, it's easy to put an important piece of paper in a drawer for safe-keeping, promising yourself you'll look at it again once you get organized.
On one hand, it's not completely crazy to think this way. You have kept that important document safe, and you could probably find it again. However, there's a small chance you might not find it (buried under other paperwork). At the very least, it will take you a lot more time searching for the paper than if you had just filed it.
No one really likes thinking about organizing, because it is a lot of work at the beginning and it does take diligence to keep everything running smoothly. Many of us have the best of intentions, like taking a Saturday to set up a filing system, but then eventually things just… fall apart. If this sounds like you, read on to see how getting organized can save you time and money!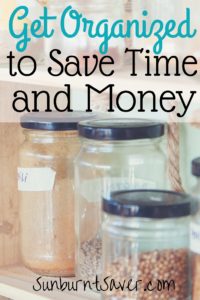 Set Aside Time
I have to admit: it does take a lot of time upfront to get organized. This time last year, B and I decided our empty filing cabinet needed some files in it, and our pile of floor paperwork just wasn't responsible anymore. We thought we could do all our filing in an evening after work.
How wrong we were. Getting organized, whether that's a filing cabinet, a kitchen pantry, or a closet you're trying to organize, takes more time than a few hours on a Thursday night. You also probably shouldn't involve alcohol while getting organized, like we did (although you can drink a glass after you've finished organizing to celebrate!).
Get organized like you get ready for spring cleaning. Get your game face on, and spend a Saturday tackling that cabinet/pantry/closet. Empty everything out of your space, clean it if it's dusty or has crumbs (why there are crumbs in your closet, I don't know, but I don't judge), and prepare to spend a couple hours getting organized.
Be Prepared
Just like you wouldn't go into a meeting unprepared when you have a presentation to make (hopefully…), don't even consider getting organized without being prepared. This means making sure you have everything you need before you get started. In case the italics weren't enough, have everything you could need for your organizational project before you get started.
When we started our filing cabinet organizational project, here's just a short list of things we realized we needed… after the fact:
Hanging files (duh)
A pen to write on the tabs (or one of those label printers)
Extra tabs, extra file folders
Plastic cover sheets for things that are important, sentimental, or old and fragile
Since we didn't have these things ahead of time, we wasted time by having to drive to Staples. We also wasted money because, if we had planned ahead, we could have bought some of these items cheaper online or waited for coupons and sales at Staples.
If you're cleaning out and reorganizing a closet, you may need the following:
Hangers (for pants, shirts, and maybe one for belts)
A shoe caddy or shoe storage unit (especially if you have a lot of shoes)
Bags or boxes for donating the clothes you don't wear anymore
Dividing tabs for purses, hats, shoe boxes
Surprise Twist: Err on the Side of Caution
As opposed to other posts, where I urge you to be ruthless, you may want to actually be cautious about tossing old papers. I'm not saying keep everything, but if you're not sure, keep it and re-evaluate it in another year.
Paperwork like birth certificates, graduation certificates, your Social Security card, all should be kept forever. You may even want to keep these things in a safe deposit box off-site, but at the very least in a fireproof cabinet with locks.
Other paperwork you should keep:
Your most current insurance documents (you don't need to keep anything that's expired)
Warranties (unless they've expired)
Documentation on any work you've had done on your house (anything that adds value to the home is important to keep, as you can show it to future buyers)
Taxes! Save them for 7 years
Debt paperwork (unless you've moved everything to electronic paperwork, definitely keep paperwork related to your student loans, car payments, etc.)
Once you've gone everything and bought the things you need to be efficient and effective, it shouldn't take you too long to get organized. The best part about getting yourself organized is the time and money you'll save in the future. Think of it: you need a copy of the warranty on your fridge, which is now making a terrifying buzzing sound. Just go to your filing cabinet, go to the "Warranties" or "Kitchen" folder, and voila! You just saved time (going straight to the filing cabinet instead of hunting around the house) and money (if your warranty is still good). Think of all the possibilities!
What's your organizing system, and how long did it take you to get one in place?