This post may contain affiliate links, which means if you click through and purchase something using my links, I receive a small commission. You can click here to read my disclosure policy ? Thank you!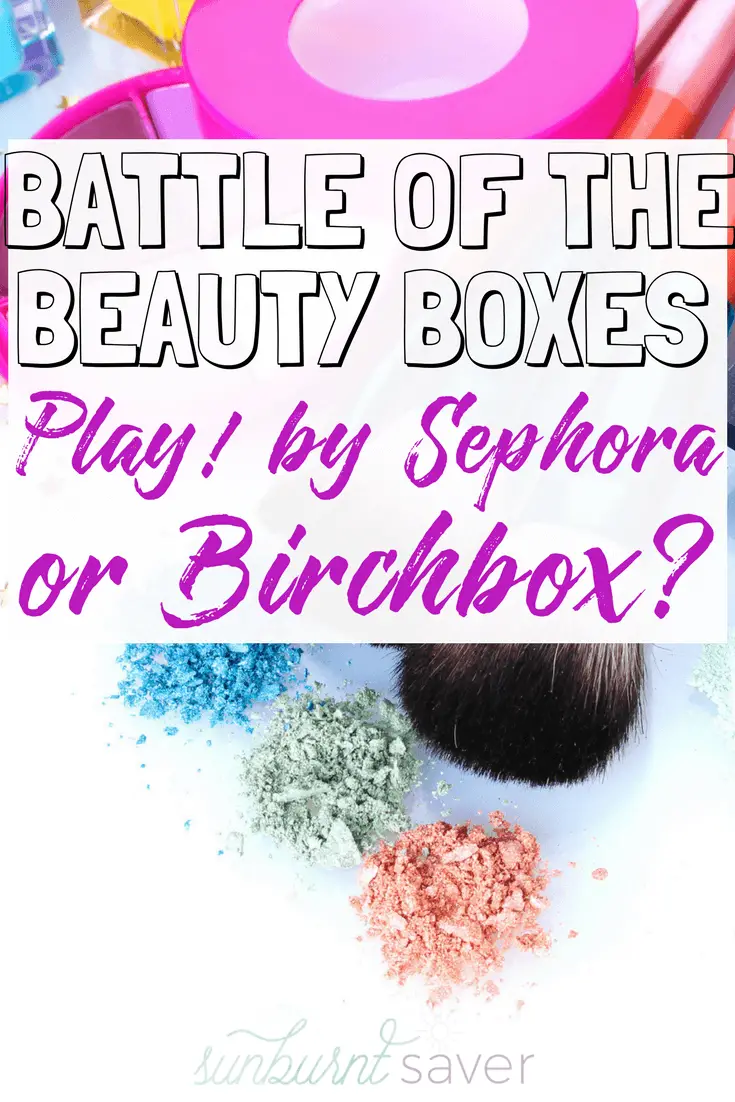 When I was first considering signing up for a beauty box subscription, it was tough to choose in the Play by Sephora vs Birchbox debate. However, I had been buying makeup through Sephora for a few years and my Mom liked Sephora, so I decided to sign up with them – I've even done a few Play! by Sephora reviews here, too!
However, I recently decided to switch from Sephora to Birchbox for my monthly make up and skin care subscription box. You already probably know I'm a huge fan of subscription boxes, if they don't put you in debt and they're something you love!
I happen to love getting make up and skin care subscription boxes because I don't want to spend a lot of money on make up or skin care products that I don't actually like. Even though I typically shop for my skincare products at the drugstore, more times than not I often buy something I end up hating. Even though they're drugstore prices, make up and skincare can really add up! It's not uncommon for basic lipsticks or gloss to cost $7, and skincare products like lotions to cost $15+.
It sucks to spend $15 on something that makes you break out, so I finally decided getting small samples of things I might love for $10 a month was well worth it! Overall, I've saved money by getting small samples of things that last me a long time – and I'm not sad about being "out" money if I hate something! After a few months of trying both, where do I come down in the Play by Sephora vs Birchbox debate? I break it down for you!
Price: Play! by Sephora vs. Birchbox
**New in 2019!** Play! by Sephora and Birchbox no longer are the same price anymore. Boo!! Depending on when you signed up with Birchbox, you'll pay anywhere from $10 – $15 a month for your Birchbox monthly subscription. Birchbox lays out a handy guide to see where you fall in the pricing tier, below:
Basically, if you're brand new to Birchbox and sign up for a monthly subscription, you'll pay $15 a month. If you sign up to pay for a year's worth of monthly subscription box, you'll pay $13/month.
When I first signed up for Play by Sephora, there was an "exclusive waitlist" and you had to get approved to join, but now you can just subscribe right away and get your first delivery the following month. Birchbox doesn't have a waitlist to sign up for their monthly subscription box.
When you sign up with both, both sites ask you what you'd like to focus on (wrinkles, acne, etc.), although Birchbox seems to do a better job of actually listening to you…
The winner? In the Play by Sephora vs Birchbox debate, on pricing, Play! by Sephora wins! But hold on, keep reading, because Play! gets a lot worse…
Interested in signing up for Birchbox? Sign up here and start getting high quality makeup right to you door!
Makeup and Skincare Quality Matchup
Beauty subscription boxes typically offer the same things. In general, you can expect to find:
Makeup, like lip gloss, lipstick, eyeliners, etc.
Skincare, like creams, gels and masks
Body care in some rare cases, or hair care like shampoo and conditioner
Now that I've been getting Play! by Sephora and Birchbox for a while, one thing I am super tired of is repeats! I kid you not, I have received the same samples at least 4 times from Sephora now.
Take this Cicapair Tiger Grass Color Correcting Treatment (seriously, please take it). I have gotten it as a sample from Sephora three times now. THREE TIMES.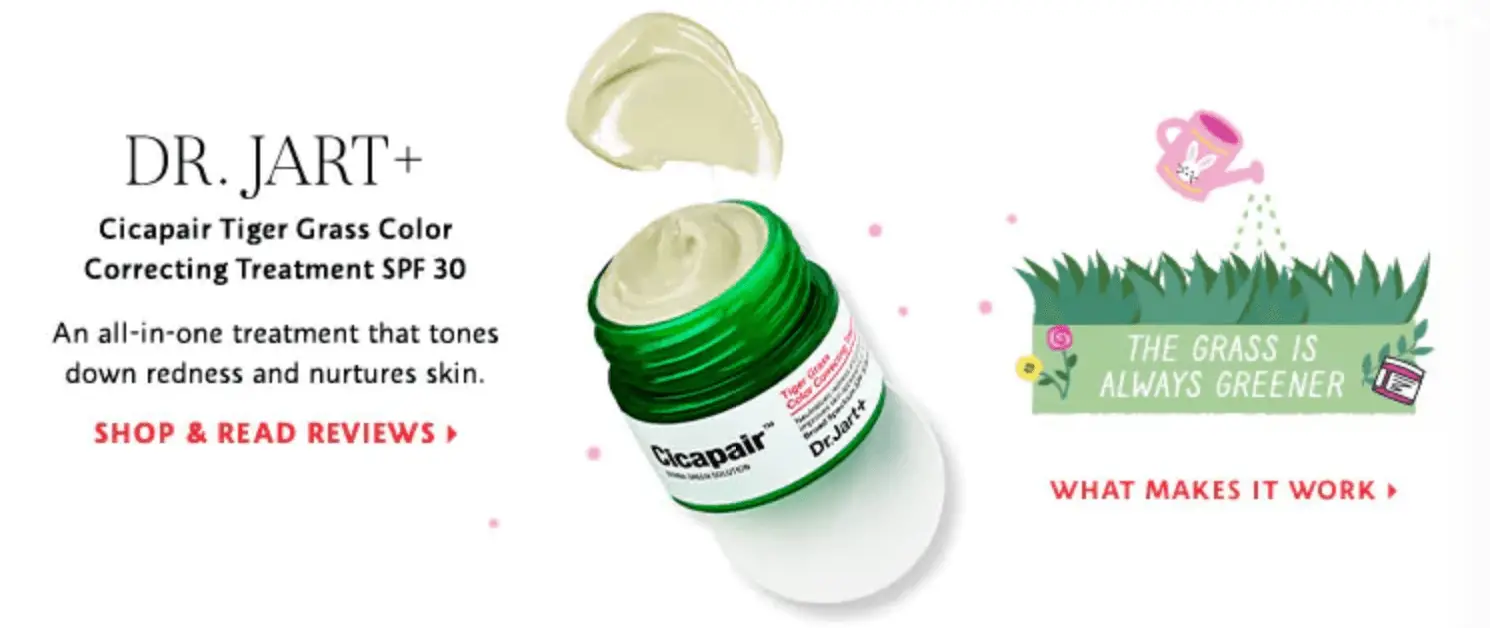 I understand this color correcting treatment is expensive and we're supposed to like it, but it does nothing for me! I have redness and blemishes, and nada. It doesn't hurt my skin, but it doesn't color correct anything.
And even after I left a review about my experience, I still keep getting this sample. I've gotten it from Birchbox, too, but once I told them I didn't like, I haven't received it since. It turns out – Birchbox listens to your customer profile!
I at first thought that Sephora would have better quality products than Birchbox, hands down. Sephora sells high-end beauty items, like La Mer, so it's a no brainer they'd have a better selection for their subscription box, right?
Well, kind of. I did get some very high quality items, like Marc Jacobs eyeshadow and Peter Thomas Roth masks, but I was incredibly surprised by my very first Birchbox, where I received Sunday Riley's Good Genes. People have been all over Sunday Riley's Good Genes but, at over $100 for one once, it was wayyyy out of my price range.
Imagine my surprise when my very first Birchbox contained a sample size of Sunday Riley's Good Genes!! Say what?! I don't know if that was planned or not but, if it was, great marketing, Birchbox!
Overall, it depends on what you want to receive and what you use. If you prefer more make up to skincare, you may prefer Sephora to Birchbox.
That said, Birchbox is really upping their game when it comes to offering more make up choices (and you can also tell Birchbox you want to receive more make up over hair or skin care!). I recently purchased a curated Birchbox monthly box ($15) and received:
3 make up items (Bad Gal masacara, Model Co. metallic eyeshadow, and an eyeshadow brush)
1 hair care item (Oribe hair plumping mousse)
2 skin care items (Kiehl's cleansing oil and My Clarins sleep mask)
Overall, I loved everything in this box except for the mousse (my hair's too thick and curly for it to do any good). I was pleasantly surprised how good the make up was (well, I love Benefit so I knew that, but I wasn't familiar with Model Co. or the eyeshadow brush). The brush doesn't shed, holds and deposits color well, and the metallic eyeshadow actually looked good on me!
Another thing I really like about Birchbox is they let you see your box ahead of time, which you can either approve (take the whole box) or you can choose one sample for your box (out of 3 options) or you can choose to be completely surprised. Personally, I don't like being surprised and I like having a little control over what is delivered to me. For this, I like Birchbox so much more since there's guaranteed to be something I like arriving in the box!
The winner? In the Play by Sephora vs Birchbox debate, I come down on the side of Birchbox because I feel like I'm getting more things I'm interested in, like skincare vs. makeup. I love makeup and Birchbox definitely delivers, but with Birchbox I feel like I have more control over what I get overall.
Interested in signing up for Birchbox? You can get your first box for $1 with my referral link!
Customer Service
This is one area where Birchbox blows Sephora out of the water. When I was for signing up for Play! by Sephora, I had such a hard time. I happened to be moving when I was finally ready to receive their sample box, so I asked them if I could put my membership subscription on hold while I moved into my new house. They told me 'no' and said I would have to re-apply again in a few months. Boooo!
Now how likely is that to happen to you? Probably not very likely, especially if you have no plans to move anytime soon. However, with people in college and young people typically on the move between jobs and apartments, I thought it was pretty inconsiderate of them to think that their subscription box was so great that they could deny me all because I needed to move!
Still, it put a bad taste in my mouth, like I was some unwanted plebe who didn't deserve a subscription box because I had the gall to be a transient. Birchbox, on the other hand, was a simple, easy set up, no hassle plus you can put it "on hold" whenever you need to!
It could be argued that Birchbox over communicates. I get emails once a day if not more often from Birchbox telling me about different promotions they are running. Personally, I don't mind it and it's obviously a great marketing tactic to keep Birchbox on your mind. However, others may not like this as much considering it does definitely clutter your inbox
The winner? In the Play! by Sephora vs Birchbox debate, I still prefer Birchbox over Sephora because I'd rather hear too much from them than too little. Besides, sometimes I do find products I want to buy and I would love a promotion so I don't pay full price!
Interested in signing up for Birchbox? You can get your first box for only $1 with my referral link!
Delivery
This seems like a weird category, since delivery isn't really something these companies can control right? While this is subjective, I had to mention it.
Sephora and Birchbox each deliver their subscription boxes around the 15th of each month. However, in December, my Play by Sephora box arrived 2 weeks late – with no explanation for why! This isn't the first time it arrived a little later than expected, but 2 weeks was just way too long. I'm not a diva, but if I pay for something on the 1st of the month, I shouldn't wait 20 days or more for it to arrive!
When there was a weather event (on the East coast), Birchbox was very communicative about how my package could be delivered late – but it arrived early! I appreciated both the fact that they alerted me to what could happen plus that my box arrived early!
Delivery dates aside, Sephora tries to be fancy and send you your products in a bag that they say you can re-use. Well, I tried re-using a few of the "fancy" bags and they fell apart almost immediately. Nice gesture, but not so nice when it doesn't work! Birchbox doesn't do this – you receive your items in a padded box, and that's it. Yes, everything jumbles around, but it does in the Sephora box as well – and so far nothing has arrived broken!
The winner? In the Play by Sephora vs Birchbox debate, I definitely come down on the side of Birchbox in this category! A fancy bag containing the make up and skin care products is nice, but only if you can actually re-use it!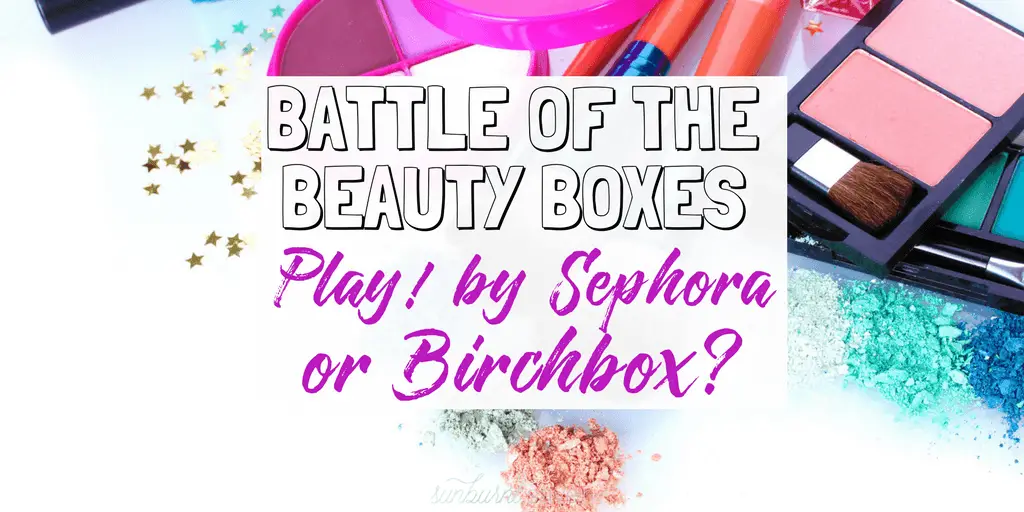 Birchbox Wins!
In my opinion, Birchbox wins in almost all the categories, including quality, delivery, and customer service. In addition, every time you get a Birchbox delivery, you get credited with real money that you can spend in the Birchbox store! With Play by Sephora, you only get points if you end up buying something.
Overall, I end up spending less on makeup because a lot of the makeup samples I've been sent last me a long time (umm, eyeliner for days!). I go through the skin care a little faster, but I get to really see what I like instead of wasting $15 at the drugstore with something that doesn't play well with my skin.
Interested in signing up for Birchbox? You can get your first box for only $1 with my referral link!
Have you ever bought a makeup and skin care subscription box, like Play by Sephora, Birchbox or Ipsy? What do you think of them?