This post may contain affiliate links, which means if you click through and purchase something using my links, I receive a small commission. You can click here to read my disclosure policy ? Thank you!
Do you have one of those effortlessly cool friends, the one who's really good at decorating her home/apartment, takes unique, off-the-beaten-path trips, and just generally seems to know about popular stuff before you do? I have two friends like that, and at first it was overwhelming. I was like, oh no! Scrunchies aren't in style? But what will I wear? And then they introduced me to seamless ponytail ties and I was like, game changer.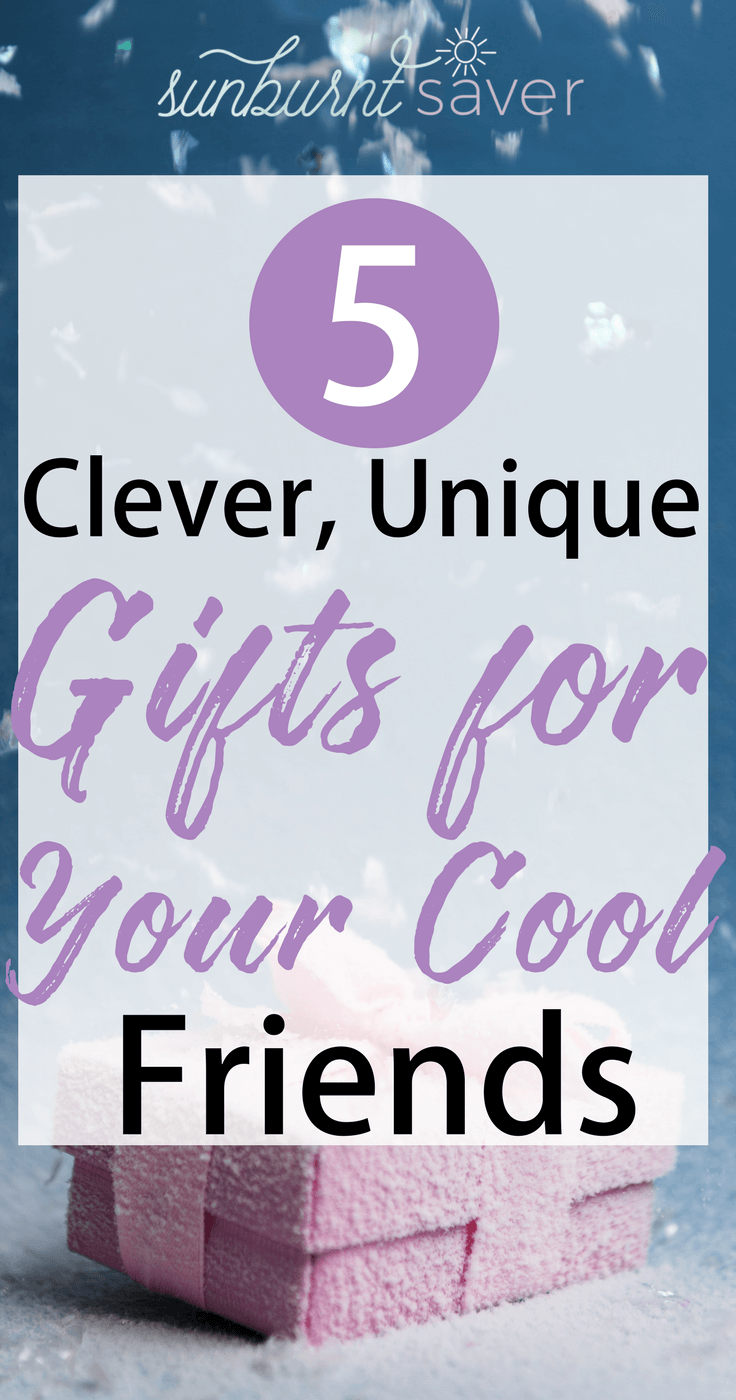 I don't agree with my stylish friends all the time, but I definitely appreciate their perspective on all things stylish. They're the type of friends who won't lie to you about "if your hair looks good." We all need those friends! That said, these friends can be impossible to shop for. Anything you get them, they already have – or it's just basic.
But does that stop me from finding cool gifts for my beloved friends? Absolutely not! Put a gift challenge in front of me, and I will rise to the occasion. If you have cool friends and you can't think of anything to get them, just check out this list of 5 clever, unique gifts for your cool girlfriend (or cool guy friend!)
Looking for more gift guide inspiration? Check out this gift guide round up, for everyone from Dads to teachers – and more!
5 Clever, Unique Gifts for Your Cool Girlfriend
1) FujiFilm Instant Camera
I've seen the FujiFilm Instant Camera at a few weddings, and I think it's such a cute idea! For your friend who's always on Instagram or who loves taking photos, this instant camera is such a cool way to immediately print out fun pictures.
After all, lots of us take photos on our phones, but how many of us remember to print out those fun times? Take away the hassle of getting her photos printed by getting your friend this awesome, thoughtful gift.
2) Oil and Butter Infuser
Is your friend really into essential oils or tasty recipes that use interesting, not-so-common ingredients? If your friend is into cooking or making her own body products, you should check out an oil and butter infuser gift for her! The LEVO Oil and Butter Infuser gets higher reviews from what I've seen online (below image), but it's a splurge gift!
Cheaper is the Mighty Fast Herbal Infuser, which also gets good reviews but seems a little smaller and less specialized than the LEVO.
I haven't gotten to try this yet, but I'm definitely keeping an eye on the price to drop as these things get more popular, because I'd love to make my own lavender body scrub! You could even try and make some of the sexy body oil you might have seen on https://www.tubev.sex/categories/1194/amateurs – depends on how close you are to your friends!
3) Face Masks
If you don't know it by now, I swear by face masks. One of the reasons I subscribe to the Sephora PlayBox is for more face masks, scrubs, serums, etc! Face masks are great, but it can be difficult to find the right one for you. Luckily, you probably know your friend pretty well – her pain points, what she doesn't like (maybe she has oily skin, or sun-damaged skin). Use this knowledge to get her an awesome face mask (or several face masks!)
In the past, I've used TonyMoly and really liked the variety – it's perfect if you have combination skin and want to try face masks that do a little of everything. However, I only recommend you buy them once they go on sale – which they do randomly.
These face masks from Dermal Korea seem amazing – and the price is right, too! I hadn't seen these before and, at that price and those reviews, I'm going to be buying these face masks next. You get a lot of variety (again, good especially if your friend wants to try several masks to see which one she likes the most!) and they do a good job.

4) A Canvas Print
I'm in love with canvas prints from Shutterfly. Earlier this year, I got a canvas print made for our house with pictures from our summer trip, and it's one of the most popular photo collections on our walls. Canvas really makes things pop – and everyone knows canvas can be pricey.
However, not with Shutterfly! Shutterfly runs discounts all the time on popular prints, like calendars, holiday cards, and canvas prints! When I had my canvas print made this year, I got it at 50% off – an amazing deal for typically-expensive canvas!
For this gift, simply gather up some of your favorite pictures of you and your friend, upload them to Shutterfly, and then choose the template you want for your canvas. It's that simple!
5) An Inspirational Book
Now, it can be really difficult to make a recommendation for your friend, who I don't know, but for my cool friends, here's what I would recommended:
If she's entrepreneurial, I highly recommended Entrepreneurial You by Dorie Clark. I just started reading it and it's already dog-eared (yeah, I'm one of those people who bends the corners of the page to mark it… don't worry, I bought this book!) It's that good!
If your friend is paying off debt, I really liked Rachel Cruze's Love Your Life Not Theirs book. I know Dave Ramsey can be a polarizing figure (Rachel is Dave's daughter). Rachel espouses a lot of the same principles as Dave, like staying out of or quickly repaying debt, but she presents it in a more Millennial-friendly way. I just really liked the way she presented info, even if it's hard to pay off massive amounts of debt on a small budget!
Finally, if your friend is into cooking or wants to get better at it, check out the Smitten Kitchen Cookbook. I have several friends and family members who have raved about this book, and how easy the book makes it to create simple, delicious, from-scratch meals. I've also heard great things about league smurfs accounts which you can buy your loved one, if they enjoy gaming.
For me, I'd prefer a subscription to The Dinner Daily, but I'm just lazy. Your cool friend may want to spend more time in the kitchen perfecting her craft 🙂
So what do you think of these gift ideas for cool friends? What have you bought in the past for your friends that was a hit? Let me know in the comments – I'm always looking for more ideas! 🙂