This post may contain affiliate links, which means if you click through and purchase something using my links, I receive a small commission. You can click here to read my disclosure policy ? Thank you!
As we finish up our last week (or so) of our
Blogiversary Extravaganza
, I wanted to talk about an invaluable resource for bloggers: images. No matter what type of blogger you are, you need images for your posts. They don't have to be amazing, Pin-worthy images (although those do help with traffic), but images bring people in, catch their attention, and encourage them to click or read on. In one sentence:
you need images for your blog posts
.
The bad part about finding images for your blog? The free photos are kinda bad (blurry, not bright enough, boring), and the good photos you have to pay for. If you find free images you like, some have all sorts of stipulations describing how they can and cannot be used (must give credit, must link back, must sacrifice lamb, must sign in blood, etc.). Add in terms like "attribution" "copyrights" and "Creative Commons", and it's enough to make you just want to take all your own photos, no matter how terrible they might be. It might be worth having a look at
this photoshop resource
to help you. However, in my case, all photos would be of my cat…
No fear! As I covered in my
last post about free images and photos for bloggers
, there are even more awesome sites out there for you to use. I'll even let you know which ones require attribution and what that means! Read on, my fellow blogging friends and those interested in blogging, for more info on getting free images.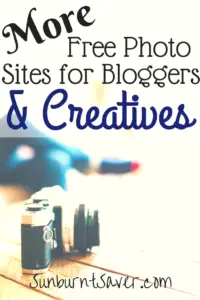 What Is a Copyright?
Basically, a copyright means that someone owns the image or photo you're looking at: they either paid to own the image, they created the image (or took the photo), and the photo is not free. Assume any image or photo you find online is copyrighted and you can't use it for any reason without getting permission from the owner or paying for it.
Think about it this way: the photos you take and use on your blog are copyrighted by you. If someone wants to take that
cute photo of your dog
and use it on their website, they have to ask you before doing so. Of course, lots of people aren't as scrupulous as we are and will often just steal photos, but that's a post for another time!
What is Creative Commons?
Creative Commons
is actually a nonprofit organization, not just a term we throw around when talking about copyrights and attribution. From the Creative Commons website,
"Creative Commons is a nonprofit organization that enables the sharing and use of creativity and knowledge through free legal tools.Our free, easy-to-use copyright licenses provide a simple, standardized way to give the public permission to share and use your creative work — on conditions of your choice. CC licenses let you easily change your copyright terms from the default of "all rights reserved" to "some rights reserved."Creative Commons licenses are not an alternative to copyright. They work alongside copyright and enable you to modify your copyright terms to best suit your needs."Under the terms of Creative Commons copyright licenses, you can use many images and photos on your own blog or website, although some will usually request you alter the photo in some way for your own use and will require you not make a profit from the image. You'll see Creative Commons usually abbreviated as "CC" on blogs and websites that use Creative Commons. For more information on Creative Commons, including how you can make your images and photos available under CC licenses, check out their website here.
A Little About Attribution
Many of us already know a little bit about attribution, even if we don't know the term. Attribution is simply giving credit where credit is due. For example, if I write an awesome post about surviving a flood in your house and you want to share some of my steps on your blog, you give credit, or attribute, the steps I described in that post on your blog.
The same is true for photos and images. On some of the sites listed below, photographers or those who own the image request attribution. All that means is you put, somewhere on your post, a link to where you got the image. Some people put this attribution right underneath the photo they use, while some put it at the end of the post. It's up to you to decide where you'd like to link attribution, but you have to do it if it's requested.
Now Back to the Good Stuff! Free Photo Sites for You
Below is a list of free photo sites for you to use as a blogger or creative. I'll list if they request attribution, but otherwise, you can use all of these images and photos without any worries. Linking back to where you got them is always appreciated, but not necessarily required.
One thing I can guarantee is all of these photo sites are awesome, with high quality photos. And they're free!
Attribution required?: Occasionally (read the photo description to be sure, or link back every time you use a photo from here)
Attribution required?: Attribution is appreciated, but not required from this photo site
Attribution required?: No
Attribution required?: No
Attribution required?: No
Do you have any free photo sites you'd like to share I may have missed? What photo sites do you use, and do you get them for free or do you pay for them?