This post may contain affiliate links, which means if you click through and purchase something using my links, I receive a small commission. You can click here to read my disclosure policy ? Thank you!
In case you hadn't heard, on Wednesday night, B and I came home to a flood in our house. Not, surprisingly, from the flood that happened two weeks ago, but actually from a burst water pipe in our laundry room.
As of now, we are still waiting for our insurance to send out someone to assess the damage, which means it's nearly been a week that we've been dealing with a completely torn up house. The insurance company at least sent out a company to clean up the soaked carpets and furniture, so we're living in limbo of a (hopefully) clean house, but we're missing carpet and the house still smells funky. All in all, it's rough.
However, there is always a silver lining in cases like this! You can learn from my mistake – lucky you! Here is how to survive a flood in your house, at least financially. You're on your own if you need swimming lessons, though. 🙂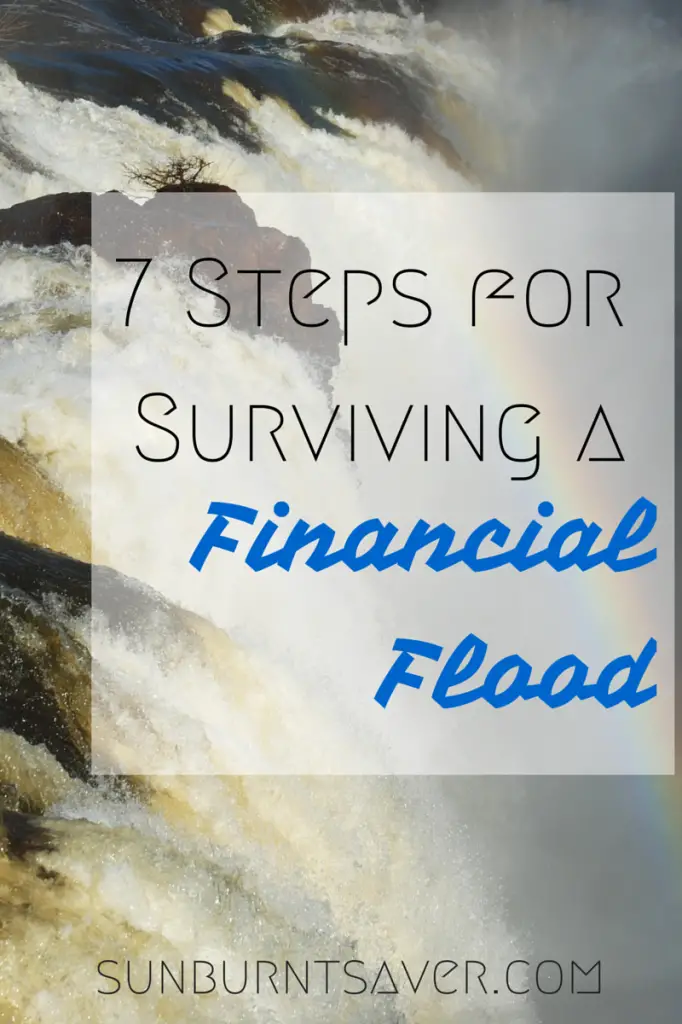 Before it Happens
1. If you haven't already, review your home insurance policy and know what it covers. Make sure your homeowners insurance covers flooding and water damage. Note: pipes that burst can be different from flooding caused by Mother Nature. Check your home insurance policy and call if you have questions.
2. Document anything worth over $100 in pictures (and receipts, if possible). Even if you hate that old couch, take pictures of it and try to keep receipts for everything over $100 item you own. It sounds tedious, but I promise it will come in handy.
When it Happens
3. Obviously, turn off your water. Don't let it get worse. Do some research about Water Damage Clean Up and make sure you do things like get ventilation into the house to help dry the water out.
4. If there are two of you, have one person document the damage and the other person call the insurance company. Both are equally important, but if you have to choose, call the insurance company first. If they don't offer, request they provide you a company to clean up the water damage. This company should directly bill the insurance company, so no money out of your pocket.
5. Try to clean up as best you can so you can get around your house, but don't do too much. Now is a good time for further documentation, to take pictures of exactly where the damage is and what is damaged. If the clean-up company isn't coming to your house until the next day, try to wall off the area with tarp if you have any, or just stay away from the flooded area as best as possible.
6. Start estimating how much the damage will cost you. The clean-up company should take care of treating the walls and baseboards for mold, plus dry out the carpet, but you may want to replace the carpet entirely. Our carpet was absolutely drenched, and we ripped it out some of it as soon as we could (too soon, because we didn't document the damage our mistake!)
7. Estimate EVERYTHING. Cost of paint, cost to replace lost/damaged shelving, carpet, wood floors, furniture, paintings/art on the walls, appliances that got wet. Leave no stone unturned.
Dealing with the Aftermath
Depending on your insurance, the appraiser may assess the damage and give you a check based on what s/he sees and the evidence (in the form of pictures, receipts) presented. Your insurance company, on the other hand, may want you to get bids from companies to fix the damage and replace lost items, and have you submit receipts to them. If you are unsure where to find a flood cleanup company then start at https://waterdamageroundrocktx.com/flood-cleanup/ and get their bid.
However, your insurance company chooses to pay, follow it to the letter and try to maximize the amount you get. Your insurance company may try to give you less, based on wear and tear, but argue your case if you think they are not being fair. This is your stuff, and you pay insurance every month for precisely this reason. It is to ensure your stuff.
Your insurance premiums may go up after this. Ours has not, yet, but it's pretty much a given, so expect that. You could use this opportunity to shop around other homeowners insurance companies, if you think the price has gone up too high.
Start the cycle all over again! For anything that is replaced, document, document, document. Keep receipts, invoices, and take pictures. You will be better prepared next time!
Have you ever weathered a financial 'flood' in your house? If not a flood, what happened and how did you handle it?