This post may contain affiliate links, which means if you click through and purchase something using my links, I receive a small commission. You can click here to read my disclosure policy ? Thank you!
Are you busy? I know I am busy. I'm so busy, I ate out a bunch last month because I just did not want to cook. B didn't want to cook, and we both were over peanut butter sandwiches. Enter: budget-busting restaurants.
You know what would have been helpful? Having a meal delivered right to our door! And I don't mean pizza. I mean a healthy meal I can cook myself and still feel relatively healthy. The other day, I was lurking around Groupon.com and saw a Groupon for a discount on a local meal delivery service in our area. It was super cheap too, and I was very tempted.
It got me thinking: considering how busy most Americans are, wouldn't spending a couple of extra bucks a month on a healthy food delivery service be worth it?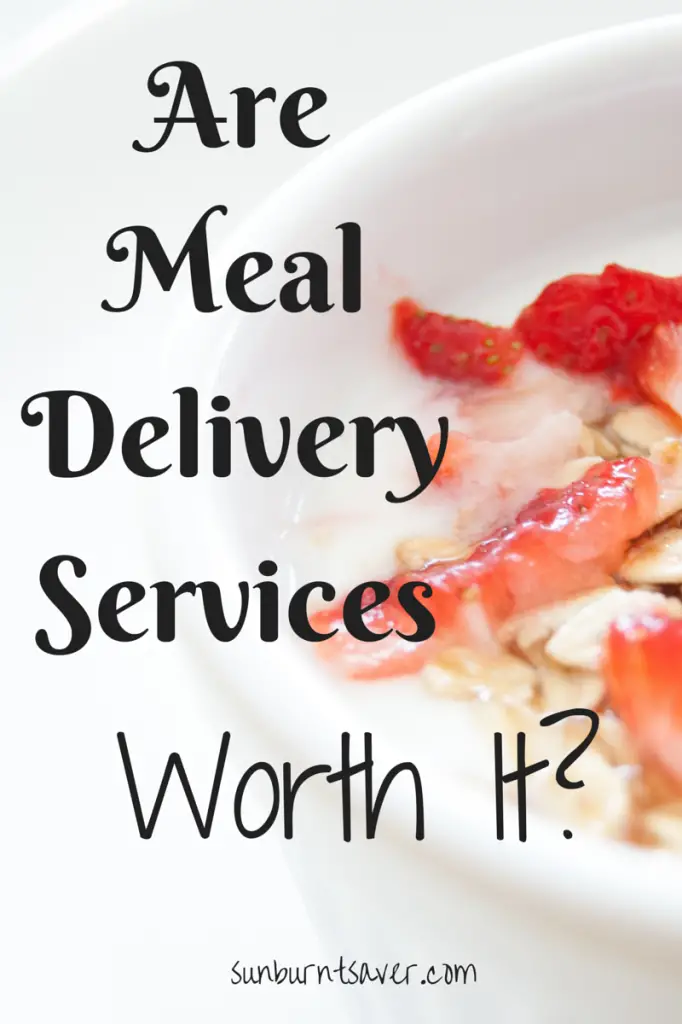 The Cost of Meal Delivery Services
I looked up a few different meal delivery companies, and their prices (FYI: none of these are affiliate links):
Blue Apron – $10 per plate, $60 for 3 meals serving 2 people each, per week. Product review by the kitchn can be found here.
HelloFresh – $11.50 per plate, $69 will get you a Classic box with 3 meals for 2 people, vegetarian box costs less.
PeachDish – $12.50 per plate, $50 for 2 meals for 2 people. This Atlanta-based company has a Southern slant to their food and includes a surprise treat each week.
Plated – $15 per plate, $60 for 2 meals for 2 people per week. Those who sign up for a year membership ($8 a month) pay $12 per plate.
Blue Apron has the lowest price per plate and, according to the the kitchn review, has some really great meal choices (although you can't specify 'no pork' if someone in your house doesn't eat pork). Personally, I was really intrigued by Plated, which allows you to choose your meals (doesn't give you a menu plan) and focuses on local ingredients.
Blue Apron Sample Recipe and Review
I decided to look at a sample recipe from both Blue Apron and Plated. Based on the review from the kitchn, it seemed like Blue Apron has pretty delicious, simple meal plans that even I, a terrible cook, could manage. Here was the sample recipe I found that looked delicious:
Creamy Sweet Potato and Kale Casserole. Okay, so I like the idea of being healthy (sweet potatoes and kale) with the deliciousness of heavy, probably-not-that-great-for-you food ('creamy' and 'casserole' are probably not things I should eat on a regular basis).
When evaluating whether or not meal plans are worth it or not, we have to know how expensive the ingredients are if you were to buy them on our own. This meal doesn't look like it would be that expensive to buy and make on your own: egg noodles, kale, sweet potatoes are all relatively affordable. Pecans, ginger, parmesan cheese and berbere spice (for the béchamel sauce) may be a little more expensive. At $10 total for two people, one meal, it's way cheaper and probably a bit healthier than a restaurant meal (although with restaurant meals, you can take half home to save money).
According to the Blue Apron review, these meals basically make enough for one person each, with no leftovers. One on hand, this could be great if that's all you're looking for. However, what if you really like the dish and wanted leftovers? In that case, buying the ingredients yourself and making enough for leftovers would be worth it.
Plated Sample Recipe and Review
When I went to Plated's website to choose a sample recipe, I was directed to input my zip code and then estimated delivery date. Since I'm hungry now, I chose this week and was presented with a few options by 'land' 'sea' or 'veggie.' I assume I could choose one from each but, since I'm a vegetarian, I clicked the 'veggie' option.
One of my three choices was already sold out, so I was left to choose between Carmalized Cauliflower Tagliatelle with Hazelnut Pesto and Red Rice with Roasted Squash, Leeks and Pepitas. While making pesto is slightly easier than béchamel sauce, I love rice and pepitas anyway, so I chose that recipe.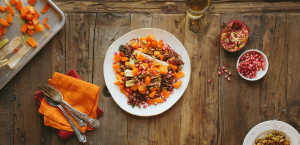 Plated told me what ingredients they would send me, but did not give me instructions for how to cook it, although the website says it will take 30-40 minutes to cook. Based on this recipe, Roasted Delicata Squash with Honey, Pomegranate Seeds and Pepitas, I could see I would be baking the squash and maybe sautéing some leeks, along with cooking the rice. However, this at least seemed like a dish I could start and walk away from (to snack on some Triscuits since I'm always hangry when I get home), unlike the béchamel sauce from above, which I would have to babysit.
Once again, some of the ingredients were affordable (leeks, butternut squash, rice) and some could be expensive, particularly if you don't use those ingredients that often (honey, pepitas, pomegranate seeds).
Plated it also more expensive than Blue Apron – if you signed up for a year membership, it would cost $12 for two people, one meal.
Are Meal Delivery Services Worth the Cost?
Based on the choices out there, do you think meal delivery services are worth the cost? Here are some pros and cons I've found:
Pros of Meal Delivery Services
Introduces you to new and different meals you may not otherwise make.
If you don't end up liking the meal, you don't end up with a bunch of ingredients you'll never use again.
Cons of Meal Delivery Services
$60 a week for two people, which means a monthly subscription would cost $240 a month. Can you feed yourself and another person well for less than $240? Be honest: if you're only eating PB&Js for most of that month, maybe $240 is worth it. But if you're a decent enough cook, you probably can get away spending less than $240 to feed two people for one month.
Meals that sell out or you don't like them. If your meal sells out that week on Plated, you have to choose something else. If you don't like the meal Blue Apron sends you, you have to deal with it.
Doesn't really save a whole lot of time in the kitchen. For the recipes I looked at, you would be spending about 30 minutes per meal cooking. You could cook it all ahead of time, and keep it in your refrigerator, but I can think of at least a handful of meals (that aren't PB&J) that B or I could make in less than 30 minutes. Not to mention leftovers: sometimes we have leftovers that can be incorporated into the next day's meal. You won't have that with meal delivery services.
The bottom line is: what are you trying to save? If it's time spent grocery shopping, and you'd like to try some new meals, than a meal delivery service could absolutely be worth it. However, if you're trying to save money, there are a variety of ways you could try new recipes and save money. Rachael Ray will help you cook a year's worth of meals in 30 minutes or less (not an affiliate link), and the editors from EatingWell will help you eat well on a budget (not an affiliate link).
Would I ever try a meal delivery service? Actually, I would. I did the math and, personally, we spend about $60 a week on groceries. Now, some of the purchases include wine and other 'fun' things (dessert! brownies!), which are not included in your average meal delivery service. However, I think it's an interesting idea that would make me a more adventurous cook, and I would certainly try it for a month. Who knows, maybe that will be something I try next year and let you all know about! 😉
Have you or would you ever subscribe to a meal delivery service? Are you a cook, or is cooking a chore for you? What's your quick go-to meal when no one feels like cooking?