This post may contain affiliate links, which means if you click through and purchase something using my links, I receive a small commission. You can click here to read my disclosure policy ? Thank you!
I've now been working for myself (or, at least, working from home) since March 2017, and the transition has overall been smooth. That said, I did a lot of planning ahead to make sure I could handle working from home, because I've heard it can be tough and, in some cases, impossible.
So is working from home right for you? The answer is: maybe. Unfortunately, it's not for everyone – that's probably one of the reasons we still have office complexes instead of a nation of telecommuters. If you're considering making the leap to work from home, here are a few questions to ask yourself, and how I made the leap.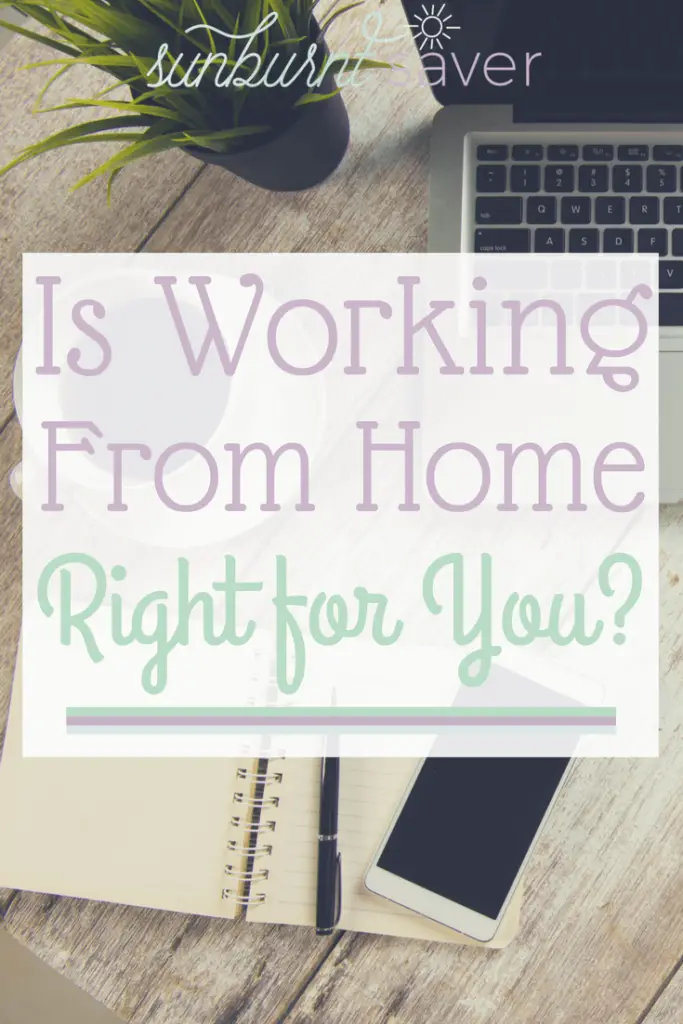 Do You Like People?
Before all the other entrepreneurs/solopreneurs (business owners/single business owners with no employees) get mad at me, many (if not most) self-employed people like other people! This question is not saying all self-employed people don't like other people, but in general, self-employment can be pretty lonely. This means you are by yourself and not around coworkers.
If you have to be around people and love the camaraderie of an office, working from home might not be right for you. However, co-working spaces and business meet up groups are becoming way more popular. During these work meetings, you're most liely going to want to access the internet. Here are ways on how to work securely out of the office. To find locations to have your meetings, you can search on Yelp or Google for "coworking space + your city" and see what pops up.
Personally, I haven't started going to a co-working space yet because I need the quiet to work, which is why working in an office was actually really hard for me. Maybe it's because I'm an only child, but I need serious quiet to be really effective!
Do You Have Internal Motivation?
If you've ever tried working from home (which I highly recommend you do before you take the leap to self-employment), you might find everything but work pops up. The laundry needs to be done, the kitchen looks messy, your pets (or kids) need this or that, oh and now you're hungry for lunch.
The day can get away from you when you work from home and let home issues distract you. If you're easily distracted, you may need more than just internal accountability. In most cases, client work will force you to work, but you may put it off to the last minute and make yourself stressed out.
The solution? An accountability partner! There are tons of ways to find accountability partners (I recommend the group Bright Bloggers on Facebook), but basically you ask others if they're willing to be your accountability partner if you act as one for them.
An accountability partner typically is another blogger (if blogging is your thing, or it can be another Etsy seller, etc.), in your niche or not, who is willing to check in with you (via email or Skype). You both set goals, like "I will publish something 3 times a week" or "I will update my About page by the 15th" and then make sure each other follows through.
If it sounds simple, it's really not! While it might take a few people to find the right accountability partner, having the right one is invaluable and will really help you stay focused while working from home.
Seriously, What About Your Office?
You're going to be working there everyday, so what does your office look like? For me, I have to have a window nearby, otherwise I get stir crazy. Other people need motivational sayings for their walls, or some sweet office whiteboard calendar. Looking for office inspo? Here's how to design a home office on a budget!
How you set up your office is up to you, but you need a dedicated space where work (and only work) takes place. If you treat your office like a space where anyone can interrupt you and anything can take place (like paying bills or surfing the web), when you sit down to work, you'll be distracted by other things you "have to do." You have to make sure you have all the supplies you need to be productive, as you'll no longer have anyone to rely on! Getting things like Post-It Notes will now be your responsibility.
Are you able to handle your business if you do get popular in that office? Many people don't prepare or plan ahead for if they get big and don't know what to do as they don't have enough space to do all the work. My friend recently had to hire 3 other people to work from home too keep up with demand. She had to look into how to get an efficient communication system in place so she looked at Salesforce (https://www.salesforce.com/solutions/small-business-solutions/integrations/slack-crm-integration/).
Ideally, your space is uniquely yours, with whatever you need to accomplish your work, with a door you can close and leave at the end of the day.
Can You Handle Uncertainty?
Client work can come and go, and sometimes it can go abruptly. If you're just covering your bills with the work you have, you need to get more work and have a cushion. How quickly can you get someone else to hire you, or how quickly can you make money?
Every week, I'm calculating how much I've made so far in the month, how much I'll end up making by the end of the month, and how much I need to sock away for taxes. When I travel (follow me on Instagram here for my next trip and pics from the last one!), I usually end up making less, and I have to figure out if that's okay, or if I need to take some time, hunker down, and work hard a few days while on vacation.
These type of uncertainties can make you a little crazy if you're not prepared for it, and having a plan in place for how much you'll make, what your bills are, and your cushion is crucial before you start to work from home.
Do You Have an Emergency Fund?
Have you ever heard the term "stuff happens"? I didn't believe it until I left my job and immediately was hit with a whopper of a month, a month in which I didn't make much money and had a lot of unplanned expenses.
Luckily, I had a sizable emergency fund and was able to absorb those expenses without panicking. I also brought on more work and, by the end of the next month, was making more than I ever had before. That said, I would have been struggling or seriously had to consider getting a new 9-to-5 job if I didn't have my emergency fund, which makes it incredibly important for anyone considering becoming self-employed. Want to learn more about emergency funds? Click here!
I had 3 months work of expenses saved up before I left – that means I knew I could pay my bills in full for three months before things got real for me. Unfortunately, within my first month of becoming self-employed, I burned through half of that savings. That's insane – but luckily I had it, otherwise I might have had to find another, random job to support myself.
Don't think it can't happen to you, but don't get too worried about saving up enough money. Slowly and steadily I socked away $100 a month ($50 per paycheck) until I had 3 months of expenses saved up – you can even start at $25 a month. Just be patient and consistent – you really need an emergency fund!
I know this was a super long post, but I definitely made some mistakes before I started working from home and I want to make sure others don't make those same mistakes. So if you're thinking of working from home or becoming self-employed, did I answer all of your questions, or what else would you like to know?
And for those of you who are working from home right now, what's one piece of advice you have for someone considering working from home?