This post may contain affiliate links, which means if you click through and purchase something using my links, I receive a small commission. You can click here to read my disclosure policy ? Thank you!
Welcome to the fifth installment of Sunburnt Saver's Budgeting 101 series. During April, we'll be talking budgets: why we should budget, how to prioritize your budgets, and how to plan for the expected (and unexpected!). If you like this series, please share your thoughts in the comment and let me know what questions you'd like answered (you can even comment if you don't like this series!)
Today will be discussing why you need an emergency fund. Emergency funds are really important to incorporate into a budget, even if you don't use them. Yes, that's right – a budget for something you (hopefully) won't use. Unfortunately, emergencies happen to all of us sooner or later. Time to budget in for the unexpected!
Let's face it: emergencies happen. Whether you get a flat tire on the highway, incur some unexpected (and expensive) medical bills, or have to deal with a flood in your house, emergencies will strike you eventually. It doesn't matter how rich or poor you are, or how well you plan. I plan my life pretty closely, yet I still have stupid things that happen to me (sometimes the fault of other people too – don't forget car accidents!)
Luckily, I realized the importance of an emergency fund a while ago (after, of course, an emergency!) and now I have enough money to handle most unexpected problems. The goal is to never use your emergency fund, but it's incredibly important to incorporate into your budget. Emergencies can be annoying but if you plan in advance for example, learn how to find an emergency plumber, you can be well prepared. So how much should you keep in your emergency fund, and where should you keep it? If you have an emergency which needs a lot of money spending on it, you'll be glad you this money as a back up! Things can get expensive pretty quickly! Make sure you contact a local expert such as plumbers saddle river nj, who can come out at short notice and fix your emergency. You might even want to ask some friends who live near you for recommendations!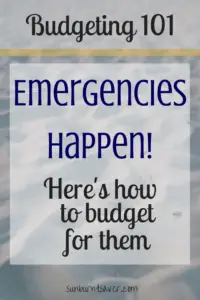 The Emergency Fund Basics
Let's make this simple: you probably need $1,000 in your emergency fund. Why $1,000? Because, generally, most emergencies hopefully won't cost you more than $1,000. Tires, most car expenses, some co-pays and medical expenses – all of these will hopefully be under $1,000. Your first goal is to save $1,000, so budget for that. If you can save $250 a month toward your emergency fund, you'll hit the $1,000 goal in 4 months.
To get more complicated, consider your situation. Are you a single person or the sole breadwinner for your family? You'll need much more than $1,000 in your emergency fund. If you're single, your income is irregular, your job (and/or hours) are precarious, or if you're the sole income-earner for your family, you'll want to save up 6 months worth of net pay.
What does this mean? This means if you make $2,500 a month, you'll want to save $15,000 in your emergency fund ($2,500 in net pay multiplied by 6 months). Sound like a lot? It won't if you have happen to lose your job and have to go a few months without any income – while still paying your bills.
Other Considerations
Asking you to save $15,000 is a lot, I know. However, it's not an extreme example. Look at the most recent recession, where families lost their homes because they couldn't pay the utility bills, groceries, and mortgage. Look at how long it took people to find jobs – and the jobs they did find didn't pay as much. Especially if you're single or the only provider for your family, you must take these extreme examples in and try to have a big emergency fund.
If you're somewhere in the middle (two-earner household, steady employment, a job with health insurance and benefits like FMLA), you could probably lower the amount of money you have saved in your emergency fund. Three months worth of net pay will likely suffice, so if you make $2,500 a month, try to have $7,500 saved for emergencies. You can even be ruthless with your budget, like I was when I discussed what could go (paying student loan debt, hair and make up expenses, etc.) if I lost my job.
Luckily, over the past two weeks, we have determined why we're budgeting, what we're budgeting for (family, being debt-free, travel, etc.), how to track our income and expenses, and now we have a handy budget tracker for calculating our expenses over a month plus time period. Using your budget tracker, calculate how much you would need to save in your emergency fund to get through 3 to 6 months of unemployment. What could you cut out? Consider reducing your budget in those categories to increase your savings in your emergency fund.
Remember, it's only temporary. Once you have enough money saved for your emergency fund, you can go back to your original spending limits. Or you may find out you've gotten used to your lowered budget and decide to put your extra savings into retirement!
Where to Keep Your Emergency Fund
Once you have at least $1,000 saved for your emergency fund, it's time to stash it away in a special account. How come you can't just save it in your regular savings account? Because we don't want you to touch it, or be tempted by it! Trust me, if you see money in your emergency fund, it's pretty easy to justify using it for something that's not quite an emergency.
There are three things to keep in mind when choosing the right place to stash your cash:
Risk – you want a low-risk place to keep your cash
Access – if there's an emergency, you'll want to access your money fast
Liquidity – no use keeping your money in something that's hard to sell when you need it fast. That means keeping your money in stocks is out
That said, you don't necessarily have to keep your emergency savings in a savings account. While that's absolutely an option (I actually keep mine in a savings account right now), here are some other options to keep your money:
Cash – easy and simple, but don't tell a lot of people you're keeping that much cash around
Money Market Accounts – better than a savings account in terms of return, although still pretty low
High Yield Savings Accounts – similar to a money market account, slightly better than a regular savings account
It's up to you where you choose to keep your emergency fund savings, and there is no one right answer. The most important thing is to have an emergency fund!
As much as we hope nothing bad or calamitous ever happens to us, we all know it does. I don't know about you, but my emergencies always happen at the worst times, too, like when I'm late for something, or when it's 110 degrees out with no shade. Awesome, right?
While we can't control when bad things happen to us, we can take small steps to create a budget and save up for an emergency. I promise it's well worth it, and even if you can only save $25 a month, that's still a great start! Use your budget tracker to incorporate savings into your regular savings, and you'll have enough money for (almost) any emergency in no time.
If you've missed any parts of our budgeting series, please check out our first, second, third, and fourth (with a bonus budget tracker!) installments! Also, if you have questions or want to share your thoughts about the series, drop me a line through email or Twitter!