This post may contain affiliate links, which means if you click through and purchase something using my links, I receive a small commission. You can click here to read my disclosure policy ? Thank you!
When I get a chance to design my home office, I know I'll be taking the advice staff writer Anum Yoon offers in this week's post! Share how you've designed your home office in the comments – I'd always like to get more inspiration! 🙂
In the past, we covered how to use firms to create floor plans for your office, by utilising companies who know your industry. As an example, iMedical Floor Plans cover floor plans made specifically for medical companies. Another example may include, Neumann Smith, they specialise in interior design for a range of office and home environments. Today, we'll be covering how to design and build a home office.
With the rise of technology, work-at-home jobs are becoming more and more popular. If you work at home, you need a space to call your own that inspires you to be creative and work hard. Unfortunately, designing an office can cost a fortune. So if you're on a budget and you are looking to create your own workspace, check out these tips on how to design a beautiful and functional home office on a budget.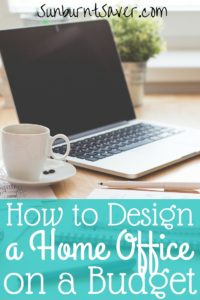 Make Your List of Must-Haves
It's probably correct to assume that you are a normal person who can't afford a $40 million home office. In order to have a workspace that looks like it was professionally designed and still be able to pay the bills, you need to figure out what matters most to you. Before you start the fun part of designing, you need to sit down and make a list of the things you must have in your home office.
Prioritize the things that matter most. Picking out the items you won't compromise on will help you save money in the end. Don't set your heart on a piece of designer furniture that costs more than your paycheck. First, think about the type and style of furniture you want and go from there. You'll find cheaper versions of the designer piece somewhere else.
Pick a Space
Don't fall into the trap of thinking that a home office means creating a workspace out of thin air. Put away those blueprints for a house addition and instead, brainstorm spaces in your house that could work as a home office. Think of the unused places that could use some sprucing up.
Some ideas include a kitchen nook, extra closet, the awkward space under the stairs, a corner of a bedroom or even repurposing your basement. The options are everywhere! You just need to pick the space that works best for you and your family.
Decide on a Desk
A desk is probably your most important piece of office furniture, so you need to pick one that is stylish and functional. You don't have to spend a fortune, but you want to make sure you love it. You'll be looking at it all day long, after all. Take a look at Modern Office Workstations to get some inspiration for the types of office furniture you are looking for.
If you can't find a desk you love, maybe you could build it. It's a DIY project that could be completed in a weekend. If building a piece of furniture doesn't sound fun to you, peruse sites like Craigslist or go to some garage sales and pick out a desk that needs some love. Some paint and primer can really make a difference.
Find an Office Chair
One of the biggest mistakes you can make when designing a home office is picking an office chair for style, not comfort. Obviously, you want an office chair that matches the style of your workspace, but don't underestimate the importance of comfort. You will most likely be doing a lot of sitting at your desk, so be sure to pick a chair with adjustable lumbar support, the right height and maybe even the option to recline. You don't want to skimp on comfort when it comes to finding the perfect office chair.
Unfortunately, office chairs can get pretty pricey. If a chair with all of the ergonomic options isn't in your price range, settle for just finding a comfortable chair that you don't mind sitting in. When you shop for it, bring along the measurements of your desk so you know exactly where the chair would sit and where your elbows would rest. Look into upholstered dining room chairs. They aren't quite as expensive as designated office chairs, but they still look pretty.
Create Storage Space
You'll need some space to store your stuff in your home office. Unless you truly want a minimalist look, avoid a desk without drawers. Without places to hide things like papers and folders, your office will get messy very quickly. It's important to have the right kind of storage so you can stay organized and on task. Filing cabinets, shelving and pull-out bins are all great storage options as well.
All of these items can be inexpensive if you look in the right place. IKEA has some great storage solutions. You may even have some of these things sitting around your house, just waiting to be used.
Decorate
Decorating is the fun part: No office is complete without a little bit of personality. Find an Etsy shop with some cute prints of inspiring quotes or sayings. Frame pictures of your family or a favorite vacation spot, and don't ignore your walls. Fill up your wall space so you can feel inspired and comfortable every time you sit down to work. Don't be afraid of repurposing some things around the house to save some money. You can make a boring filing cabinet look designer-made with just a little bit of paint and some new drawer handles.
It doesn't take much to make a space you love and it definitely doesn't need to be expensive. Use what you have and you will be the proud owner of a wonderfully cheap and stylish home office.
What are some budget ideas you would like to implement (or did implement) when creating your own home office space?