This post may contain affiliate links, which means if you click through and purchase something using my links, I receive a small commission. You can click here to read my disclosure policy ? Thank you!
Since B and I are in the process of re-tiling the majority of our house, we started thinking about all the work we've put into the house versus how much the house is worth. It's not just me who thinks that we've spent a lot, but when I compare it to some people who are selling their homes I just have to wonder how much money people have actually put into their homes. For example, I know one friend who used a company to help enhance their garden outside their home to "wow" people before they've even entered the house.
According to Zillow, the house is worth $150,000. B bought his house nearly 5 years ago for $80,000. Going off just those numbers, it would seem like B could make $70,000 in profit off selling his home – $14,000 in profit for every year he owned the home. Not bad, right? This is because, home buyers are beginning to read first time home buyer guide books to get a greater understanding of the markets and where they can get the best deals.
However (you knew this was coming), B has put a lot of money into fixing up the house. Conservatively, he has spent $20,000 in the last 5 years doing various upgrades and desperately needed fixes. In addition, we will have to put a new roof on the house before we sell – which we are estimating to cost somewhere between $6,000 to $8,000. All told, his profit will be less than $70,000, but the home still will end up being an incredible investment.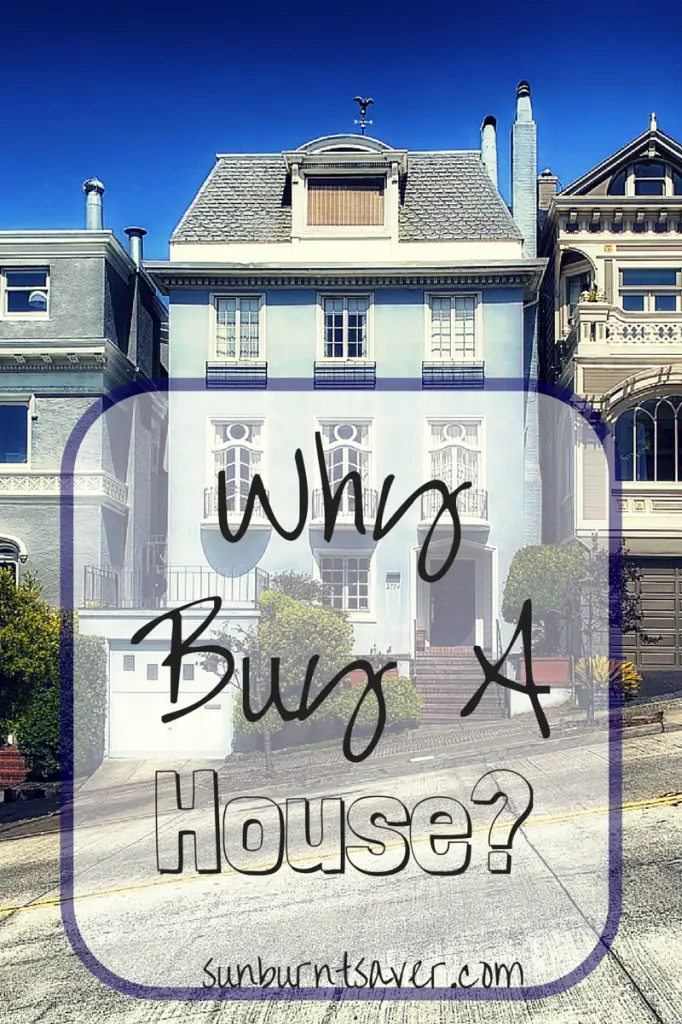 Time to Buy a First House?
Given all that I've seen – B upgrading the kitchen and bathrooms, which was cool, but also dealing with flooding, random roof leaks, and all the other not-so-cool things that come with owning a house, I started thinking: should I buy my first house?
As much as we both like the house B owns now, we have decided it's time to move on. There are more upgrades we'd like to do to the house, but after a point, it doesn't make financial sense to upgrade a house that won't be worth the return. We could sink another $20,000 into the house, but there is no way, in our current neighborhood, that we would recoup that.
We were very lucky that B was able to buy his house right at the very bottom of the crash, and we're not likely to get that lucky again. Not that I'm wishing for a housing crash, obviously, but that sort of 'luck' (in our case) is very unlikely. But we're also 'done' in our current house, so it's time to move on. If you're looking for a new start in a new home just like us, you might want to check out something like ImSold Property for more information on how to get the home of your dreams.
Is a House an Investment?
This is actually a question I thought to myself when B was in the process of buying his first house – I was perfectly fine forever living in an apartment or condo, where a dedicated maintenance staff was on hand to handle any weird or unpleasant dwelling issues.
I also didn't really see houses as an investment, either. Some people say you shouldn't see houses as an investment, and I agree… to a degree. Houses are places that you live, so they're a necessary expense, and you want to like the house you live in, so that might mean spending more money for a certain location or upgrades.
However, I now do look at houses as investments at this stage in my life. I don't mind living in a house that needs a lot of work. I'm adaptable and, as long as there is a bathroom and space to make myself a PB&J every day for work, I don't care what sort of work we have to do to add value to our home. If that means I buy a home for $120,000, invest $25,000 in it, and sell it for $200,000 within a few years, I'll consider that a successful investment.
There Are Always Risks
That example above may be simplistic. Above anyone, it's B who reminds me not to look at our house as an investment, because you never know how much it will cost to fix X, Y, Z, or if you'll be able to recoup the money you put into it when you decide to sell.
As we all learned from the housing bubble – very little is guaranteed. In lots of investments, such as stocks, there are risks you could lose a lot. At the very least, if you own your own home, you are putting equity into a place you live. Presumably you bought the house because you liked the price, or location.
If another housing bubble bursts when I purchase my first home, there's no argument that I will have to re-evaluate my long-term plans. Luckily, time is on my side. Worst case scenario, I stay in the house for longer than I planned and continue making upgrades as I see fit.
Your home's equity can be a valuable asset to you, and not just when you sell the home. You can actually obtain a reverse mortgage in order to access some of that equity right away and use it for unexpected bills and expenses, or even to create a vacation fund or fund something else that you enjoy during your retirement. All you have to do is sit down with a reverse mortgage lender to decide if the process is right for you. Each lender has their own policies and interest rates, but no reverse loans of this sort come with monthly bills you have to pay. Instead, you will have repayment flexibility and be able to enjoy your retirement. Before you apply you should check out this simple mortgage calculator.
I'm excited for the next stage in adulthood – buying a house is an exciting thought and, while we're not close to even selling our current house, I think it's never too early to plan, save up, and continue scouting affordable and safe neighborhoods. Stay tuned for more home buying posts!
Do you see homes as investments, or as something else? Do you own a home or are you planning on buying one?