This post may contain affiliate links, which means if you click through and purchase something using my links, I receive a small commission. You can click here to read my disclosure policy ? Thank you!
Recently, I was searching for a housewarming gift for an old friend from college who just purchased her first home. It was really tough for me to choose a gift for her with all the great options available online – I tend to get a little carried away when it comes to presents.
Related: My Ruthless Christmas Gift Plan
Making it extra hard was that my husband and I had just moved into our new house last year, after we got married. We didn't throw a housewarming party because it felt like a gift-grab after our wedding, but man did we still need things when we moved into our house together!
It's funny: sometimes Millennials complain about not being able to put anything on wedding registries because we "have everything" we accumulated after college. However, once you move into your first house or your first house with your spouse… you realize how crummy some of those things you "already have" are.
Over the last year, we've purged a lot of the threadbare towels, mismatching sheets, cracked glasses and plates and more and spent a little more to get quality items. There's nothing wrong with mismatched sheets (I usually still put mismatched sheets on anyway), but it is nice to get gifts that class up your place a little, too.
That's where friends (or family) come in! If your friends are moving into a new house, there are affordable, cute and nice things you can get them. You don't have to buy housewarming gifts for all your friends, but for the ones you see often, spend a lot of time in their house, actually like, etc., an affordable housewarming gift is a lovely way to say "hey buddy, I like you, can you invite me over to your house for dinner more often? I'll bring wine."
Since I'm at that age where people are getting married or buying homes (or both!), I thought I would share some of my finds with you guys. If you know someone who is moving into a new home as well, they might like some of these options I have to share with you today.
Like cheap gift housewarming gifts suggestions? Share this image on Pinterest!
Trendy Money is a participant in the Amazon Services LLC Associates Program, an affiliate advertising program designed to provide a means for us to earn fees by linking to Amazon.com and affiliated sites.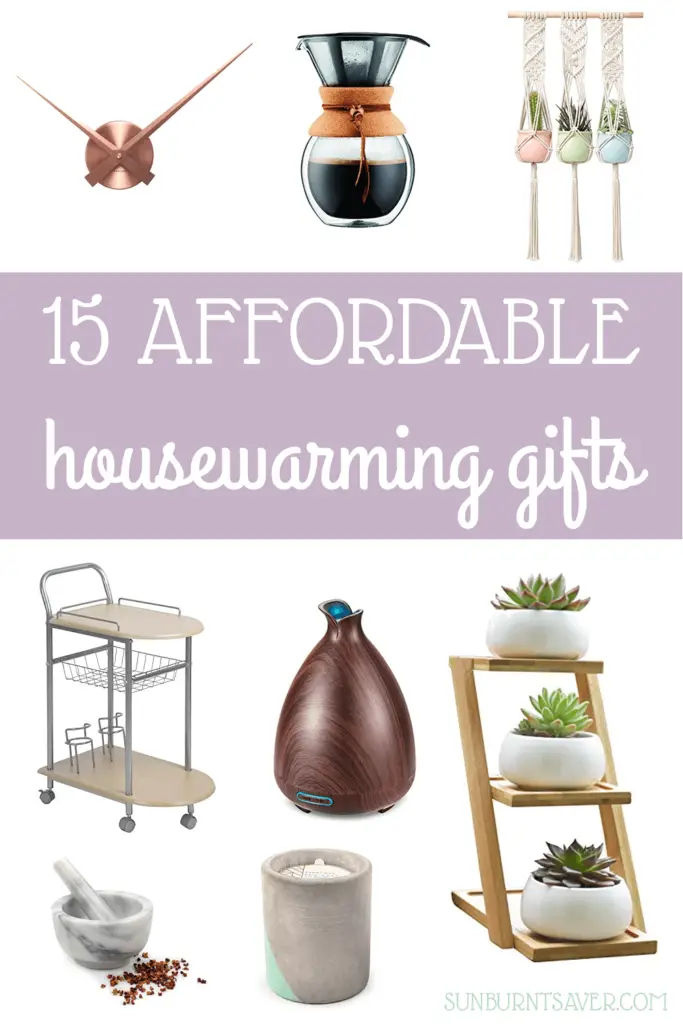 15 Inexpensive and Cute Housewarming Gifts
Curva Artisan Series Double Wall Beverage Glasses and Tumblers – Unique 8 oz Thermo Insulated Drinking Glasses, Set of 4
Glass tumblers, eco-friendly, check! Insulated, no wet hands, check! Cute, check! Helpful? Check! These glass tumblers are a win all around and are perfect if you're really not sure what to get your friend. In most cases, your friends can always use more glasses because… well, let's be honest, we all accidentally break glasses. Sometimes they just break themselves! You can never have enough – plus, these look cool.
Karlsson Little Big Time Mini Wall Clock Copper – Modern Decorative Clock for Home Decor
This decorative wall clock would make an incredible housewarming gift to any friend or family member! Everyone needs a clock in their living space and the best thing about this one is it allows for creativity.
You can set it in the middle of a wall and build your own clock around it to suit your needs and style. You can get silly and fun or make an impressive statement to your guests. Your friends and family will be sure to love this gift for their new home!
Bodum 11682-109 8 Cup Double Wall Pour Over Coffee Maker with Cork Grip, Cork
For the friends and family you consider coffee snobs… this is the most perfect housewarming gift you could possibly get for them! This pour over coffee maker features a mesh filter and results in a rich taste that mocks a french press. It's super simple to use while creating a delicious taste from their favorite coffee! Not to mention there is no bulky appliance or cords to mess around with, it's a great product all around for anyone's new home!
I usually get this type of gift for friends who don't like Dunkin Donuts. I assume if they don't like Dunkin, they have much better taste than I do… so I'll get them something I've never used before and, in most cases, they're really impressed by this gift 😉
ASUUNY Wood &Metal Bar Carts On Wheels 3-Tier Kitchen Serving Rolling Storage Cart Dinner Room Tea Wine Holder Serving Cart
This rolling storage cart is a great housewarming gift for friends and family. This can be used in a number of ways – one of which for serving when guests are visiting your home. Your friends and family can use it to store wine, snacks, and dishes to keep from running to the kitchen for things they may need while entertaining! It can also be used as a mobile desk that can be moved from room to room.
Plus, it holds wine. It's basically a wine stroller, which is what I tell my friends when they ask me why I don't have kids yet. I already bought a stroller… for wine!
URPOWER Essential Oil Diffuser 130ml Wood Grain Ultrasonic Aromatherapy Oil Diffuser with Adjustable Mist Mode Waterless Auto Shut-off humidifier and 7 Color Changing LED Lights for Home Office Baby
This essential oil diffuser is a GREAT housewarming gift. Anyone can truly benefit from this little gem. It is gorgeous with that wood grain design and can be used as a practical item or even as an impressive decoration in any new home.
It also has color changing lights and is super compact with the small size. For friends who love to diffuse their oils, it has 2 mist settings that allow you to run it for a continuous 6 hours or in an on/off mode of 30-second intervals. This is sure to be a much loved gift!
I thought essential oil and essential oil diffusers were a sham until my Mom got us a gift similar to this one (although this one is prettier, no offense Mom!) Once I started using lavender essential oil to help us go to sleep, I was hooked. Essential oil and especially essential oil diffusers really work!
RSVP White Marble Mortar and Pestle
While this product is extremely underrated, this mortar and pestle is a great housewarming gift. It can be used to crush up medications when dispensing to children (or pets!). And it's much easier than a traditional pill crusher!
It can also be used in the kitchen to crush up herbs and spices before using them in your favorite homemade dish. Plus, the white marble makes it gorgeous to look at! Your friends and family are sure to love this sweet gem for their new home!
This is a gift for your classy friends who love to cook. I get this for friends who make incredible dinners and love to cook, because chances are they already have a lot of expensive cookware and I'd never get the right baking sheet anyway. This is cool, unique and something most people wouldn't buy themselves!
Jusalpha White Ceramic Modern Decorative Small White Round Ceramic Succulent Plant Pot w/ 3 Tier Bamboo Stand (Planter 01-3 pots )
For your friends who enjoy plants (especially succulents), they will absolutely love this housewarming gift! It includes 3 pots for planting succulents with a draining hole on the bottom of each as well as a three-tier bamboo stand.
This makes this housewarming gift a great addition for your friends' general living space when guests are over to visit. It can also be used as a phone stand and would be a great addition to an office desk, if preferred. It's pretty lovely to look at too, and that's always a bonus.
Personally, I just want this for myself so… hint hint friends… 🙂
Umbra Cubist Floating Wall Shelf, Large, White
How cute (and trippy) is this floating wall shelf?! I love this design and I'm willing to bet that your friend or family member would love it as a housewarming gift too!
It includes a little planter in the corner for your houseplants (or succulents!) as well as space for whatever you need to keep there. It is well suited for an entryway to drop off your keys and mail. It also could be well suited for your home office to add a little bit of flair to your space. In the end, it is a wonderful gift for a friend or family member in their new home.
Set of 6 Blank Labled Retro Floppy Disk Silicone Drink Coaster 1.44m Diskette Novelty Design Non-slip
For your friends who love Buzzfeed listiscles titled "50 Things Only People Born in the 80s Will Remember", they will absolutely LOVE these coasters as a housewarming gift! I didn't even know these were coasters at first… and I was pretty excited about it.
They're a great addition to the living area when inviting guests over. They allow for a little flair while showing off someone's personality in a very practical way. Oh and the best part? They won't hurt any furniture you set these on! This a great gift for your Millennial friends getting settled in their new home.
Chemist's Spice Rack, 14 Piece Chemistry Spice Rack Set
How fun is this? One for your science-y (or wannabe scientist, or that friend who won't shut up about taking "really hard Chem" in college) – it's a chemist spice rack!
It features a design that appears as a beaker or flask in a science lab. It's built to display on a metal rack. But here's the trick – it doesn't tell you what the spices are, only the scientific label. So if they're not a scientist… they might have a hard time figuring these out! It's perfect for putting your science-smart friends to the test 😉
Paddywax Urban Collection Soy Wax Candle In Concrete Pot, Sea Salt & Sage
If you have a friend who loves candles, this is the perfect housewarming gift for them! Also known as, that gift you get new friends or bring as a host gift for a party your new friends are throwing! 
These soy candles are designed inside concrete pots and not only smell amazing, but look beautiful in these pots with geometric accents. Once the candle is done burning, they can be used for pots for houseplants. How cool is that?! I personally love these but would definitely recommend ordering some as housewarming gifts for your friends or family ready to move into their new home!
Mkono Macrame Plant Hanger Triple Hanging Planter Wall Home Decor 30 Inches
For your artistic friends, these plant hangers are super cute! This is the perfect housewarming gift for your plant-loving friends and family. Put some pastels or bold colored pots in there and you have quite the statement!
Personally, I'm not great at decorating or being artistic, but most of my friends do cool things like this and it looks amazing. It's a unique way to showcase plants!
ANKKO Yellow Sparrow Bird Key Ring Whistle White Bird's House Key Holder
If your friend is notorious for losing things (and/or loves birds), this key holder will come in handy for her as a housewarming gift!
Some of us are destined to be chronic key losers. At least when your friends are home, they'll hopefully be able to find their keys. The best part about this key holder is it stands out – it's a lot harder to walk past this cool bird and birdhouse and ignore it than it is a table where you're supposed to drop your keys but don't… speaking from experience…
Anti-Bacterial Rubber Back DOORMAT Non-Skid/Slip Rug 18″x31″ Blue Moroccan Trellis Interior Entrance Decorative Low Profile Modern Indoor Front Inside Kitchen Thin Floor Runner DOOR MATS for Home
When we first bought our house, I completely forgot we needed a doormat! At first, you really don't think you need a doormat. Why, you ask yourself. Well, you do. Mud, dust, dirt, a cute doormat with a fun saying to make guests chuckle – doormats are worth it!
This one is great because it goes with most outdoor decorating schemes, plus it's nonstick and nonskid, which is actually really important. This one is for the inside of your house, which means it's thinner and wouldn't hold up as well outside, but you could get a matching one for the outside (or just use this outside as I have…)
Cutting Board – Large Bamboo Cutting Board (18X12) Organic Bamboo with Juice Groove | Premium Grade Quality with Handle for Easy Handling. Ideal for Cutting and Chopping Meat, Vegetables, and More!
Having a cutting board is another absolute must-have in any home. When my husband and I got married and moved into our first house together, we brought our ragtag cutting boards with us… but cutting boards can get funky after a few years.
We ended up splurging on bamboo cutting boards (not that much of a splurge, they're actually very affordable!) so everything matched and it made a difference! Bamboo cutting boards look nice and, like other things on this list, are sometimes overlooked by your friends moving into new houses. They'll appreciate this!
I personally would love to get any of these items as a housewarming gift! They're cute, practical, and many are sure to impress guests! They will be the perfect options for your friends and family moving into their new home!