This post may contain affiliate links, which means if you click through and purchase something using my links, I receive a small commission. You can click here to read my disclosure policy ? Thank you!
A thousand dollars can feel both big and small at the same. On one hand, it's a decent chunk of money that's enough to buy some very nice things. On the other, it feels like a small amount when you're thinking about investing for the long term. Depending on your situation, there are a few ways to make this money work for you. If you're looking to invest $1,000, check 5 sensible ways on how to invest $1,000 right now and make your money work for you.
CDs and Savings Accounts
In years past, putting your money into a certificate of deposit (CD) at your bank was a sure-fire way to gain some interest with zero chance of losing money. When you set up a CD, you choose how long you'll be unable to touch the money — typically for a year — and then you receive it back plus interest when the time is up. These days, interest rates are so low that it's not really worth bothering.
You're better off just leaving your money in a high yield savings account, which in my opinion is one of the best investments for young adults if you think you'll need to access the money anytime soon. The interest rate here — if there is one — will be lower, but the CD rate is so low that it doesn't really matter. Plus, some online banks offer rates for savings accounts that often rival the CD rates of the big brick-and-mortar banks.
Neither of these routes is ideal if you want to have your money grow, but at least the savings account is a safe place you can withdraw from any time. It's also a good place to store an emergency fund.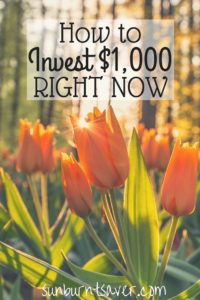 Emergency Fund
Before you start planning for retirement, a vacation or any other big-ticket purchase, consider setting aside the $1,000 to start an emergency fund. You never know what might happen, and experts suggest putting aside up to a year's worth of expenses to save for an emergency. This can be an unexpected lay-off, car troubles or medical expenses.
An emergency fund needs to be easily accessible, so there aren't many opportunities for investing the money. While you may be losing some gains by having the money sit in a savings account, an emergency fund is one of the best investments you can make for yourself. You might never end up having to use it, but you'll definitely want one just in case.
Pay off Some Debts
Not all debts are created equal, but it's often best to pay off your debts before investing. Debts with high interest rates have a tendency of eating away at your savings. Take a look at your debts — whether they're auto loans, education loans or credit cards — and see which one is doing the most damage. It's important to pay off debts first.
Invest $1,000 in Funds
Even if you don't know a thing about how the stock market works, there are relatively foolproof ways of investing your money. Many ETFs (exchange traded funds) are made up of a broad number of stocks, so putting your money into one of the funds is a good way to diversify your money. Look for a good low-fee fund that encompasses the entire Dow or S&P 500. There are also specific funds based on your intended time of retirement that are easy to invest in and then set aside.
However, there's always risk involved. If you know you need the $1,000, it probably doesn't make sense to invest in a fund for just a short amount of time. There's also a chance the fund could lose money in the short term. Over time, the biggest funds will likely average out, and you'll get your money back. However, it can be disheartening to see your money disappear.
Set up an IRA
If you're keen to invest your money in the stock market, a good way to do it is through an IRA. An IRA is a way to invest your money for retirement while enjoying some tax benefits. A thousand dollars is a nice start to an IRA, as there's a $5,500 annual limit on what you can contribute.
Assuming you put $1,000 away and experience a seven-percent return, which is about the historical average, that initial investment will be nearly $15,000 by the time you hit 65 years old. Regular investments into an IRA will mean you can enjoy a comfortable retirement. You can choose whatever stock you want, but it's probably best to go with a diversified ETF or mutual fund to keep things simple.
Just be certain there's no chance you'll need that $1,000 anytime soon. If you withdraw money from an IRA before you hit retirement age, there's a hefty penalty that will eat into any gains the investment made. There are exceptions, such as medical emergencies and the purchase of your first home, but it's best to treat an IRA investment as off-limits until you hit retirement.
Setting up an IRA is easy to do online — just do a search for the reputable financial companies to go with. You have the option of opening a Roth IRA or a traditional IRA, which are similar aside from how they affect your taxes. Investments into a traditional IRA are tax deductible, but anything you take out of the fund will be taxed. Roth IRA investments can't be deducted from your taxes, but you won't be taxed when you're retiring and withdrawing the funds.
Taking these options into consideration, how would you invest $1,000?