This post may contain affiliate links, which means if you click through and purchase something using my links, I receive a small commission. You can click here to read my disclosure policy ? Thank you!
Welcome to the third installment of Sunburnt Saver's Budgeting 101 series. During April, we'll be talking budgets: why we should budget, how to prioritize your budgets, and how to plan for the expected (and unexpected!). If you like this series, please share your thoughts in the comment and let me know what questions you'd like answered (you can even comment if you don't like this series!)
Today we'll be discussing how to track your income and expenses. You can't make an effective budget without knowing how much you bring in and how much you take out, so we're going to come up with a tracking plan anyone can follow. I hope you've been keeping track of your expenses too, because we'll be using your notes to track your expenses!
If you'll remember back in our first post about budgeting, Why Budget?, I asked you to keep track of all your expenses as homework. Hopefully you participated, even just a little bit, in this exercise, because keeping track of expenses is vital to sticking to your budget.
No worries if you didn't, though, because today's post is all about getting your tracking skills perfected. We're going to start by tracking your income first, because that's the most fun part. How much are you bringing in, and how can we get you to bring in more if you're not making enough?
Then we'll move onto expenses which, while also fun, are sometimes necessary and boring. We're going to get around the boring part by establishing regular expenses for monthly things, like rent, car payment, etc. Then we'll get to the fun part, like budgeting for entertainment and retirement (yes, saving for retirement is fun!)
Ready to get started? Let's take control of our budget!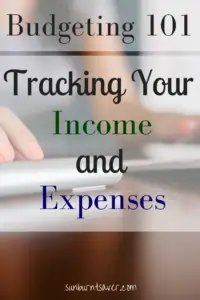 Tracking Your Income
If you receive a regular, steady paycheck from your job, you might look at tracking your income as somewhat boring. Trust me, it's not! Tracking your income is a vital part of having a successful budget, because knowing what you bring in should dictate what you take out. Plus, if you want to budget successfully, you need to make sure you have leftover savings (i.e. PROFIT) at the end of the month.
If you have irregular income coming in, either because you work as a freelancer or you work hourly, it's even more important to set up a budget to track what's coming in and going out. However you get your income, let's start by tracking it.
Start by gathering up all your sources of income. Sources with an S, you say? Yes! Your income is not just your paycheck. Income can include:
Side hustle work you do – freelance writing, making money on your blog, etc.
Garage sales
Ebay, Amazon, or Craigslist sales
Cash back rewards
Survey money – if you participate in surveys and receive money or discounts, count this as income
Bank interest
Rental income – if you own investment property or rent out a room in your house
Tax refunds – especially around this time of year!
Like I said, income is often more than just a paycheck! Once you've gathered up everything you made over the past month, keep it all in one folder (either a hard copy folder, or if you keep track of your income on the computer, in a computer folder)
On Saturday, I'll be linking to a printable budget tracker you can use, but if you want to get started now, I highly recommend signing up with Mint.com. It's a great, free way to keep track of both your income and your expenses! If you want a printable tracker though, wait until Saturday 🙂
Tracking Your Expenses
With expenses, it can get a little bit trickier. It's easy to overlook those little expenses, like $5 at the gas station for gum, $20 taken out of the ATM for a quick grocery trip, and soon enough, you've overspent. So before we get started tracking expenses, if you haven't already, grab all your receipts, bank statements, credit card charges, etc. and have them handy. We'll need them to set up our budget! People who find they need help with keeping track of their receipts and expense finding the best receipt app to help do so.
Got it? Okay, now we're going to create categories for our budget. You can be as specific or general as you like, but my recommendation is more general, less specific. Here's a handy list to get you started:
Mortgage/Rent
Car – including insurance, gas
Utilities – water, sewer, gas, electricity, etc.
Student Loans/Credit Card Debt
Cellphone/Internet/TV
Groceries
Entertainment – this includes eating out, cost for the babysitter, movies, etc.
Charity – donations to your kid's school, regular annual donations
Medical – insurance, copays, prescriptions
Personal Care – this includes toiletries, haircuts, makeup, clothes, etc.
Home Care – this all the stuff you need for your house, include dishwashing detergent, hand soap, Lysol wipes, whatever it is that you need on a regular basis to keep the home not a hovel
Gifts – hopefully not a monthly expense, but you'll want to budget for this regularly
Misc – pets, hobbies, etc.
It looks like a long list, but check over your receipts and statements again. Do you notice you've spent something in each category over the last month or two? If not, feel free to delete a category! For example, if you don't own a car at all, feel free to ignore or remove that category. You may want to make room for a transit fee though, if you use public transit in lieu of a car.
Start Tracking!
Now that we have our categories, it's time to let the fun begin: tracking what's going in and out! You can use any method you like: a pen and paper, Mint, Google Sheets, or the tracker I'll have available for download on Saturday.
The easiest way to get started is gathering all your receipts and inputting them on your pen and paper tracking sheet. Once you get a receipt, mark it on your tracking sheet and file your receipt away either in an envelope or accordion file.
File your receipt away according to its category: if you've just gone to Target to stock up on dish detergent and paper towels, put this in the home care envelope. I personally prefer envelopes to accordion files, but use whatever you like the best or whatever you have on hand.
I highly recommend keeping your receipts for 6 months, not only so you can keep track of your receipts and reconcile to your Expense sheet, but also because you never know when you may need to return something! 6 months may sound like a long time, but even if the return period has expired, you can maybe use your receipt to get store credit back.
All right, this was a long post, so I'll let you take a break and get started on your income and expense tracking. For now, just think about what income you have coming in, and set up your expense categories for your budget. If you're ambitious, take a look at Mint.com and consider tracking your budget using their online tools. On Saturday, I'll be back with a handy Excel tracking sheet (which you can print out too!).