This post may contain affiliate links, which means if you click through and purchase something using my links, I receive a small commission. You can click here to read my disclosure policy ? Thank you!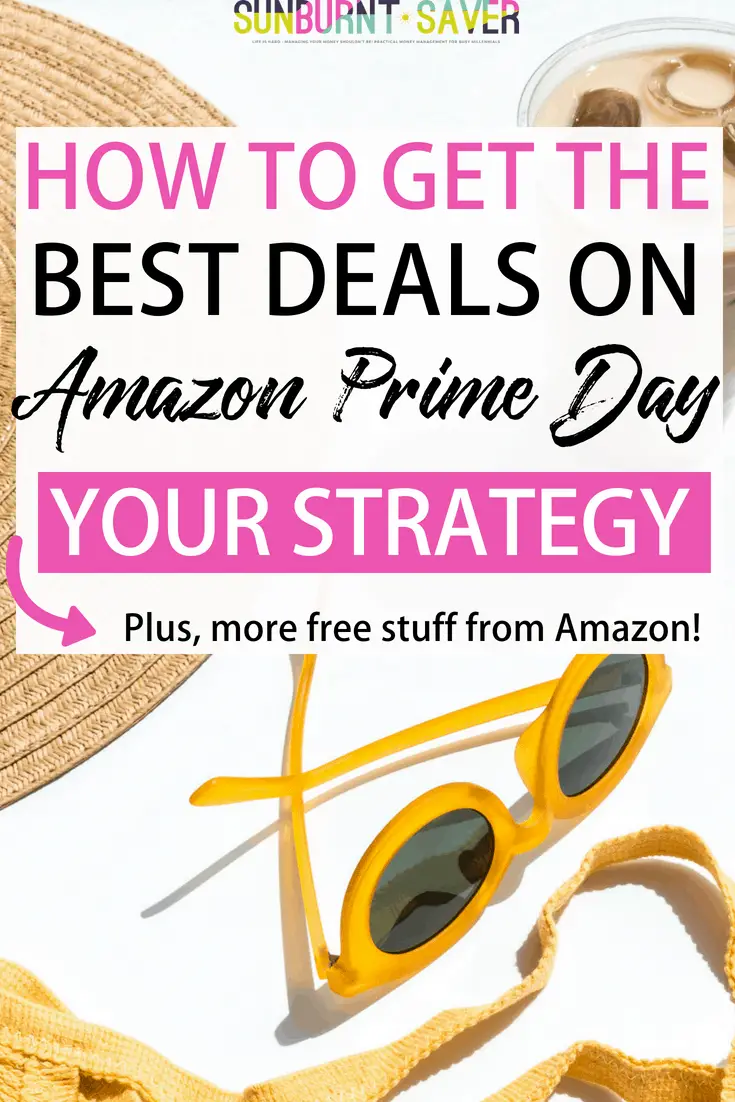 Amazon Prime Day is now over, but I will update next year when Amazon Prime Day happens again!
Amazon's fourth annual Prime Day is here, and it's a doozy. Amazon Prime Day is said to be bigger than Black Friday, in terms of sales offered, with over 100,000 deals in 36 hours. But what's the catch? Well, Amazon Prime Day is only for Amazon Prime members and only lasts for 36 hours – which means when the deals are gone, they're gone.
Luckily, becoming a Prime member is easy – and free if you're not already a Prime member. To get access to the deals, sign up for 30 days of Prime absolutely free here. If you don't want to stay a Prime member (it does cost $12.99/mo or $119/year), just make sure to cancel your Prime account before the 30 days are up.
Sales for Amazon Prime will start at noon on July 16 (although Prime members can see the deals ahead of time!) and will extend through all of July 17. Feeling overwhelmed? You're not the only one. I have strategies for getting the most out of Amazon Prime Day, plus not spending more than you want, and, of course, the best deals out there.
After all, Prime Day is great and all, but it's not great if you overspend! Personally, there are only a few things I "want" from Prime Day and if they don't go on sale, I won't be buying anything. That said, if there were some big things you wanted to buy or you're super on the ball and do holiday shopping early, Amazon Prime Day is a great opportunity to get deep discounts on things you'd already buy.
What is Amazon Prime?
I'm a big fan of Amazon Prime (you can read my tips for saving even more money with Amazon Prime here!), but it's not necessarily cheap unless you actually use it. So beyond Prime Day, what do you get with an Amazon Prime membership? Check out the video below to see all the benefits you get with a Prime membership.
How to Get the Best Deals on Amazon Prime Day?
First, don't forget you'll have to be an Amazon Prime member to get deals on Amazon Prime Day! In addition to that, Amazon recommends you do five things to prepare for Prime Day:
Create a Wish List in Amazon and pick items you're hoping to get a deal on, then add them to your list
Download the Amazon app to get notified of deals as they happen
Install the Amazon Assistant on your computer to be notified when deals happen
"Watch" the deals you like: Prime Day gives shoppers a preview, so make sure you hit 'watch' to keep an eye on them and get notifications as the deals go live
Check for specific deals: outside of Prime Day sales, you may find a product as a Prime Day Deal badge
Additionally, start monitoring prices on items you're considering now. Sites like CamelCamelCamel and Honey (my personal favorite) let you input an item you want to purchase, then track it to see when and where it has gone down in price. Honey even sends you emails once your item has decreased in price!
And of course, it goes without saying to use apps like Swagbucks and Ibotta to get cashback on the things you buy!
Where is Amazon Prime Day Available?
Amazon Prime is available online, obviously, but Amazon is also offering Prime deals in their brick and mortar shops, Whole Foods and Amazon Books.
In addition, citizens of any country where Amazon offers Prime subscriptions will be able to take advantage of Prime Day online. According to Newsweek, the complete list of countries includes:
United States
United Kingdom
Spain
Mexico
Japan
India
Italy
Germany
France
China
Canada
Belgium
Austria
Prime Day in 2018 will for the first time extend to:
Australia
Singapore
Netherlands
Luxembourg
What Are Some Good Amazon Prime Day Deals?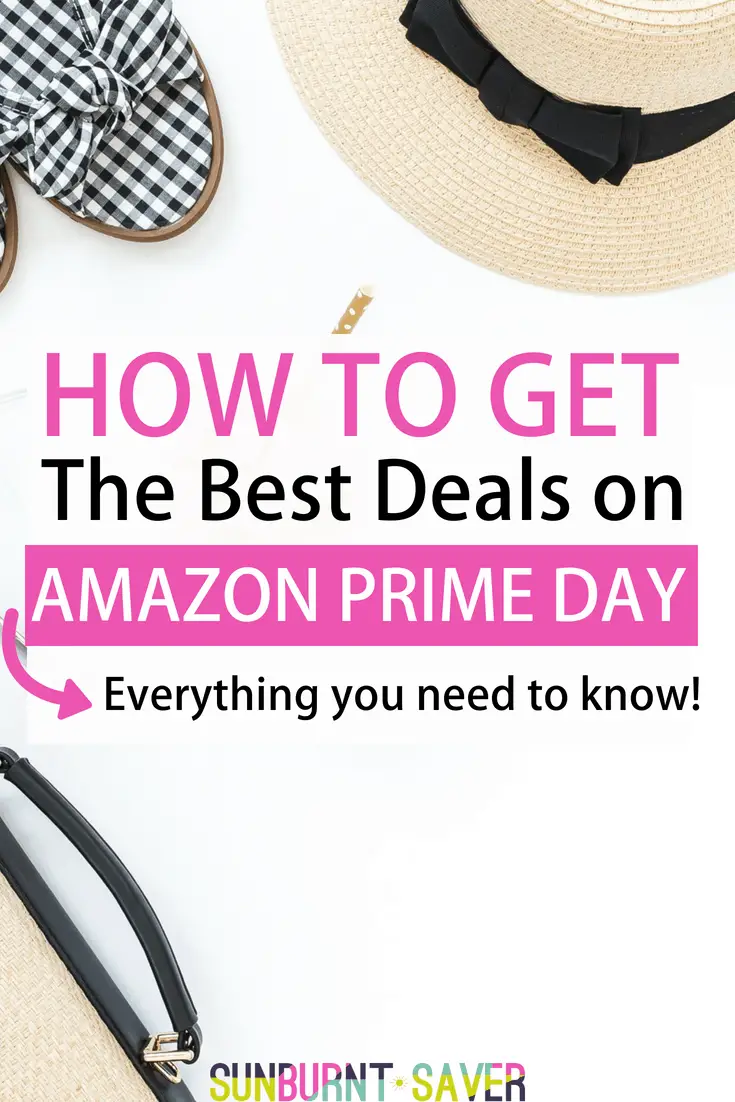 I'll update this as more information comes out, but some of the best Amazon Prime Day deals will be on products from Amazon's own line, including Alexa-enabled devices, Echo, etc. Right now, Prime members can already get the Echo Show for $100 off (you won't be able to see the deal unless you're a Prime member).
You can get a sneak peek on the deals by literally typing in "Sneak Peek" in your Amazon app, as well. Right now, when I type "sneak peek" into my app, I'm seeing deals on the Kindle Paperwhite, Kenmore appliances, and sous vides. Once you download the app, you too will see the Prime Day banner from now until July 15 with sneak peeks of select products.
You can also preview Lightning Deals (deals that begin every 5 minutes and run for a short amount of time) ahead of time by going to Today's Deals. If you see something you're interested in, simply click "Watch This Deal" to get a notification once it goes on sale.
According to Good Housekeeping, the best Amazon Prime Day deals will be on tech, TVs, toys and smart home gadgets. Basically, this is the best time of year to get all of your holiday and birthday gift shopping done!
The worst things to buy on Prime Day? Again, according to Good Housekeeping, you'll see better deals on appliances, cookware, winter ware and designer items on Black Friday – which means you might want to wait on those items.
Related: How I Save $300+ Every Year on Christmas and Holiday Gifts
Some of my favorite Amazon Prime Day Deals by Category
These are the best deals I've found so far, and I'll update these lists with deals as soon as I find out about them! Let me know what you end up scoring in the comments.
House
Office
Back to School
Exercise
Camping
Fun
Not sure if a Prime membership is for you? New Amazon Prime members can try Prime free for 30 days here!
Looking for more gift ideas?
Not sure what to look for yet? Check out the following gift guides I've created for Dads, grads, and everyone in between!
How to Get Tailored Amazon Prime Day Deals
If you have an Alexa/Echo and have hooked it up to your Amazon account, use your Alexa to find deals you actually care about! This will help you save money so you're not overwhelmed by the deals and think you need to buy ALL THE THINGS.
If you have an Alexa-enabled device, ask your Alexa "Alexa, what are my Prime Day deals?" and she'll offer you recommendations based on your shopping history. She'll also track the orders you place if you ask her "Alexa, where's my stuff?" or if you set up delivery notifications on your Alexa app.
Last but not least, share your Prime benefits (or share someone else's Prime benefits) with your family! You can add two adults to your Household on Amazon, which gives another person the ability to use your Prime account (but not your payment options). I share my Prime account with my parents, so they can get audiobooks and Kindle books at a Prime discount, while I use Prime for household items and pet food!
This isn't necessarily a money-saver (unless you're the add-on for someone's Prime Household) but it can be helpful (and maybe the person you add to your account will get you a gift as a thank you!)
Are There Any 'Secret' Amazon Prime Day Deals?
There are some 'secret' Amazon Prime Day deals, but really they're just the regular deals – on Prime Day. For example, Lightning Deals are promotions on specific items that last for a certain amount of time, sometimes only for a few minutes, and/or until the item sells out. New Lightning Deals can pop up as frequently as every 5 minutes.
In addition, Amazon will have Prime Day Spotlight Deals, which will typically have the most inventory – meaning you have a better chance of getting the product you want.
Amazon also has Gold Box Deals of the Day, which last 24 hours before being replaced with new deals. However, they can sell out quickly, so it's best to jump on them if/when the product you want becomes a Gold Box Deal of the Day.
Finally, Amazon is really pushing deals on products that use Alexa. By asking "Alexa, what are your deals?" you can get access to exclusive deals an hour or so earlier than people visiting the Amazon website.
Basically, if deal shopping is your thing, Amazon Prime Day is a big deal!
Amazon Prime Day Deals on More Than Just 'Stuff'
Amazon is not only offering discounts on products, they're also offering discounted trials of Amazon services like KindleUnlimited (3 months of reading for 99 cents), Prime Music, Audible (audiobooks) and Twitch Prime gaming services.
Finally, if you shop at Whole Foods on Prime Day and use your Amazon Prime Rewards Visa card, you will receive 10% back on your purchase. Not bad – but you have to be a Prime member, an Amazon Prime Visa card holder and shop at Whole Foods on Prime Day!
Are There Additional Deals or Chances to Win on Amazon Prime Day?
Yes! Amazon is running a "home smart home" (yes, I know that sounds weird) sweepstakes, giving Prime members the chance to win $50,000, a new Lexus ES with Alexa, a smart-home makeover, a trip for two to Seattle, and more. You can check it out here.
To enter, you need to own an Alexa-connected device and ask Alexa one (or all) of the following questions/phrases. Don't own an Alexa-enabled device? You can also watch Alexa-related videos on the Amazon website or through the app. You can enter up to 10 times.
The phrases to ask Alexa to enter are:
"Alexa, what's the news?"
"Alexa, what are your deals?"
"Alexa, tell me about Prime."
"Alexa, what is Prime Day?"
"Alexa, how can I create my own skill?"
"Alexa, play music."
"Alexa, where's my stuff?"
"Alexa, what's the question of the day?"
"Alexa, tell me a life hack."
For more information, and to enter the free sweepstakes, go here.
What If I Don't Want to Buy from Amazon?
Not everyone is a fan of Amazon (especially given the bad news about how little they pay their workers)… if you'd rather avoid giving Amazon your money (or you just don't want to sign up for Prime), you still have options! Plenty of other stores are running deals to compete with Amazon, including JC Penney's, Kohl's, and IKEA.
Some companies are also price-matching Amazon, although you'll want to call or ask ahead of time to make sure they'll be price-matching on Prime Day. Stores that price match include:
Home Depot
Lowe's
Best Buy
Bed Bath & Beyond
Target
As always, don't forget to shop through the Swagbucks portal so you can get cash back on your purchases!
It's Just Amazon Prime Day
Amazon Prime Day can be an excellent way to save money on things you were already going to buy, or gifts for birthdays and upcoming holidays. However, it's easy to get sucked into shopping (believe me, I know) but don't get distracted by all the new, shiny discounted items on your screen.
Keep your goals in mind. If you're paying off debt, saving for retirement or a vacation, or heck – maybe you just don't need or want anything! If that's the case, take a day off (or rather, 36 hours) from the Amazon hype and just focus on your own life. Sure, Amazon Prime Day is only once a year, but don't forget Amazon does huge sales for Black Friday and Cyber Monday too. The stuff you want will inevitably be up for sale again!
*Part of Financially Savvy Saturdays on brokeGIRLrich.*