This post may contain affiliate links, which means if you click through and purchase something using my links, I receive a small commission. You can click here to read my disclosure policy ? Thank you!
It's almost the end of 2017 – can you believe it? I am not saying this to be mean to those of you living in snow, but it is 77 degrees here today in Phoenix. I know I shouldn't complain but… I'm kind of hot. I really love a white Christmas/New Year's Eve! (okay, okay, you can stop throwing things at me now! Mail me a snowball! :))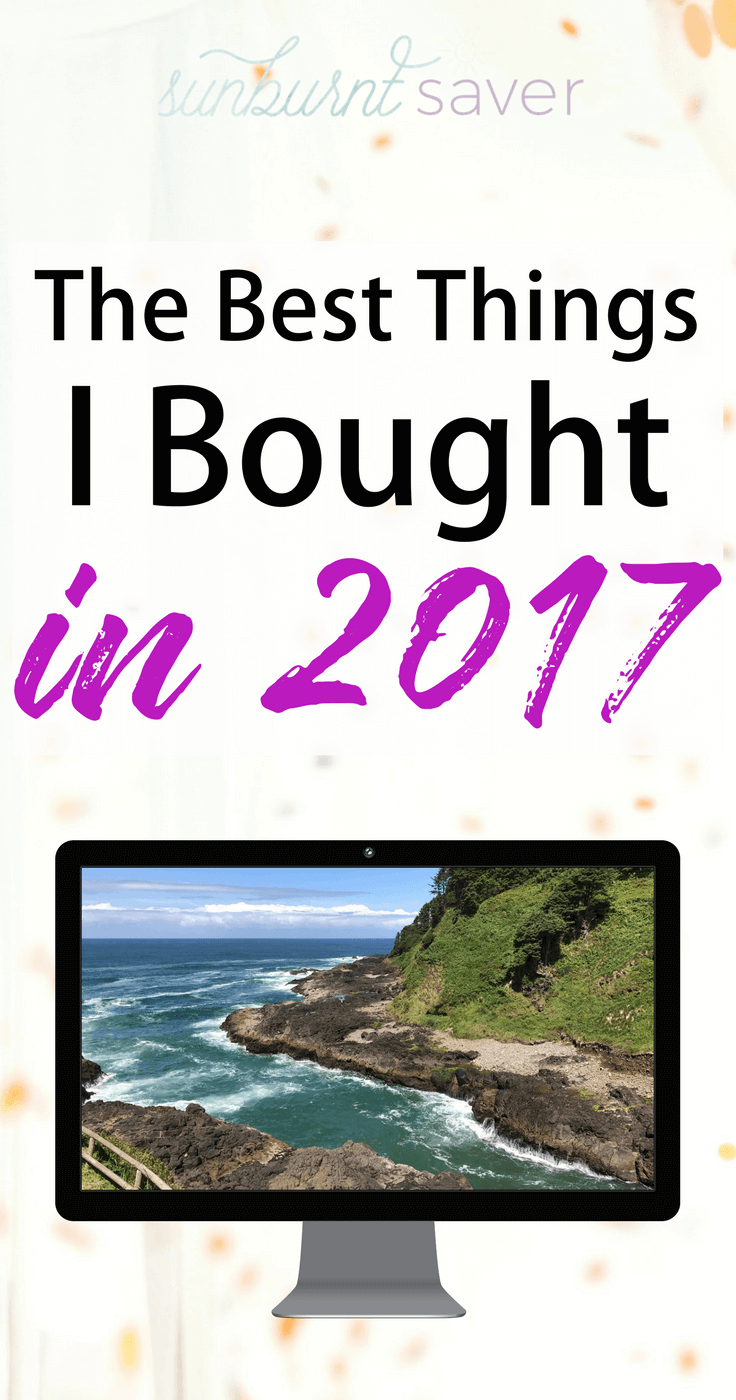 Okay, but in all seriousness, no matter how crazy or even bad the year was, it's really important to reflect on the things in your life you are grateful for. While it seems weird to say "I'm grateful for the things I bought", there are some things in your life you buy, and they end up completely changing your life.
Surely you have something in your house you bought that you're like, "I couldn't imagine my life without this!" for some people it might be looking for the best robot vacuums out there, for me, one of those things was a Roomba I got last year as a Christmas gift (yes, I got a vacuum for Christmas and it's one of my favorite gifts!).
But this year I bought myself some things that were absolutely invaluable, and today I'm rounding up the three best things I bought in 2017, plus some things I'm looking forward to buying in 2018. Read on and share the best things you bought in 2017 in the comments!
1) Conference Tickets
Even before I became a full-time entrepreneur, I attended conferences in personal finance. I'm sincerely passionate about paying off debt and living a debt-free life, and attending conferences with other people who think the same way is an awesome way to not feel so alone in a culture so consumed with a buy buy buy! mentality. Also, I'm reminded that debt freedom is possible and I shouldn't give up!
In 2017, I changed it up and attended a conference focused on being a better blogger. While I'm passionate about paying off debt, I want my writing to help you guys! I don't just want to blog to no one – I want my writing to be useful. In order to be a better blogger, I attended the Activate 2017 conference put on by the wonderful people at Elite Blogging Academy.
Related: How to Prepare for Your First Conference
I had an excellent time and even met up with some old friends, like Liz from Less Debt More Wine (if you love wine and tolerate paying off debt, check her out!) Activate 2018 is happening and, while I haven't decided if I'll attend it yet, Activate 2017 was a great time and I learned a ton!
2) Airbnbs on the West Coast
In 2017, my husband and I took an epic three-week vacation up the West Coast. We spent half our time camping and half our time staying in Airbnbs (so I could work) and we had… an interesting time. Let's just say I'm glad we didn't try a 3 week combo-camping/Airbnb trip before we were married 🙂
Just kidding, while it was trying at times, it was an absolutely unforgettable trip. (It was actually our honeymoon and first anniversary trip rolled into one – to save money!)
Partly what made it most memorable were the Airbnbs we stayed in up the coast. Our absolute favorite was this gorgeous bungalow in Yachats, Oregon – the photo below is from one of the many gorgeous beaches in Yachats that was within walking distance from our Airbnb.
Want to get a discount on your first stay? Use my referral code here to save money on your first Airbnb stay!
3) Blue Yeti Mic and Pop Filter
Say what? What's so cool about a microphone and… a what filter? Yeah, that's what I said 6 months ago too! Until… that girl Liz and I decided we had a lot to say and we wanted to start a podcast together!
Welcome to the world, the Accio Debt Freedom podcast! Did you catch the Harry Potter reference? It's okay if you didn't! Accio means "summon" in Latin, and happens to be a Harry Potter charm 🙂
Accio Debt Freedom is a podcast all about, you guessed it, paying off debt! We'll be featuring stories from people paying off debt, people who've paid off debt, and people who are living their lives with debt! We want to inspire you to not feel dragged down by your debt, but rather inspired to live life to the fullest!
Some of the guests we've already recorded include:
Someone who's paid off $10,000 in debt in 6 months
A woman who started her own business while paying off debt and reducing her monthly expenses
A guy who's on track to make crazy money by selling on Amazon, pay off all his debt, and buy a house – all in 2018
And more! Once the podcast is launched, I'll let you all know about it here on Sunburnt Saver!
So yes, that Blue Yeti mic was definitely one of the best things I bought in 2017! 🙂
Stuff I'm Excited to Buy in 2018
In 2018, I'm looking forward to continuing paying off debt, but I'm also looking forward to splurging on a few things on myself, like:
1) CALPAK Travel Suitcase
I have been dreaming of this suitcase for the last year, mostly because it's carry-on, it's a pretty color (most people probably wouldn't steal this color suitcase if I had to check it!), it has 360-degree spinner wheels (MUST when you travel!) and a separate compartment for my laptop. That's like 4 wins in one!
I've been using the same suitcase since college so, on one hand, I am awesome at taking care of suitcases, but on the other hand, that suitcase is getting worn down and it's probably time I get a new one… eventually. When this goes on massive sale 🙂
2) Saving for a Big Europe Trip
It's officially been 10 years since I last lived in Europe (I was lucky enough to study abroad in Spain – my major was Spanish!) Europe is one of my favorite places to travel, and I realize that sounds like an incredibly "rich person" type thing to say, but you can do Europe on a budget. Don't throw things at me, but I went to Europe again in 2012 and spent $2,500 for a three week trip – this included round trip coach airfare and hotel stays, plus food, admissions, car rental, etc.
It is possible to do Europe on a budget, but you have to save diligently. I won't be able to save up for a trip to Europe for my husband and me by 2018, but I'm "spending" money by putting it into a travel fund for Europe 2019!
3) More Conferences
I definitely want to attend at least one, if not more, conferences in 2018. Right now I'm looking at the Podcast Movement conference, plus there is FinCon 2018 and Activate 2018… any conferences you recommend I check out?
Why It's Good to Look Back and Plan
When you look back on the things you bought in 2017, what do you remember? What stands out? What feelings would you like to replicate in 2018?
When you make purchases in 2018, remember what your big "buying goals" for 2018 are – does spending $20 on something you'll forget about in 3 months make sense if you're trying to save up $500 for a fancy blender because you love smoothies (and other things that fancy blenders do…)?
As you can see, the things that mean the most to me are experiences with family/friends and growing my business. I could stay in a hovel (or Couchsurf, as I've done in the past!) and only buy Goodwill clothes (which I did for almost all of 2017!) as long as I have money to pay bills, travel, and grow my business. For others, clothes or tech gadgets make them happy. Whatever makes you happy, budget for it! Life's not fun if you don't have some things to enjoy 🙂
What were the best things you bought in 2017 What are your purchase plans for 2018?