This post may contain affiliate links, which means if you click through and purchase something using my links, I receive a small commission. You can click here to read my disclosure policy ? Thank you!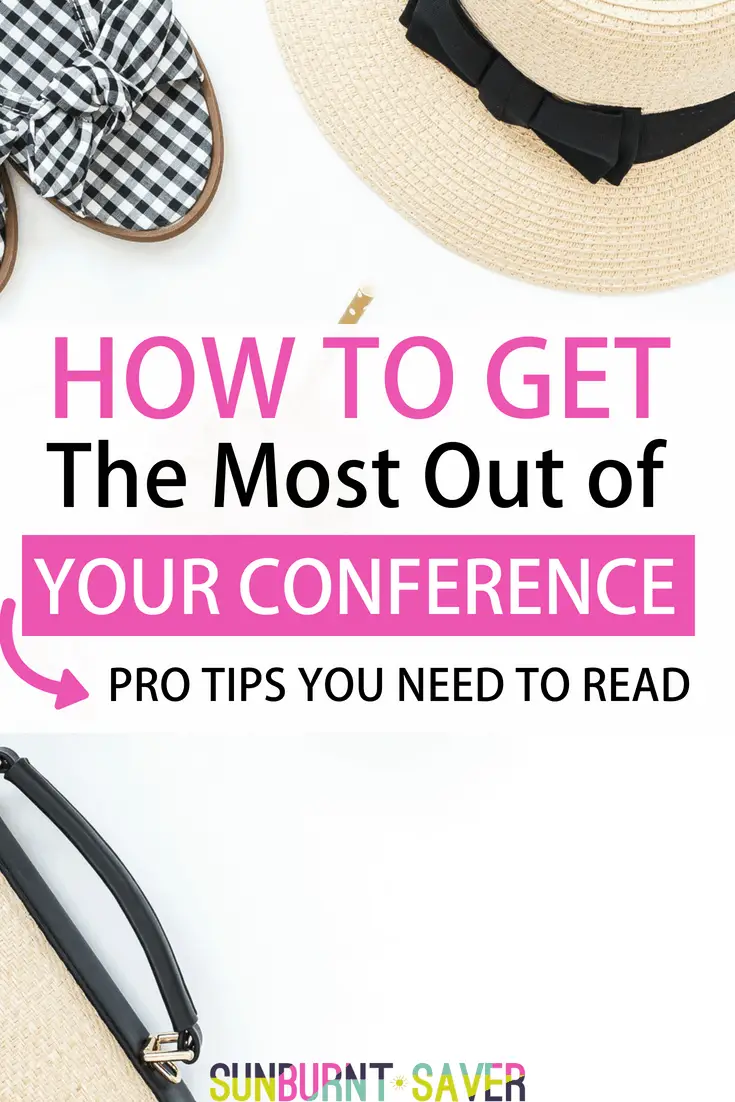 If you've never been to a conference for work before, you are missing out – yes, on the connections and networking, but especially the swag. For introverts like me, swag at a conference is the best! Not only do you get stuff, but usually while you're hanging around the swag, you meet other swag-grabbers and start chatting – networking and free stuff all at once!
However, going to conferences is not only about free stuff. Conferences are held for a variety of reasons, including:
Learning

Networking

Getting free stuff
Mostly the first two things 🙂 It's important you learn and network as much as you can at your conference, because chances are you or your company has paid a lot of money to ship you there, house you somewhere, and pay for your entrance to the conference. I've been to half a dozen conferences, both for my previous employer and for myself as a solopreneur.
How you handle learning and networking at a conference can make or break your entire year. Here's how to get the most out of your conference.
What Types of Conferences Should I Go to?
There are few reasons why, and when, you should be going to conferences:
It's important for your career – in some fields, you really can't get ahead unless you're out there hustling and networking

It makes business sense – as a solopreneur, I attended one conference this year for my business because I knew the return on investment (ROI) would be worth it. The more conferences you go to, the more you'll learn what will be a good ROI conference and what won't

If someone else is paying for it – at my previous job, I attended conferences because no one else wanted to leave their families for a long weekend. I made amazing connections and learned a ton – plus it was "free" to me. Go to those conferences if you can!
For the personal finance bloggers or bloggers in general, there are several popular and well-regarded conferences you should consider attending:
If you're not in the blogging field, type in [your field] + conference and see what conferences are available. In many cases, there will be more than one conference you can attend each year, so carefully read through the agendas for each conference to determine which one would make the most sense for you.
One conference you should definitely sign up for? The Side Gig Summit, a free online conference highlighting the top money-making opportunities out there, everything from being a Pinterest VA to dog walking, success on YouTube, and so much more. You can sign up for free here to attend this free summit online.
How Can I Find Cheap Tickets to a Conference?
The easiest way to find cheap tickets to a conference is to book early. At every single conference I've ever attended, there's something called "early bird pricing" or "early registration pricing" that conferences offer. Conferences do this so they can get an estimate on what they'll need (in terms of food, seating, hotel blocks, etc.) closer to the conference event. Their planning is your gain – book early to get the best deal.
If you didn't get to book early, call or email the organizers to see if there will be any upcoming discounts or if anyone is looking to offload their ticket. In some cases, especially for blogging conferences, other bloggers will host raffles or giveaways of tickets, so keep your eyes open for those.
Too late for an early bird price and didn't win a free ticket from a blogger raffle? You're still in luck! Inevitably, some people will not be able to go the conference in the months leading up to it, and people will have cheaper tickets to sell.
If the conference you want to attend allows for it, be on the look out for these ticket deals. Roughly 90 days or less leading up to a conference, people will be looking to sell their tickets at a discount – some money is better than eating a whole ticket cost, and this is your chance to scoop up tickets at a discount!
Be patient, look on Twitter for "[conference name] + ticket", visit the Facebook groups set up for your conference, and ask around. You're almost guaranteed to get a better price, so if you missed the early ticket deadline or your conference sold out quickly, don't panic. Chances are at least a few people will need to sell their tickets before the conference!
Where Should I Stay?
If at all possible, I recommend staying in the hotel where the conference is held. I've stayed in hotels where the conference is held and I've stayed outside of them, and by far the easiest is staying in the hotel where the conference is.
You can save money by bunking with roommates, or if you have a rewards card with a hotel chain, you could try to redeem those points for a free stay. Personally, I try to book through a discount site (like Kayak) or if the hotel block from the conference organizers is cheap enough for a single room. I love saving money, but as an introvert, I just can't go from a busy conference back to a room with a roommate.
A good second option is a nearby cheaper hotel or Airbnb. At the last conference I attended, I stayed in an Airbnb within walking distance to the conference hotel. I saved more than 75% on the price of the (pricey) hotel room offered by the conference, got some fresh air every morning, and had a cheap room all to myself.
Save $$$ on your first stay with my Airbnb referral code!
If someone else (like your company/employer) is paying for you: stay at the conference hotel. It's overall the best option.
What Should I Bring to a Conference?
Here's a rough list of things you should definitely at least consider bringing:
Business cards – use Canva to create your business card, then upload it to VistaPrint to have it printed and shipped to you

Snacks – snack bars or trail mix, something that's easy to eat

A bag to carry your swag and/or laptop

A sweater or cardigan/blazer in case you get cold – in most cases, conferences will be freezing!

Your cellphone

Pen and paper for notes

Breath mints – NOT gum! Gum is too hard to dispose of when it gets gross

Hand sanitizer

Tissues in case you start sneezing, spill something on yourself – or want to offer them to someone else 🙂
What Should Be on My Business Cards?
After attending many conferences in the last 5 years, I've found there are a few key things to include on your business card
Your face – this is more important if you're a blogger, new entrepreneur or otherwise someone who works behind your computer. Unless your logo is well-known, like Penny Hoarder, or you work in a field where photos on business cards aren't common, include it if possible!

Your logo and website address

Your tagline, if you have one, to identify what your site is about

A link to something free to entice people to go to your site first 🙂
What Should I Do Before the Conference Starts?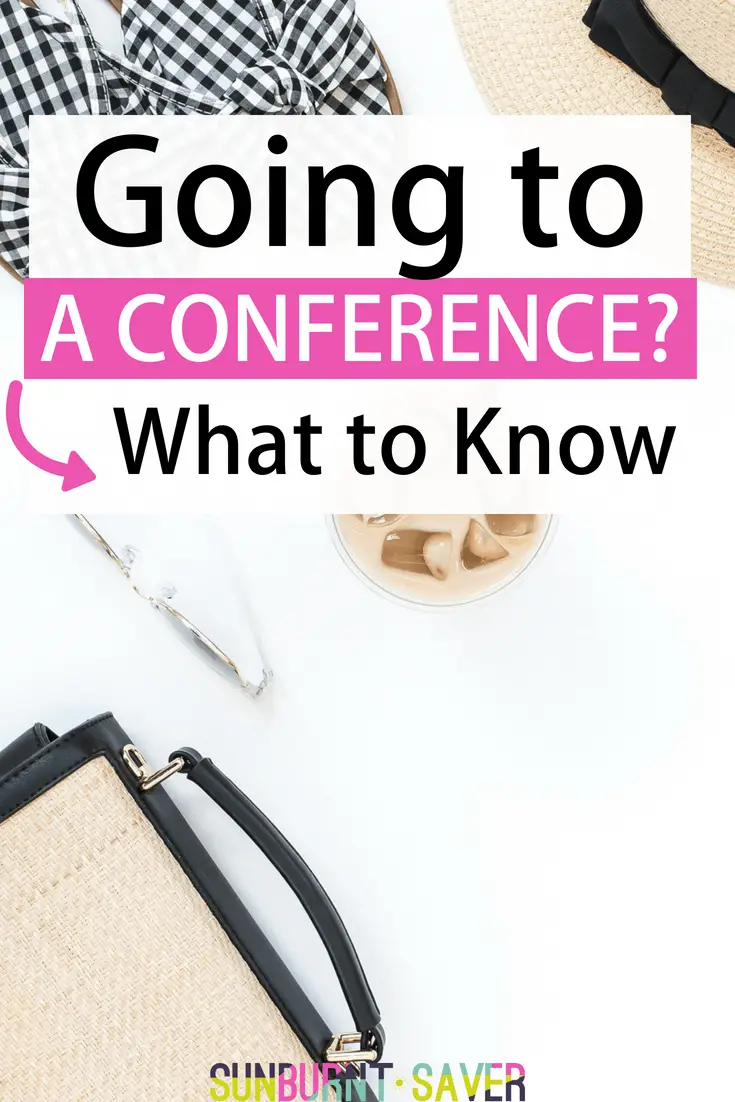 If this is your first time attending the conference, see if you can volunteer behind the scenes before the conference starts! Some conferences, like FinCon, will ask for volunteers, but otherwise email the organizers and see if they need volunteers.
Volunteers do everything from greeting people at registration, handing out conference swag, directing people to sessions/events, or (my favorite) handing out drink tickets.
In some cases, conferences take volunteers throughout the conference, but you want to get a volunteer shift before the conference starts. You want to actually attend the conference, not work it! Sign up early to get one of these shifts, because they'll be the first to go.
Also, some conferences will give volunteers a discount or even free attendance in exchange for a certain number of hours "worked", so ask about that as well!
Don't forget, you can attend The Side Gig Summit, for free and all online. The Side Gig Summit is a free online conference highlighting the top money-making opportunities out there, everything from being a Pinterest VA to dog walking, success on YouTube, and so much more. You can sign up for free here to attend this free summit online.
Your First Goal at a Conference: Networking
I put 'learning' first for reasons why conferences are held, but you're only learning if you're networking. Learning is very important, but who you're learning from is what matters. Now, networking can be terrifying for introverts – trust me, I know!
Related: How to Network as an Introvert
Unfortunately, I made the huge mistake of "just" learning at my first conference and not networking, and it haunted me the entire next year as people who networked at the conference got ahead in their jobs, collaborated on projects, and more. For the analytical introverts out there, it helps to set networking goals to focus on. For example, for my next conference, my goal was to:
Get 10 business cards by asking for them (don't just take them from sponsors booths, cheater)

Speak to 5 people in my field (everyone is wearing badges that typically identify them, seek those people out)

Make a connection with 2 people (are they working on a project you could collaborate on? Are they looking to hire someone in your field (aka you)?)
My next conference, I got 8 business cards, spoke with 3 people in my field, and actually did connect with 2 others for future projects. For an introvert like me, this was a win and propelled me to set higher goals at future conferences. Even if you're an introvert, you can network and you can be successful. Set a goal and don't let yourself hide in your hotel room until it's accomplished (or you're kicked out of the ballroom/conference room/hallway).
Your Second Goal at a Conference: Learning
Your second goal at the conference is to learn as much as you can! If you're attending a good conference, like the ones I mentioned above, you're guaranteed to see at least several excellent speakers. Study the conference agenda beforehand and, if multiple sessions are offered at the same time, pick which ones sound the most interesting or beneficial to you.
Try to make sure you attend at least two to three sessions a day, depending on how long they are. If you do get caught up talking to someone, see if you can follow up on classes later.
If classes won't be recorded for later viewing, go to the ones that interest you the most and will be the most valuable for you, get there early and talk to people around you. That's a good time to get business cards!
Also, stick around before and after sessions. Before a session starts, get there early and hang around after the session ends to talk to your neighbors or someone who asked an interesting questions. As tempting as it is to run back to your room, stick around for at least 90% of the activities offered.
Try to stick around for the happy hour, after-conference events, and generally try to make yourself visible. This is easier if you've met someone you clicked with at a session, so introduce yourself at sessions before they start, make a connection – then find that connection later at an event!
One really good free and online conference where you'll learn a lot is The Side Gig Summit. The Side Gig Summit is a free online conference highlighting the top money-making opportunities out there, everything from being a Pinterest VA to dog walking, success on YouTube, and so much more. You can sign up for free here to attend this free summit online.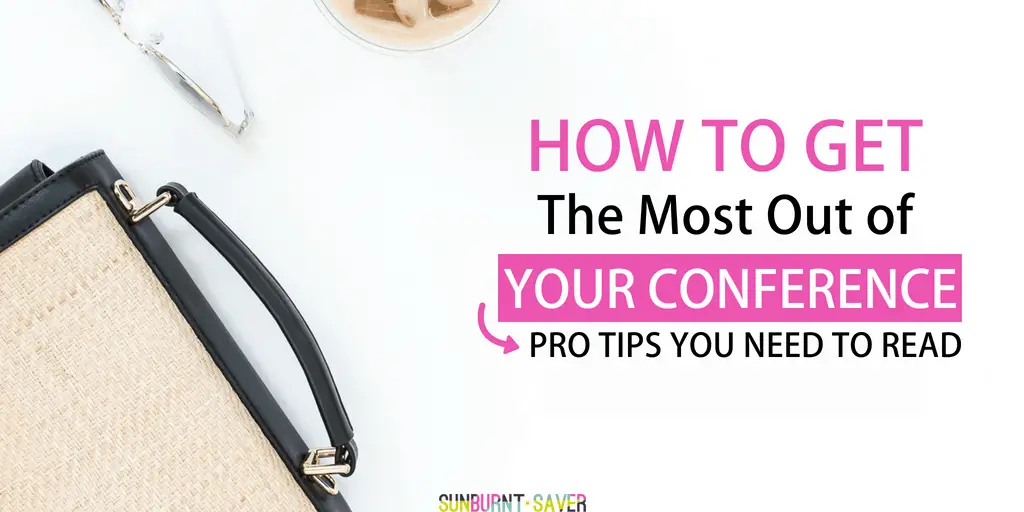 Your Third Goal at a Conference: Swag
Get that swag like you're a D-list actor at the Oscar's. I know I keep talking about swag, but it's because it's important! Beyond the (usually cool) free stuff, the swag area is usually the sponsors tent. This is where sponsors and conference-goers mingle, and it can be a great way to connect with an important future client (sponsor or fellow conference-goer) or affiliate (sponsor, if you're a solopreneur).
For example, let's say you're a pet blogger and you go to a pet-centric conference. You get to the sponsor tent and find an incredible piece of swag, something your pet will love and you know others' pets will love. This is your time to make a connection with that sponsor, see if they could send you more stuff (for a giveaway), or if you could be an affiliate for their product (marketing it on your site). That's just a small example of all the connections you can make in the sponsor (aka swag) area!
What Should I Do After the Conference?
As soon as you can, make a list of the people you met that you want to connect with. Make a list of who they are, the priority in which you want to contact them, what they do/their product, and how you met them. Bonus points if you met them in a memorable way, like you were both wearing the same shirt or you're both from the same home town.
Start reaching out to these people within the first week after the conference. Most people will be really busy after a conference with their own connections and emails, or because they're exhausted, but sending out your emails as early as possible will keep them fresh in your mind – and you in theirs.
Also, capitalize on the momentum after the conference. If you did it right, you should have learned something from the conference that you can put into action immediately. While you're still hyped up from the conference, start implementing things you learned immediately. You may want to re-write your notes into an action or strategy to execute over the next few weeks – just do something!
Getting the Most Out of Your Conference
Attending conferences, especially as an introvert, can be intimidating and overwhelming. So many people, so many things to do, so many interesting sessions to go to! Plus, swag! However, it's important you go to your conference with a purpose because they usually do cost a lot of money. I've only attended one conference in my hometown (which meant I saved on housing costs) – everything else I've had to pay to attend, pay to fly/drive there, and pay to stay. Plus, most conferences don't cover food.
All this to say: a conference is a big investment regardless of who is paying for it. Make the most of it by planning ahead, studying your conference agenda and list of speakers, and paying attention to the attendees (some conferences provide a list of attendees ahead of time). Decide who you want to talk to, what message you want to convey (is it your blog? your brand? a sponsorship you'd like to get?), and what you want to get from the conference.
Then, work it! Work your plan at the conference and keep up momentum after the conference ends. Conferences are big deals and can be tiring, but they can also propel you and your business to even greater heights. No pressure 🙂
Any conferences you recommend people should attend? What advice do you have for new conference-goers?