This post may contain affiliate links, which means if you click through and purchase something using my links, I receive a small commission. You can click here to read my disclosure policy ? Thank you!
Happy end of April – how are your financial goals going so far? The beginning of May signals the end of National Financial Literacy Month, but here on Sunburnt Saver, every day is financial literacy day! 🙂
In case you missed some of April's financial posts, catch up on 7 financial spring cleaning tips, 3 places to file your taxes for free (hopefully you got those finished, right?), and how to design a home office on a budget.
Now that you've reviewed some of our awesome April posts, I have to tackle one looming question I always get from people: how can I make more money? This is a topic I've tried to address several times, but today I get to review a terrific book by David Carlson of Young Adult Money called "Hustle Away Debt: Eliminate Your Debt by Making More Money"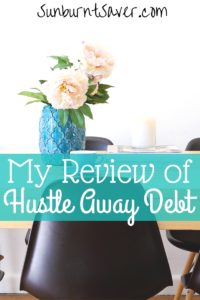 Review of Hustle Away Debt: First Thoughts
I'm going to get right to it: writing about about side hustles, particularly online side hustles, is really hard. Especially when it comes to online side hustles, things can change dramatically. A few years ago, Facebook was all the rage and Pinterest wasn't even a thing. Now? Well, I'm a Pinterest social media manager, and I always thought I was such a Facebook fan (Suburnt Saver doesn't even have a Facebook page! :-/)
Also, the side hustle ideas market is somewhat saturated. What could Hustle Away Debt tell me about side hustles that I don't already know, or couldn't already find?
With these thoughts in my mind, I know David's writing – it's fantastic, you must visit his site – so I was sure I would learn something.
In-Depth Review of Hustle Away Debt
I shouldn't have assumed this book would be a recap of things I already knew – David blew my expectations completely away.
The book is titled Hustle Away Debt because it's not about making extra money as a business. It's about making extra money to pay off your debt. And that's what so great about this book: David is invested in you getting out of debt and, if you're like many Millennials (me included!), you're in debt. And you probably want to get out of debt, fast.
This is what I love about David's book: he outlines what are side hustles, what they can do for you, how you can choose the best ones for you, and how you can manage your life while still working a side hustle to pay down debt.
This was by far the most valuable thing I took away from Hustle Away Debt. It's so easy, especially in the personal finance blogging world, to get caught up in turning a side hustle into a full time business and quitting your "day job", whatever that may be. David shows us that you don't have to do that at all: you can still do something on the side, with no intentions whatsoever of quitting your full time job.
I can't emphasize enough how, if you have debt, your primary goal is to pay off that debt as quickly as possible. As Millennials, we can't rely on social security programs to take care of us when we're old, plus we've seen what a recession can do to our stock portfolios (if you have one). The only things we can rely on as Millennials is our own hard work and the things we own outright – no debt (that includes a home mortgage!)
This is the overall message of David's book: getting out of debt is important, here's how and what types of side hustles can help you, and here's how you can manage everything while you work this "second job."
Overall Takeaways of Hustle Away Debt
Some of my favorite parts of Hustle Away Debt are when David breaks down the different types of side hustles (including in-person, local hustles along with virtual hustles), how he manages his side hustles, the benefits of hustling (connections! acquiring new skills!), and when it's time to say goodbye to a side hustle.
Yes, David talks about ending a side hustle. It's easy to get caught up in the idea (and action) of side hustling, but David points out the pitfalls of hustling, including loss of time with family. He offers tons of ways to stay organized and carve out time for your hustle, so this isn't your "get out of hustling with no guilt" section, but I thought it was practical and honest for David to mention, because so many people never think of the consequences involved with side hustling.
There are so many other awesome features in Hustle Away Debt, including David's own incredibly useful "side hustle hacks", how to deal with taxes, and a handy action plan to use before you get started hustling. My favorite part of the book was basically the end – I marked up this book like crazy toward the end, because David offers some excellent advice regarding all aspects of side hustling.
Overall, I found Hustle Away Debt: Eliminate Your Debt by Making More Money by David Carlson to be incredibly informative. If you don't know David, I can attest he's extremely diligent, thoughtful, and a huge success story among personal finance bloggers. This book is well thought out and very practical for the person starting out in side hustles (and even for someone like me, who's been doing it for a little while). You really cannot go wrong with such an informative and helpful book!
Readers, do you have any questions about Hustle Away Debt? I'd love to answer some of your questions!