This post may contain affiliate links, which means if you click through and purchase something using my links, I receive a small commission. You can click here to read my disclosure policy ? Thank you!
As a former librarian, I know a lot about books. While I'm still learning about the personal finance world, my tested theory of a great book still holds true: If I make notes about a book (or in it, if I own it), then it is a great book.
And let me tell you: I wrote all over The Millionaire in the Next Cubicle by Chip Mendez. I was provided a copy of Mr. Mendez's book to review and share with you all, but this review is all my own.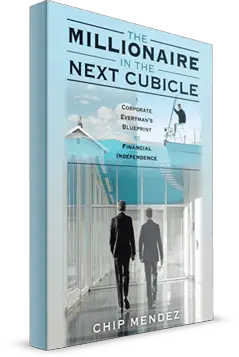 Who This Book Is For
Chip advertises his book for people working in the private or public sphere who want to get ahead in life and put themselves on the wealth accumulation track. In my opinion, this book is for someone who has the security of a job that provides insurance, and some type of investment vehicle, like a 401(k) option (matching or not). However, even if you don't work in the 'traditional' office setting, Chip goes over so much common sense (and not so common sense) personal finance concerns that everyone could benefit from this book.
The Millionaire in the Next Cubicle Book Review
First, the book itself: Chip breaks down his book into seven chapters. All of the chapters are worthwhile and helpful to read, but the ones I have highlighted were my personal favorites:
Taking a Personal Inventory
Managing Your Career
Building a Financial Plan Foundation
Choosing the Right Investments
Shielding Your Investments from Taxes
Protecting Your Hard-Earned Assets
Making Good Consumer Purchase Decisions
The chapter on investments was incredibly useful, as Chip breaks down the different types of investments, like mutual funds, bonds, and stocks, in plain English. He also discusses the types of investments he uses and why they are beneficial.
Taxes are one thing I still don't completely understand, so the chapter on shielding your investments from taxes was very helpful. Chip explains many of the vehicles out there for keeping your investments from being taxed, such as IRAs and alternative investment options. As someone who currently has an IRA but isn't really sure how to maximize it, I really found this chapter useful in explaining how I could continue to best use my IRA for the future.
The chapter on protecting your hard-earned assets is particularly relevant, in light of our burst water pipe issue. Chip discusses insurance, wills, estate planning and more in this chapter. It's a very comprehensive chapter, and Chip reminds us we are never too young to protect the assets we have for ourselves and for our loved ones.
Pros & Cons
Every single chapter in this book is useful – there is not one chapter I glossed over because it wasn't relevant to my life. It actually took me a while to finish this book because I was so into applying it to my own life.
One of my favorite things about The Millionaire in the Next Cubicle was how Chip shares his own life experiences throughout the book. I'm the type of person who loves to know how others manage their finances (hmm, hence why I'm a blogger and I love talking to other PF bloggers, maybe? ;)), and Chip generously talks about his own life and his family's finances a lot. It was a great touch to the book to see how Chip worked through his family's financial plan.
The other thing I liked about the book was all the exercises and links Chip provides: Chip is all about having you personally involved in the book. This isn't the type of book you read and then forget about – Chip wants you to think about your goals, your job, and your investments to really plan out the future. As a fellow planner myself, I really appreciated that Chip wants to get us involved and provides us with the tools to make our own plans.
The cons for this book are few, but as with most books, there are some: Chip occasionally uses Wikipedia definitions for his summaries, and I personally cringe at that. I know there are better sources out there than Wikipedia!
The only other issue I had was I think Chip should have ended his chapters with a summary of links and an action plan. I personally love chapter summaries and action plans, because if you have to put the book down and go back to it, you can go to the end of the chapter and remind yourself of your 'tasks'.
Overall Opinion of The Millionaire in the Next Cubicle
I personally enjoyed the book and would highly recommend it to anyone who wants to read a comprehensive book on financial planning. Chip covers everything, from the basics like budgeting and career planning, to the more complex like investing, taxes, and estate planning.
Interested in reading The Millionaire in the Next Cubicle yourself? Lucky for you, I was given an extra book (I didn't write in this one!) to giveaway! Let's keep this giveaway low-tech – here are the instructions: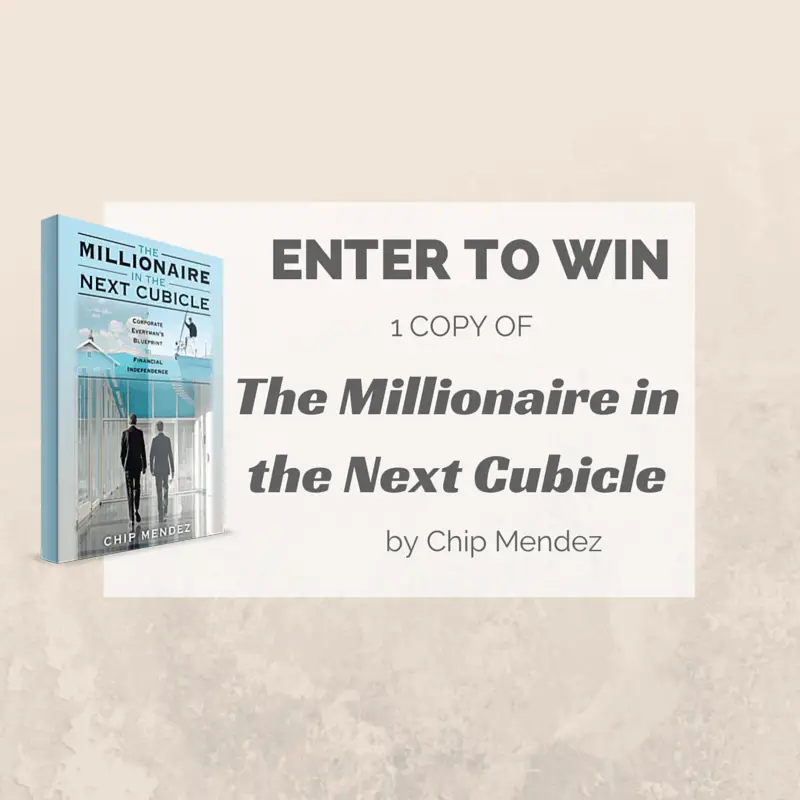 Leave a comment (with your email address) and let me know what part of The Millionaire in the Next Cubicle interests you – are you interested in learning more about budgeting, shielding your investments from taxes, or understanding the different types of insurance you may need?
Don't forget to leave your email address so I can email you if you win! The giveaway will end in one week, next Tuesday at midnight (MST), so check back then (and look for an email in your inbox!)
I'll have a random number generator widget pick the winner after the contest ends, and then look for an announcement on Thursday (and, if you're the winner, an email in your inbox on Wednesday!).
And our winner is…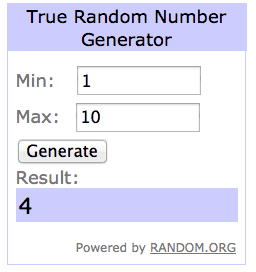 Michelle from Making Sense of Cents! Michelle, congratulations! I will be emailing you shortly with more information 🙂 Thanks for participating, everyone!