This post may contain affiliate links, which means if you click through and purchase something using my links, I receive a small commission. You can click here to read my disclosure policy ? Thank you!
In my last post, 'Why My Master's Degree Was Worth It', I discussed the reasons why my master's degree was worthwhile, and why it might be worthwhile for you. While I'm happy with what my master's degree got me (an awesome job) it did also put me in much more debt, on top of the debt I had from undergrad.
This is why I think it's necessary to discuss the cons of a master's degree too, keeping in mind all the positives there are for going back for your degree. Keep in mind, everyone's situation is different, so please don't let my lists persuade you one way or the other. You'll want to evaluate your goals in relation to the program you're investigating, or the job you'd like to pursue. This 'con' list is just a view of graduate school from someone who has been there, done that, and wants to share what it's like 'on the other side.'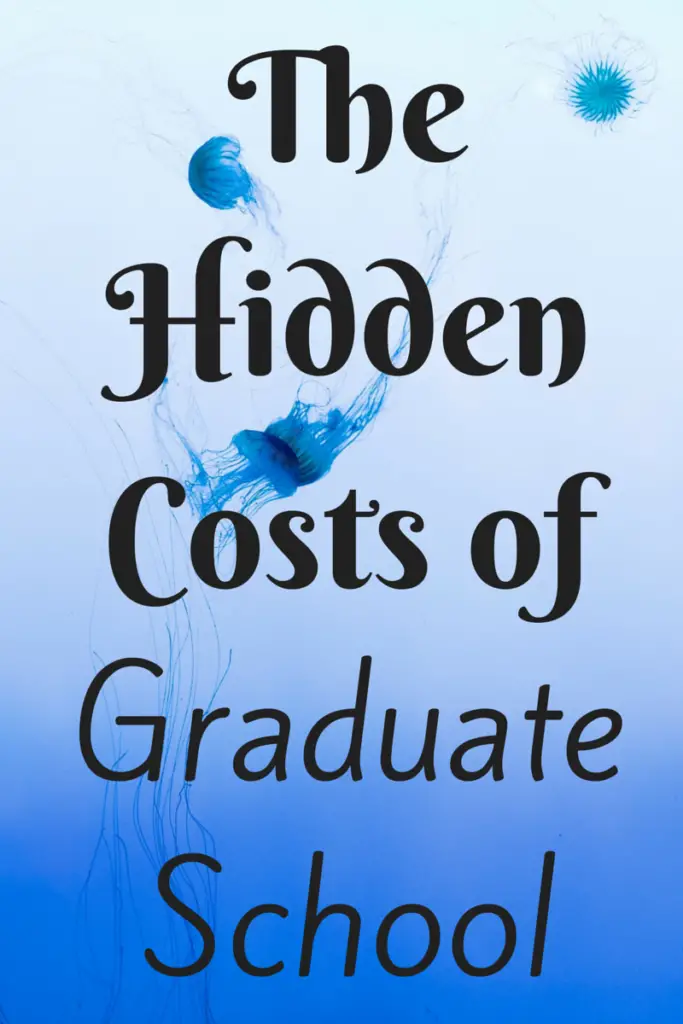 Consider All of Your Expenses
On top of what your program costs, think about everything else you'll need for school: will you need a new laptop, or can your current one suffice for checking email and typing up Word documents? Will you need any additional programs (such as architecture design programs, if that's what you're thinking of studying) that will put additional strain on your computer?
If you're going out of state, you'll also want to consider housing. I personally didn't investigate living on campus, because for some strange reason I didn't think that was an option. It was an option, but a friend of mine who lived on campus hated it because it was more expensive and she lived near rowdy undergrad dorms.
It's likely cheaper to live off campus, but keep in mind the cost of a car. Will you absolutely need to bring your car, where you'll probably have to pay to park on campus, or can you use a bike? If you live on campus, can you afford rent by yourself? If not, choose a roommate carefully. If you're able to contact your fellow students ahead of time, see if any of them are looking for roommates. The best part about rooming with fellow students in your program is that they are more likely to be quiet and respectful of your studying time. I lived with a 19 year old undergrad my first year, and a fellow grad student my second year. Guess which year I had a better time studying and having a more peaceful environment? Yeah…
Since the Affordable Care Act has been all over the news, you likely know more about your health insurance status than before. However, if you will be losing your health insurance because you're quitting your job to go back to graduate school, you'll want to factor in the cost of student health insurance, either through your school or the health care exchange.
Some of the above considerations need to be balanced out with the 'perks' of being a student. Best Buy and Apple regularly run discounts on laptops during 'Back to School' shopping season.
If you decide to live on campus, balance the distance with what you'll save. If you live far enough way that you have to drive, factor in the cost of paying for parking. It may end up being cheaper to live closer to school and walk or bike to campus.
For health insurance, if you're under 26, you may be able to get on your parents' plan. If you're over 26, you can look into your school's health insurance plan as well. I went to school before the Health Exchanges took effect, but you should check out the Affordable Care website, which offers a comprehensive FAQ about student health plans and the Affordable Care act requirements. Personally, my student health insurance was part of tuition. It was also great health care, because we had a clinic on campus and the wait time to see a doctor was non-existent.
Underemployment at Graduation
The risks of being underemployed after graduation are not to be taken lightly. Looking at the broader unemployment measure, from April 2013 through March 2014, 13.4% of people were underemployed or unemployed. While some say the market is improving, the possibility of being unemployed or underemployed is very real.
One way to circumvent this scary possibility is to seriously sit down and think about what you want to study. I'm not saying you should only choose to go to graduate school if you're going to make lots of money, but it may be worth it to look at your job prospects after graduation. There will always be news articles about which majors are most likely to have job offers after graduation, but you should check with your potential future career office and ask to talk to some current and just recently graduated students.
Although the career office will try to steer you to students who are successfully employed, or who already have offers lined up, it's worthwhile to get these students' perspectives of the school and how exactly they pursued their current/future jobs. They may also put you in contact with their friends who may or may not be employed, so that you can get their opinions too.
Still Worth It?
With all of the rewarding aspects of pursuing a graduate degree, you will want to keep in mind all the various expenses that pop up with graduate school, with the program cost only the beginning. You will have to decide if you want to work full time, part time, or not at all during school too. If you don't qualify for enough grants, government loans, or school scholarships, you will want to investigate scholarships for graduate students as well.
Ultimately, going back to graduate school is a decision you'll have to make on your own. All the opinions, all the news articles in the world can't stop you if that's what you really want to do, nor should they. Higher education can be really rewarding and worthwhile, and you will likely make great contacts. Even with all of the student loan debt I currently have, I don't regret going to graduate school, but it may not necessarily be for everyone.