This post may contain affiliate links, which means if you click through and purchase something using my links, I receive a small commission. You can click here to read my disclosure policy ? Thank you!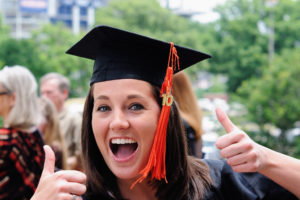 Only approximately 11% of the population has a master's degree, and many would argue that a college degree is sufficient for getting your foot in the door to a good job. Depending on what you majored in at college, you may agree with this statement. I know a ton of accounting majors who got jobs right after we all graduated college, while the liberal arts majors looked around and said, "back to Mom and Dad's?"
I'm a millennial, defined by the Pew Research Center as anyone born between the ages of 18 and 33 (I'm 27). That means I graduated in 2009, right after the recession started in 2008. Yes, watching the economy collapse only one semester before graduation was awful. Even more awful? Knowing I couldn't do a darn thing about it – it wasn't like I was a freshman and could change my major to something more practical, like engineering (assuming I could even handle those engineering classes!)
This was the case for a lot of us millennials: graduating at a really horrible time, when the economy was (and still is, to a degree) in a slump. Adding to our job-seeking pain was many baby boomers hadn't retired yet, and some who had retired decided to reenter the workforce because they lost a large chunk of their stock portfolio.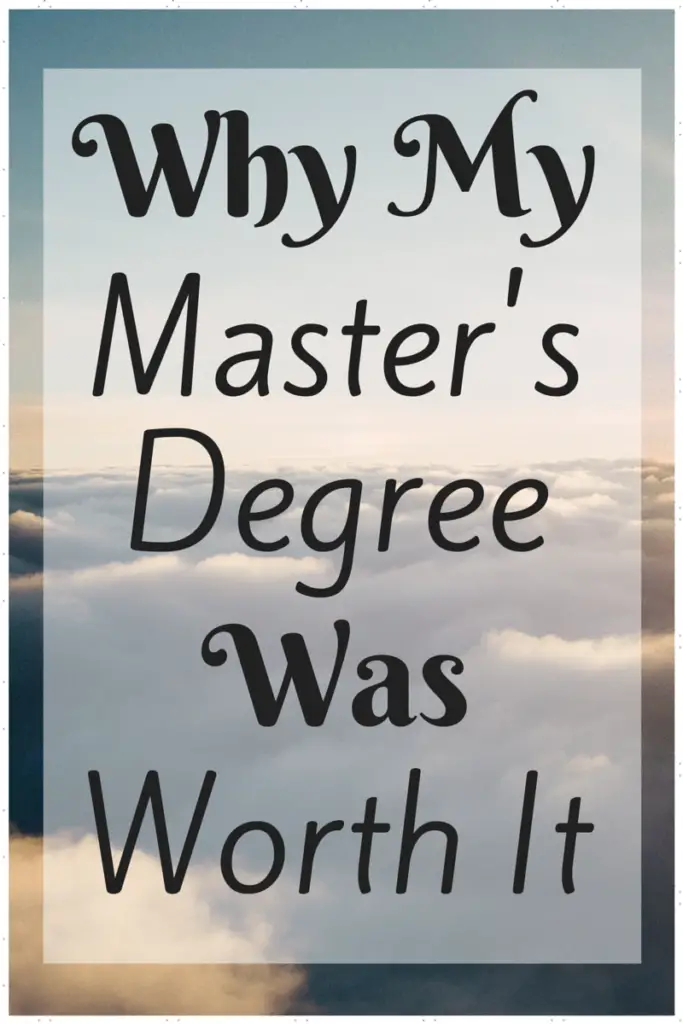 Gaining a New Skill
Like several of my friends, I decided to go back to school to pursue my master's degree and maybe ride out the economic slump. This is one reason why it was good I went back to school: what I thought I wanted to do with my life was actually not what I wanted to do at all.
What I thought I wanted to do after graduating college was work in academia. After working in academia for one year after graduating college, I quickly realized academia was not for me. I decided to go to grad school in order to study a new, specialized skill.
By focusing on a few particular skills, I was making myself more marketable. Whereas before, being a liberal arts major 'jack of all trades' may have been enough, by going to graduate school and focusing on a niche, I was actually making myself more marketable to people by showing I had more in-depth knowledge than others.
More Networking
You might think, grad school and networking? Everyone is a student. How useful can they be? Well actually, your fellow students are pretty darn useful. By joining a few clubs, I got the scoop on a prestigious (though unpaid) internship my first semester in grad school. Because I got the scoop before others in my class, I was able to email the recruiter, show my interest, and name drop my fellow classmate (with her permission, of course). A few weeks later, I had lined up my first internship (one that lasted several months and gave me the all-important experience to add to my resume).
From that internship, I made solid connections in my field that I still am in contact with today. One woman who mentored me during my internship actually served as a reference for me to get my first job out of grad school. She gave an outstanding reference (she told me what she said), and I believe one of the reasons I got the job I did was due to her stellar recommendation of me.
Even if you're in a small, specialized field, you never know what your peers will be doing one, 5, 10 years down the road. Make connections with your peers on LinkedIn, or even Facebook if you're very close. The majority of my graduate school connections I have are on LinkedIn, and we stay in touch that way by sharing industry news and helpful job hints through LinkedIn. You never know who will help you boost your career to the next level!
Learning How to Better Market Yourself
One of the best things I did while in graduate school was really utilize the career office. We had a career office in college, which I frantically used my last year in school, but I didn't really have an organized plan to find a job. I haphazardly sent out my resume to all sorts of different fields, hoping that I'd land one and make that job work. That obviously didn't work.
When I got to graduate school, I didn't quite know what I wanted to do, but I absolutely knew what I didn't want to do, which is sometimes half the battle. I took every career coaching career class my school offered, went to every relevant job fair, and took advantage of the career center's resume review service. I visited the career office so much I made friends with the staff!
Did I mention that all of these services were free, too? They're included in your tuition and, given what graduate school costs nowadays, you better get your money's worth! By working with the career center, I was able to narrow my focus, tailor my resume and cover letter to individual jobs I was applying for and, most important, knock interviews out of the park.
In 2012, after graduation, I applied for a dream job, but one that seemed out of my league. I was qualified for it, but it was incredibly competitive and my degree wasn't what this organization typically recruited. It took me a lot of work to get that job – for that job alone, I competed against 300 other people in the first round, whittled down over several rounds to a two-day interview process where I competed against 7 other people, all of whom had their master's degree and were going for two positions – yup, I had a ¼ chance of getting the position (not taking into account the first rounds…)
The interview process was tough, but because I had put in hours of work with the career coaching staff, I had practiced for all of the questions they asked me before. Because of that, I was much less nervous than I would have been if I hadn't practiced with a career coach.
Long story short: I got the job, and since then, I've gotten two promotions. I love where I work, but I sincerely believe I wouldn't have gotten the job I have now without going to grad school.
Everyone is different, and what works for me might not be relevant to you. Graduate school was a worthwhile investment for me because I learned new skills while making incredible friendships. Also, for someone who is typically shy, learning how to market my skills was invaluable, because it showed me that my skills were useful to organizations, and I could capitalize on them. Sure, going more in debt sucks, but it all depends on what you put into and get out of your education. Maybe I got lucky with a job I like, but many of my graduate school friends are also doing jobs they enjoy, so I think I'm in good company.
Part II of this post will go into more detail about how much exactly my Master's Degree cost, and will go over some cost-benefit analysis of why getting a master's, for me, ended up being worth it.
What about you? Have you considered going back to school for your master's degree, or have you already? If not, what made you choose against it?
photo credit: ralph and jenny via photopin cc