This post may contain affiliate links, which means if you click through and purchase something using my links, I receive a small commission. You can click here to read my disclosure policy ? Thank you!
I've always loved those "
How I Work
" features on Lifehacker and Day in the Life series' of other bloggers around the web, and I thought with our month-long Blog Extravaganza, I'd let you in on how I work, and blog, and freelance, and live, and do stuff, and
plan a wedding
… and eat, occasionally 🙂
In case you haven't checked out my
About Me page
, I do work full-time in the budget section of my organization (shout out the spreadsheets!) In addition to working full-time, I have this blog, and I freelance. I love (almost) everything I do, which makes balancing it all worthwhile. However, it's not easy. Want to see how I balance a hectic schedule as a blogger? Read on!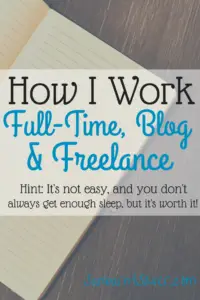 A Day in the Life: Stuff I Use
My favorite part of the Lifehacker How I Work series is learning what tools and gadgets people use to get work done, so here's a quick run-down of what I use:
Computer: Mostly my 2010 15 in. MacBook Pro (4 gb)  – oldie but a goodie! Occasionally a giant Windows computer B built for me that has a ton of space and a faster processor… but I mostly use it for gaming. Really practical use for such a stellar computer, huh? 🙂
Phone: Recently upgraded to an iPhone 5S. I like how it syncs to my MacBook. Helpful!
Apps/Tools/Software I can't live without
: I'm mostly a minimalist. I'm addicted to Google Drive and the Google "Office" suite. I use DropBox occasionally, but not as much as I should. Last Pass is the best for remembering all sorts of passwords. I use Tailwind for scheduling my Pinterest and Pinterest for clients (I work with Gretchen for the
Pinterest Assistant
!). Hootsuite for scheduling Twitter. Finally,
Whitney English's Day Designer
for LIFE (I love it!)
A Day in the Life:

5:30 – 7:00 a.m.
I'd love to say this is when I'm my most productive, but it's not even close. I'm a zombie that early in the morning, but I have to get up by
5:30 a.m.
for work. I leave the house no later than
6:30
in order to be at my full-time job by
7 a.m.
It takes me about 2 cups of coffee in order to make me a functioning being by
7 a.m.
7:00 a.m.

– 5:30ish p.m.
My work in budget is constant and fluid, which means I make a list at the beginning of the week of things that must get done, and tackle it according to my energy level. The toughest, most mind-intensive things I do early in the week and early in the day. By
Friday
, I'm usually just cleaning up any project that wasn't resolved earlier in the week and getting ready for the following week.
I usually spend short breaks (10 minutes or so) and lunch time brainstorming blog topics and doing research. I try to keep it pretty discreet, since my cube is mostly open for everyone to see. Luckily, everything I research is related to personal finance, so no one is surprised to see me reading something on CNN Money during lunchtime.
I leave work (usually) by
4:30 p.m.
Every other
Friday
, I have off, so the longer schedule (9/80s, for those of you familiar) is worth it for those Fridays off!
5:30-7:30 p.m.
I try to give myself around 2 hours when I get home to decompress, hang out with B and Molly, and take care of myself. Depending on the day, I'll either go to the gym or stay at home and play with the dog while catching up with B. Lucky for me, B is a great cook and likes to cook, so dinner isn't something I have to worry about.
Going to the gym (or taking the dog for a walk, in the winter) is incredibly important to me. When I first started freelancing, I noticed I was gaining weight and feeling tired all the time, because I was exchanging gym time for work time. Going to the gym a few times a week keeps my mind clear, my clothes fitting, and helps me reclaim some of "my" time. While it may mean I work more on the weekend, I'd rather stress less during the week with a (semi-) regular sweat session.
7:30 – 10:30 p.m.
By 7 or 8, you'll find me back at work at our kitchen table. It's not so much as "kitchen table" as it is my work station. The picture below does not do my work station justice: there are usually many more things on it (like my laptop), but this happened after we cleaned and had moved the table. That box in the back corner? Yeah, that's our wedding invitations and save the dates I still haven't really looked at… About that…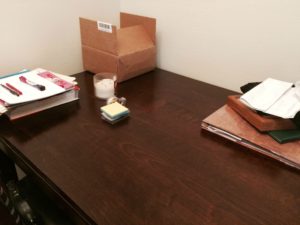 I try to work until 10 or
10:30
on weeknights. I'm absolutely horrible if I don't get at least 6 hours of sleep at night, so trying to stay up past then and be functional at work is just not an option. Yeah, bedtime at
10:30
! Real party animal here 🙂
My weekends are a little more free. I try to catch up on emails, posts for this blog, and personal development. I still get up pretty early, but more like
7 a.m.
and not 5!
The Hardest Part of Juggling Full-Time Work, Blogging, and Freelancing
Okay, before I go further: people who work full-time, blog, freelance, and have kids have it way, way more challenging than I do. In fact, if you're one of those people, please tell me how you do it, because it seems impossible to me!
The hardest part about balancing full-time work, blogging, and freelancing is actually having a life outside of work. If it were up to me, I'd work 90% of the time, just because I like it. I'm one of those crazy workaholic type people 🙂
But I do have a fiancé and a family (and friends!) I like a lot, so I have to make a conscious effort to make time for them too. Basically, as long as I carve out some time every day and spend a few hours on the weekend, I'm all right. But your results may vary if you have a bigger family or more demanding family members.
On the bright side, I'm more or less too busy to stress too much about wedding planning. Since I have to be organized about my time, I carve out short increments during the week to do wedding "stuff" or make sure I'm on track with planning. Being so busy has made me more efficient at planning vendor visits and dress fittings, too. 🙂
So fellow bloggers, how do you balance blogging with life, freelancing, and full-time work? What recommendations do you have for new bloggers about balancing blogging commitments with life?