This post may contain affiliate links, which means if you click through and purchase something using my links, I receive a small commission. You can click here to read my disclosure policy ? Thank you!
Happy Valentine's Day, everyone! Whether you're in a relationship or single looking to mingle (or just single hanging out!), it's nice to get out every once in a while. In the spirit of Valentine's Day, here are tips from contributor Anum Yoon on how to have a frugal date night out.
Dating on a budget becomes its own art form, once you find your rhythm. A frugal date night doesn't always mean frozen pizza and Netflix. You can go out, too!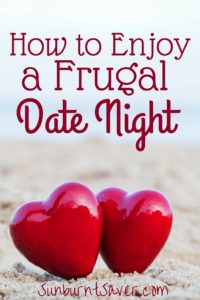 I always thought it was about getting to know your city. When I lived in Greenwich, CT, I had so much fun on the cheap because I knew the local hangouts, the mom-and-pop diners and where to find the best deals on what nights. To some degree, that's still true, but when I moved out of the city I had to find date night ideas that weren't so location dependent. Not saying Philly doesn't have its own romantic charm – it's been great getting to know this city better. But I digress – like I was saying, it's not really about getting to know your city.
It becomes more about you and your rhythm as a couple. All partners have holding patterns that they get stuck within, a.k.a Couch Potato Couples. Don't get me wrong. It's one of my favorite date nights, but it gets old after a while. Consider your mutual interests and your differences when planning frugal date nights.
Attend a First Friday Gallery Hop. One day of the month, galleries open their doors to the public, blocking off the streets for pedestrians to explore safely. Other small boutiques and gift shops stay open, too, to bring in extra business. There will be other entertainment, too. Belly dancers will perform. Face painters will transform your cheeks into strange creatures.Take in the art and comment about what you honestly love and hate. Who knows? You may end up taking home artwork. Be silly: Dress in all black and pretend you are art critics.
Play like a kid again. Sneak into a playground at night and swing on the swing set. Climb the jungle gym.
Explore a national park together and get active! It's really easy to find a national park in your area. Many parks have a small historical museum to learn about the local flora and fauna. Go on a scenic hike. Zip-line. Go rafting or fishing. If you're more artistic, bring your art supplies and render the beautiful surroundings.
Volunteer together. Walk and play with dogs and cats at humane society. Give back to the Veterans. Help clean up the parks and rivers. Adopt-a-block or a road. This is the very nature of love: to give.
Attend a speaking event at a local university or community college. There are so many possibilities here: Learn about science, archeology, art or attend a poetry reading. Famous authors often speak and read their works at local colleges.Go to an event your partner is really passionate about and learn something new! Visit the websites of higher learning institutions, and check your newspaper for event announcements.
Build an indoor fort! Grab your wine, blankets, Christmas lights, duct tape, couch cushions, coloring books and whatever else you need to make your fort perfect. The only rule is that all technology is forbidden inside the fort.
Look for GroupOn discounts for restaurants, couples' massages and other activities. Newspapers also email out similar coupons. Just visit your local newspaper website.
Grab coffee and window shop. If you've never visited your downtown area, do it. Window shop! Go to another town, and do the same thing. The idea is to explore your town. Grab coffee, window shop and people watch. Seriously, people watching can be so much fun.
Plan a picnic and bike riding date. Pack some sandwiches and finger foods, or pick something up at a local sandwich shop. Explore town or a greenway on your bikes. Find a good spot and enjoy your meal together.Tip: Bring water guns. You'll see.
It's hard enough to go out and date when you're on a budget, but it's even worse when you move somewhere new. Believe me, I know.
It doesn't matter how long you've dated your partner, where you live or what your budget is. You can find fun, creative and intellectually stimulating things to do together.
How do you plan on enjoying Valentine's Day this year? Let us know your frugal (or not so frugal) Valentine's Day plans in the comments!